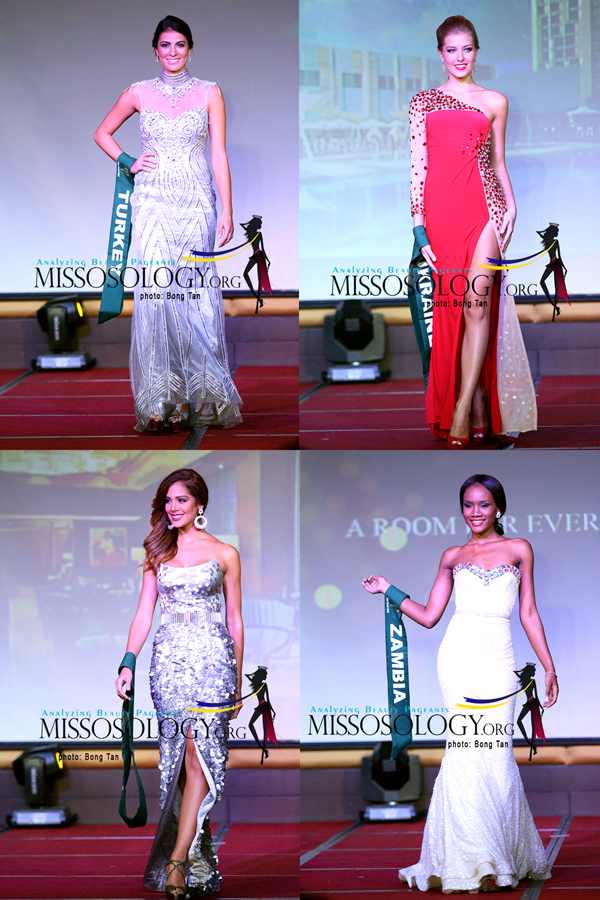 by Carlo Tenerife
Say them loud and clear-sheer glamour, pure elegance, ultra sophistication, beaming class, beauty queen confidence, oozing sex appeal, striking choice of exquisite ensemble, perfect queenly walk, slow music, and such would all lead to mean the evening gown competition.
Some noteworthy ensembles are better appreciated in motion more than in still. With the most appropriate do, make up, walk, stare, pose, feel, etc., the ensembles are even justified more and thus the ladies donning them appear more striking than usual. Any that is too flashy suck up the wearers to dismay. Any that is too plain needed to be worked on too much by the wearers to stand out in the crowd of many goddesses of beauties.
At the Grand Ballroom of the Crimson Hotel at Filinvest City in Alabang on November 29, a total of 87 delegates competed in 2013 the Miss Earth pageant evening gown presentation.
Clockwise from Top left – Bahamas, Bolivia, Brazil, Costa Rica, Mexico, Korea, Guam, Crimea 
The striking delegates in the evening gown presentation were from Bolivia, Brazil, Mexico, Paraguay, Romania, Russia, Slovakia, Thailand, Ukraine, Zambia, Venezuela, Philippines, Nepal, Bahamas, Costa Rica, Korea, Guam, Turkey, Crimea, and Poland.
Turkey, Ukraine, Venezuela and Zambia
To the author's choice, the top ten in the evening gowns are
Top 10
Costa Rica, Crimea, Paraguay, Zambia and Ukraine
Top 5
Venezuela, Bolivia, Philippines, Thailand, and Russia
At the end of the event, top 3 medals were awarded to the the following: Bronze- Philippines; Silver-Nepal and Gold-Venezuela.
Now on its 13th year, the 2013 Miss Earth coronation night will be held at Versailles Palace in Alabang, Philippines come Saturday, December 7 and will be aired live in StarWorld Network. ABS-CBN Philippine TV network will have a delayed telecast come Sunday, December 8 at 10Aam.
Clockwise from top left : Nepal, Paraguay, Philippines, Poland, Romania, Russia, Slovak Republic, Thailand