by chorr
Chorr is a fashion critic at the Missosology Forum and is assigned to come up with the Missosology's Top 10 gowns for the 63rd edition of Miss Universe
I will be very honest, the biggest reason why I watch pageants is because of the candidates dresses. Evening gowns as they say, have no bearing with the candidate's chances of placing, moreso, winning – but I beg to differ. In a very competitive pageant like Miss Universe, you have to show the judges, the organizers and your other competitors that you have the style (and the sponsors) to bring it up during the competition.
This year has been a good gown year for Miss Universe! It is definitely not just a year of stunning girls but beautiful gowns as well, but before we talk about that, I would like to give a shout out to Mr. Nick Verreos, a very influential international blogger and fashion designer who gives witty, funny and interesting yet very insightful commentaries come different pageant seasons. That being said, I would like to give my fearless fashion grade for the women of the 63rd Miss Universe. I selected my top dressed ladies in this year's portraits.
1.) Miss Colombia Paulina Vega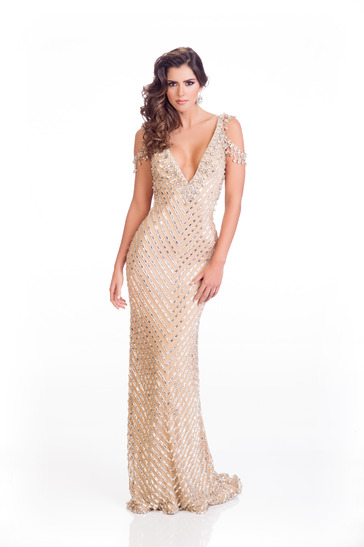 Many people instantly recognized this dress the moment her unofficial pictorial pictures went out. Well, if a dress has this excellent fitting, design and impact, I will never think twice to wear it again, especially if it was my winning gown from the nationals. Lovely nude color and silhouette and interesting fabrication, this was what defines a pageant gown – the one the accentuates her small waist and elongates her frame even more. That said, I really raised my eyebrows when I knew that this was a Barrazza. Put simply, this gown is one of the best!
2.) Miss Mexico Josselyn Garciglia
I thought that this salmon pink lacy sequin and appliqué dress was done right and does not belong to its cousins of the 2011-2012 years. The dramatic train astounds me. Also, reviewing the official coverage, Josselyn had the best wardrobes for an NBM in recent years.
3.) Miss Russia Yulia Alipova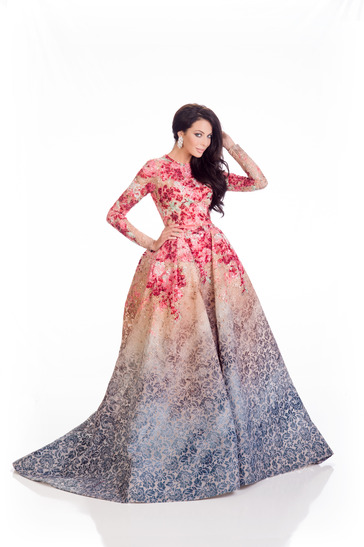 Now this is a fabulous dress. For your expensive information, this belongs to Elie Saab Fall/Winter 2014/2015 collection. It is a dress with a strong impact considering the price of such haute couture pieces does not go down at the 6-digit mark. This beautiful Swarovski studded dress with intricate embroidery features a pencil skirt underneath a full balloon skirt with pockets. It is just sad how the photographer was not able to bring out such fabulousness out Miss Russia's photo, considering such beautiful work of art is his subject. In my opinion though, she should switch it up come the prelims because this dress is quite hard to work on stage (but I won't complain if she doesn't).
4.) Miss Malaysia Sabrina Beneett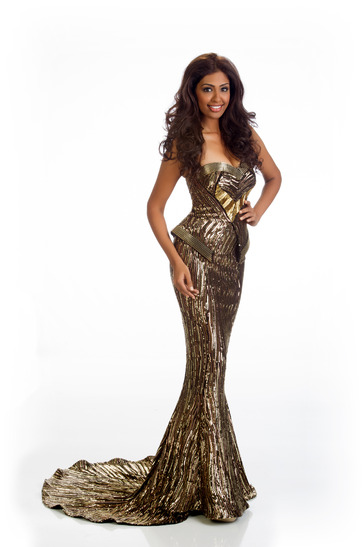 During her sendoff, the Miss Malaysian team already showed us this dress and I still like it. The bronze/gold metallic fabrication of this peplum fit-to-flare gown and the chic banding on the sweetheart neckline is so pretty.
5.) Miss Puerto Rico Gabriela Berrios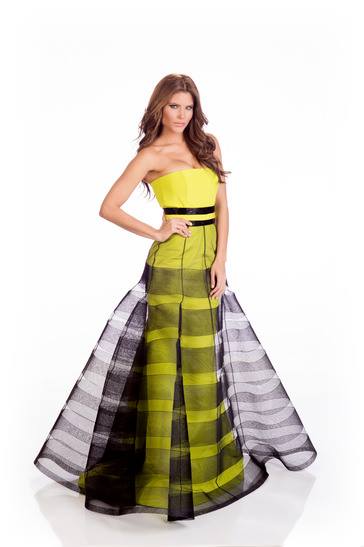 This lime green and black creation is interesting. The lime green straight cut satin dress is turned into a mermaid gown by a black tulle overlay which is very fashion forward to me, although I would have picked a different color. Worth the risk Miss Puerto Rico, she definitely made a statement.
6.) Miss Korea Ye Bin Yoo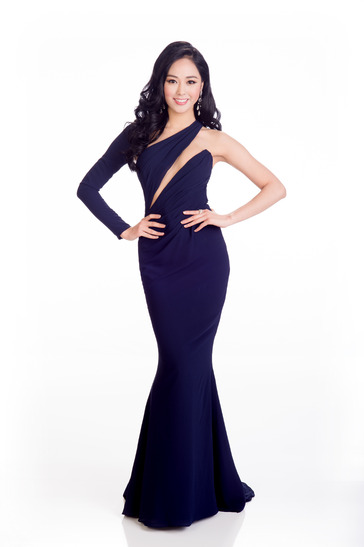 What a dangerous dress. This jersey gown features an asymmetric cut with nude panels to provide illusion of her torso. I love the fit on her and how it brings some sexyness out of her very cute aura. Interesting navy blue color too.
7.) Miss Indonesia Elvira Devinamira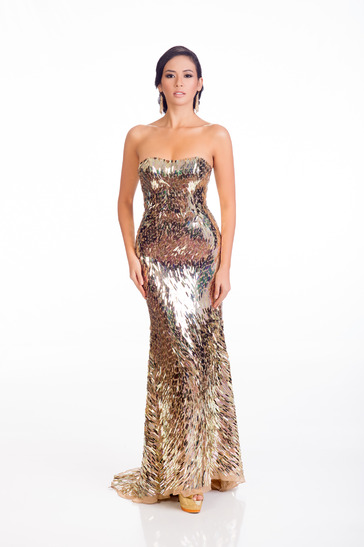 I will admit, I wasn't a fan of Miss Indonesia at the opening of this season but seeing her in this dress at the unofficial pictures, I am converted to a believer. I'm guessing this is a Sherri Hill and one of the pageant gown house's creations that they did correctly. It fits her like a glove and accentuates her long frame. The subtle mix of gold and silver rectangular sequins make this gown a very impacting one.
8.) Miss Venezuela Migbelis Castellanos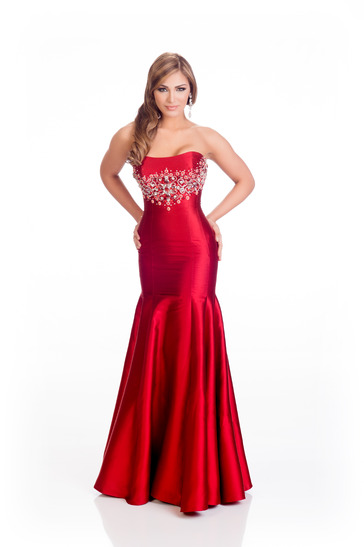 Gionni Straccia created this über fitted gown for Miss Venezuela. I am very sure that she will switch it up for the prelim and I can't hide my excitement for that dress (I am silently praying that she uses her pink Nidal dress she won the Miss Venezuela pageant last year with) but for the meantime, we have here a ruby red satin fit-to flare dress. In the sea of mettalics, sequins and lace, this is a standout. The solid color with minimal beading – a Straccia trademark – makes me go gaga over this dress.
9.) Miss USA Nia Sanchez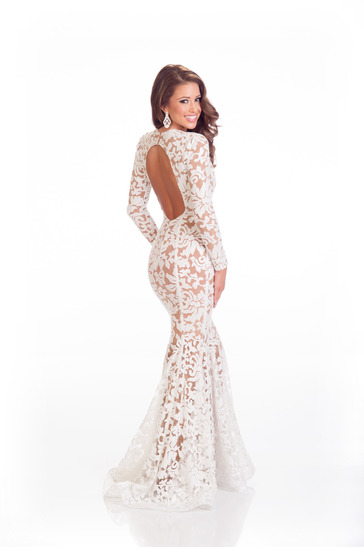 Miss USA's dress features white lace floral applique on a white chiffon base. I love the fit and the shape but the star in this creation is the open back done correctly!
10.) Miss Kenya Gaylyne Ayugi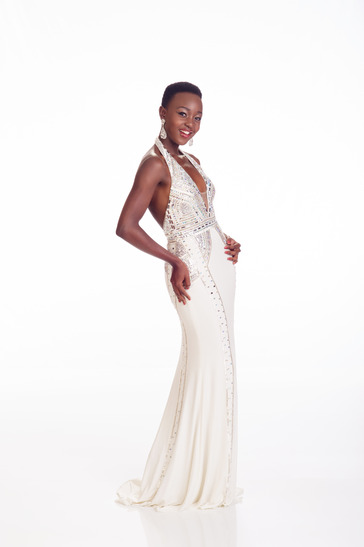 I love the fit! I am super pleasantly surprised with this gown considering the quality of the dresses our Misses from Africa used to present us before!