Text by R. Galvez [@the4ofustraveling]
The 71st Miss Universe gown preliminaries saw a lot of oversized sleeves and cape add-ons. While these are something that we didn't expect to see in abundance these days, they have proven track record to give an aura of elegance. Metallic, beaded and high slit gowns which are all associated with a much modern concept are still in. However, plain fabrics and monochromatic pieces can still do wonders.
But as often cited, it's not so much about the gown but rather how the contestant wears the gown. Core members of Missosology were ask to score each contestant based on that concept. Below results provided some interesting insights as to how the 71st Miss Universe might conclude.
Core members: R. Galvez, Stephen Diaz [@stephen.inventor.diaz], Ameer Gamama [@ameer_emir679], Bong Tan [@bong.tan], Krizza Enriquez[@kxxenriquez]
Bubbling up: Peru, Portugal, Vietnam, Aruba, Panama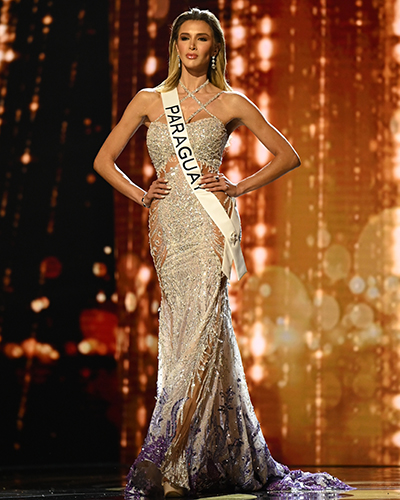 This body hugging piece with silver bodice and purple hemline is effective in projecting the statuesque figure of Lia.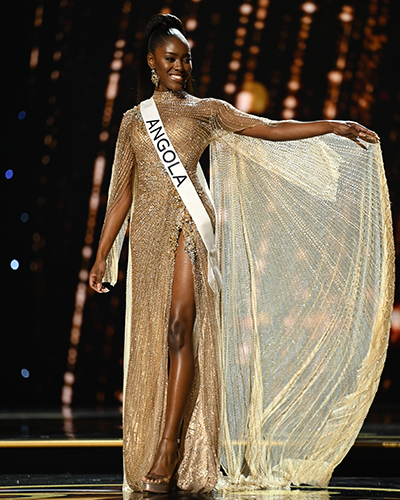 Metallic gown with high slit has been a favorite at Miss Universe lately. Swelia looks elegant in this style and the extended see-through sleeve and cape add a touch of sophistication to the whole ensemble.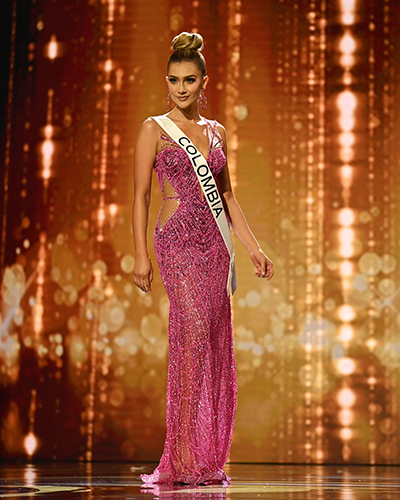 Maria Fernanda looked splendid in this shimmering pink gown. It showed just enough skin to highlight her body form and the bun hairstyle complemented her overall look.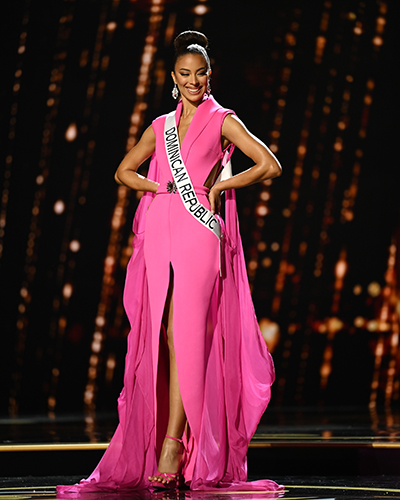 This hot pink gown makes Andreina look like a dangerous femme fatale. She knows to work it onstage and thanks to her tall figure, she pulled it off despite the fact that gown lacks excitement.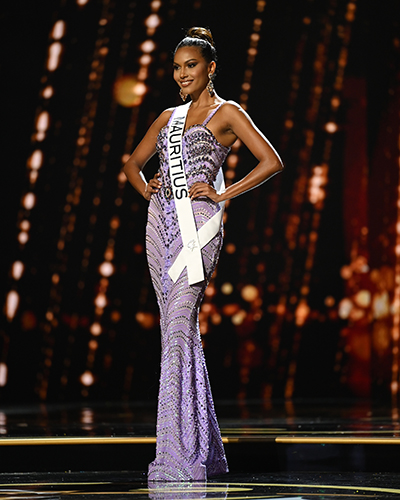 Alexandrine sashayed onstage with such confidence that she looked divine all throughout in this light purple gown. Love the way she put her hands on her hips which made her shoulder look broader.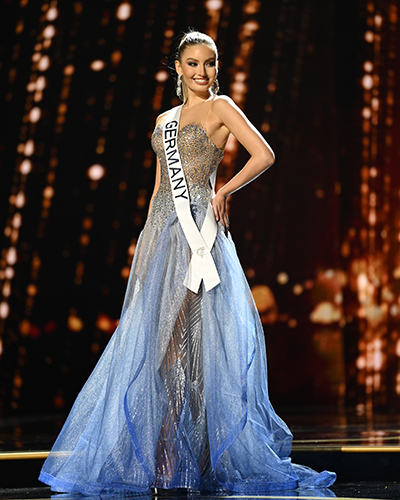 Her turns, her facial expressions, her walk…Soraya exceeded all expectations. I've never seen Germany this strong at Miss Universe since Natascha Börger. Her silver and powder blue gown matches well with her blonde hair and fair complexion.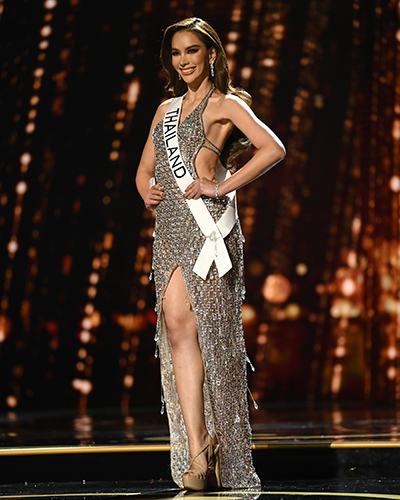 Anna's fierceness is still notable despite toning it down and that's just perfect. Her metallic silver gown with high slit is a perfect pair to such fierceness. She walked like she rules the catwalk and she's not afraid to show the fighter in her.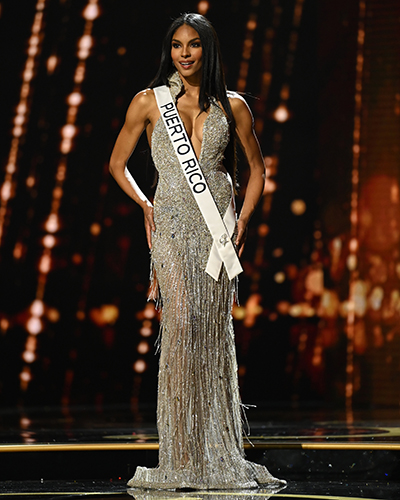 Ashley exuded sleekness and refinement in this silver gown. She reminds us of the queens of ancient Egypt especially that she decided not to bun her long black hair. There's freshness in her and just the right amount of élan to make to look like a royalty.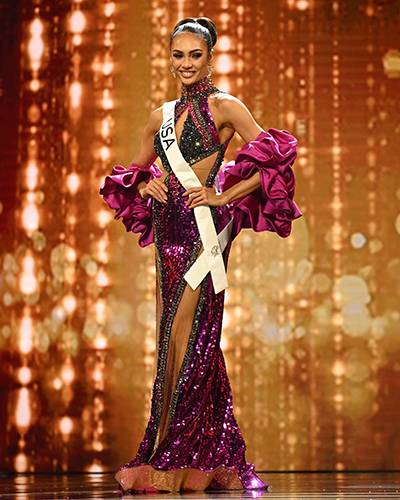 R'bonney's gown is actually risky as the add-on oversized crumpled shawl/cape can easily be misinterpreted as tacky. But she pulled it off looking elegant in this magenta gown while doing her sultry walk.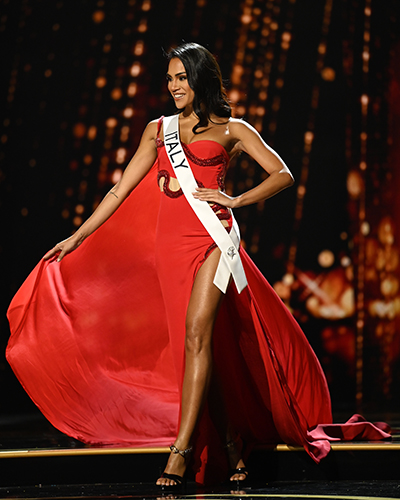 Virginia looked chic in this red gown. When she walked onstage, I could actually hear Jeannie Mai making that Jessica rabbit reference yet again. Anyway, Virginia has been losing steam in the prelims but her gown performance could be her saving grace.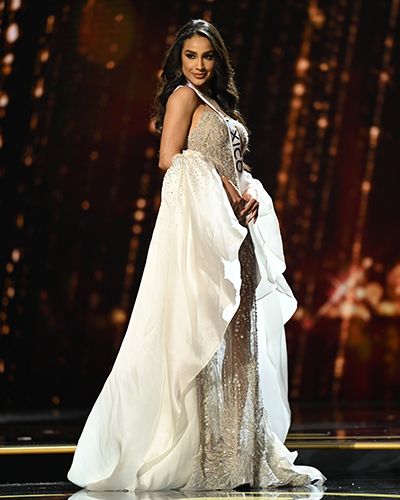 Irma looked like she is enjoying while onstage during the gown prelims. Her bubbly personality is the highlight of her performance. She donned a gown with a cape that further added zest to her already energetic aura.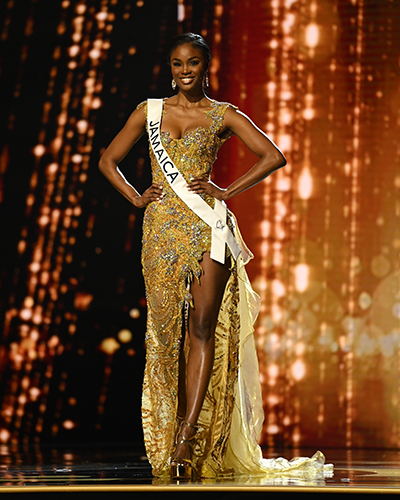 Elegance, just pure elegance. Her gold gown is a perfect match to her personality and beauty. Her walk is ethereal and her beauty screams Miss Universe. Looks like Jamaica can finally have its first ever Miss Universe!
It looks like capes, shawls and oversized sleeves are the plat de jour at Miss Universe 2022. Seeing this lime green gown next to Miss USA's is a testament that this trend is indeed emerging. Amanda looks absolutely queenly in this dress and her mood onstage is a joy to look at!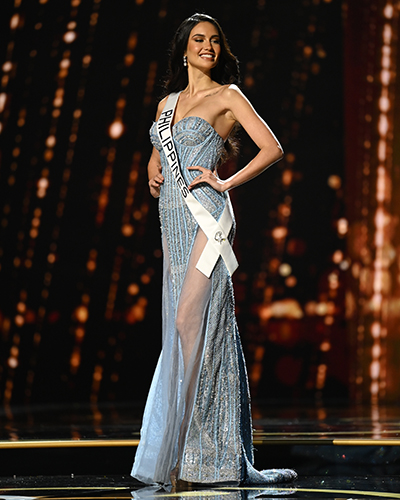 The finesse and sophistication of Celeste's catwalk while wearing a gown with toned down skyblue color speaks in volume about her strategy in the competition. She refused to be overwhelmed by her dress opting to let her walk do the talking. We all know this will not be her gown during the finals night and it would be interesting to know what dress will she use for the big night.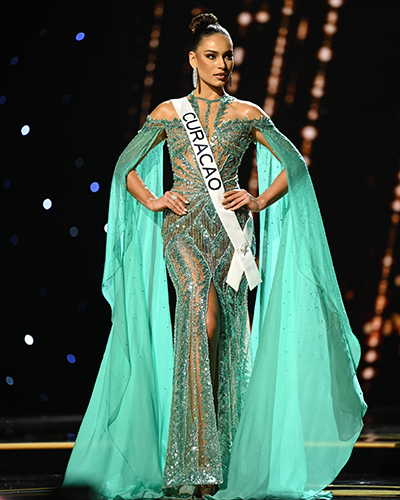 This mint green gown looks perfect on Gabriëla and it reminds me of Miss Paraguay 2021 Nadia Ferreira. Gabriëla's beauty floats onstage with sheer poise and that jaw dropping pose is where she shines the most. There's that finesse in her aura that makes you want to crown her already.