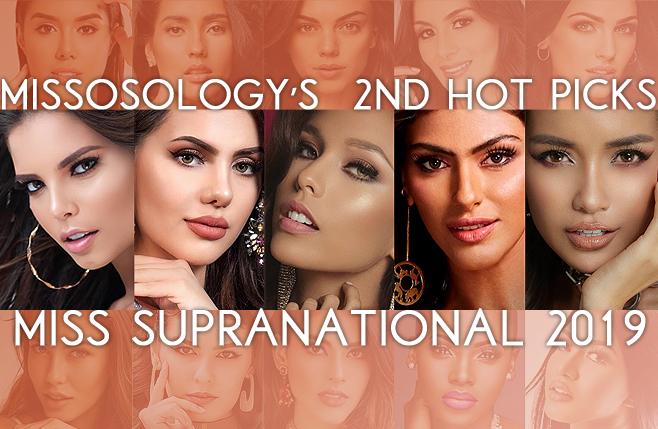 Graphics by K. Enriquez
Text by R. Galvez
The whole scenario that our beauty experts have painted had been undone by just a single stroke after the Elegance Award. While it is still debatable on how much is the impact of this award on the eventual outcome, it is becoming apparent that those who took the top places are gaining traction.
Miss Netherlands Nathalie Mogbelzada winning the Elegance Award has propelled her in the 2nd place of this Hot Picks. She has a pretty solid chance of winning the crown and she's securing momentum daily. No doubt, her beauty is quite elegant and she's playing her cards right.
Topping this list is Miss Peru Janick Maceta who was tagged as one of the fast rising candidates of Miss Supranational 2019. The Latina flair of her beauty has caught the attention of beauty experts. She did a pretty solid showing at various activities as well as during the Elegance contest.
On the third place is Miss India Shefali Sood. She is one of the consistent frontrunners in the race. She is a headturner beauty and her sash carries quite a weight at the pageant. It was also very noticeable that she was really trained and honed with no less than the crown as the ultimate target.
Miss Colombia Yaiselle Tous may surprisingly clinch her country's first Miss Supranational crown. She is one of the leaders among the Latina contingent and she has been quietly upping the ante and could easily surprise the frontrunners later on.
Rounding up the Top 5 is Miss Vietnam Ngoc Chau. She made it to the top 3 of the Elegance Award and the attention has been focused on her since then. She's perhaps the strongest among the East Asians and expect her to be in the semis at the very least.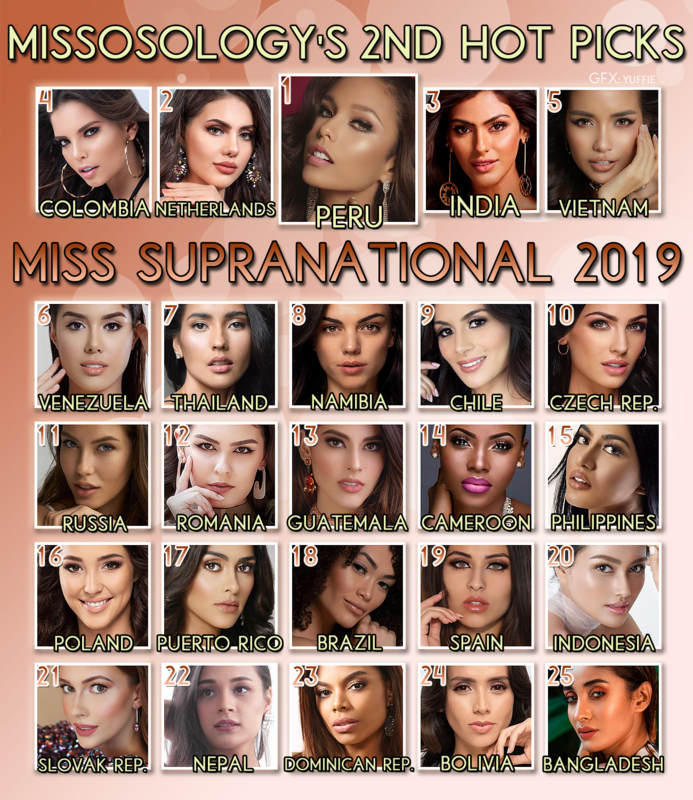 The complete list as follows:
1. Peru – Janick Maceta
2. Netherlands – Nathalie Mogbelzada
3. India- Shefali Sood
4. Colombia – Yaiselle Tous
5. Vietnam – Ngoc Chau
6. Venezuela –Gabriela de la Crus
7. Thailand – Anntonia Porsild
8. Namibia –Yana Haenisch
9. Chile – Katherine Munoz
10. Czech Republic – Hana Vagnerova
11. Russia – Valeriya Skolota
12. Romania – Alexandra Stroe
13. Guatemala –Andrea Radford
14. Cameroon – Angela Kossinda
15. Philippines –Resham Saeed
16. Poland – Kamila Swierc
17. Puerto Rico – Shaleyka Velez
18. Brazil – Fernanda Souza
19. Spain – Aitana Jimenez
20. Indonesia –Jesica Fitriana M.
21. Slovakia – Natalia Hrusovska
22. Nepal – Rose Lama
23. Dominican Republic – Hana Vagnerova
24. Bolivia – Maria Elena Antelo Molina
25. Bangladesh- Tangia Zaman Methila