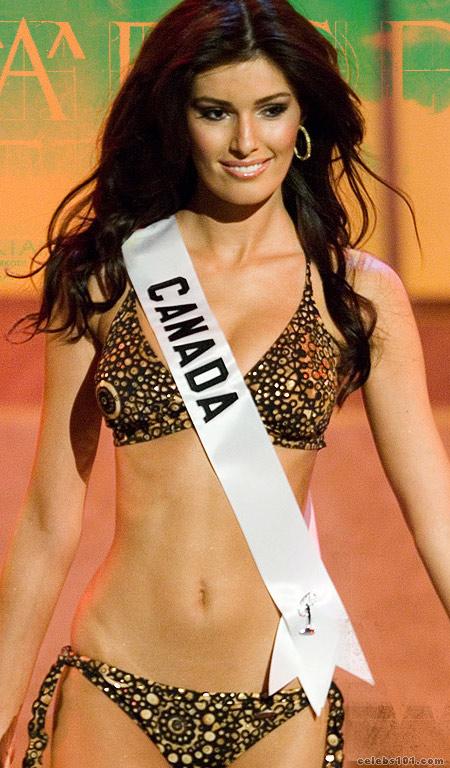 A country with high standard of living, with a society that thrives in racial diversity, a nation with social safety nets but still ensures the freedom of all citizens…that's Canada alright and what's not to like? It has already two Miss Universe crowns and a vast selection of beauties at its own picking – an exotic belle of African origins or an Iranian beauty of top notch caliber, maybe a drop dead gorgeous blonde Quebecois or even a dusky Filipina beauty. Canada has also a well-oiled beauty pageant machinery complete with hired designers and catwalk consultants. The making of Canadian international beauty queen should be a breeze! The problem? The Canadians themselves.
Beauty pageants is but a passé in Canada and Miss Universe does not like it. After winning the Miss Universe crown in 2005 and a good follow-up in 2006, Canada is all downhill from there. Way faster than the slalom skier last Vancouver Olympics. The culprit is the attitude and political correctness of self-righteous Canadians. Miss Universe, without any doubt, was fazed by the treatment given to Natalie Glebova in a social event held in Toronto almost 10 years ago.
Natalie was invited in a culinary event celebrating Thai cuisine but she was barred by city officials from attending in her official functions. BBC reported the event as follows:
But the event's organisers say they were told Ms Glebova could not be introduced as Miss Universe or wear any of her beauty pageant regalia.
They were told by city officials that a 1990 by-law forbids any events on the square that "exploit the bodies of men, women, boys or girls solely for the purposes of attracting attention," the Globe and Mail reported.
The law adds, "specifically, beauty pageants will be prohibited".
Such political correctness is prevalent in a typical Canadian city like Toronto. Amazingly enough, it is the very same city that is powerless to oust its very own crack-sniffing mayor. Such degrading treatment to its very own Miss Universe rans in collision course with celebrity and royal treatment of Miss Universe winners in other countries. The very president of Miss Universe Organization fumed, "It's a strict reading of the by-laws," Paula Shugart told the AFP news agency. If a Canadian Miss Universe is treated that way, why bother giving the crown to Canada then?
The general public's attitude towards the pageantry in Canada is not helping the country. Canada is currently experiencing a Miss Universe drought right now and it looks like an Mpule will not arrive anytime soon. While its pageantry machinery is one of the best in the world, the Canadian perception towards beauty pageants is taking its toll. If for some miracle the Canadian attitude will change, a third crown could possibly be in sight.