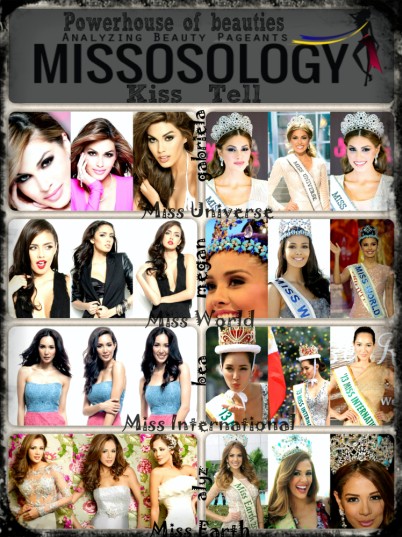 A photo of two Filipinas queens alongside with two Venezuelan beauties is elevating the status of the Philippines. Already an envy within the confines of East Asian region, the Philippines spectacularly rose from oblivion into one of the golden stories in the world of pageantry. The year 2013 is especially successful but how long will it last? Will it be sustainable? Here is an excerpt of a comprehensive analysis: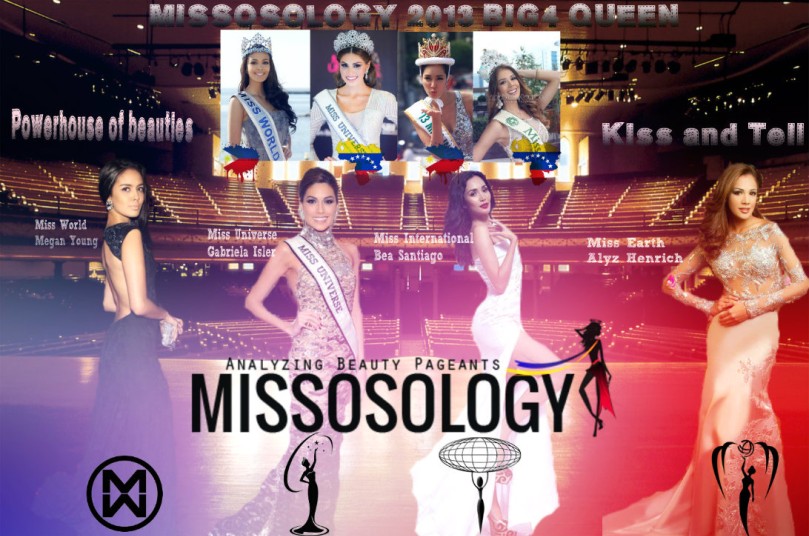 The sustainability of a country's success at the world of pageantry rests on two elements – public support and a formidable national organization. When these are absent, success is unlikely. It is also very evident that these two elements are dependent on each other although there are cases that the presence of one is good enough for a victory. Without a formidable national organization, a country's candidate will not enjoy good training, better wardrobes or excellent moral support. These are critical supports that a candidate need to boost her chances in winning and without any success in the international arena, public support is very unlikely.
A good case study is India. India started with low public support but key to its success is a formidable and largely visionary national organization. Femina Miss India was guided by a vision and a long term outlook. It financed heavily on its beauty pageant arsenal ensuring that each delegate is well-trained and well-groomed. With initial results delivering in 1990, India managed to take the Miss Universe and Miss World crown in 1994. Public interest came to all time high and with it came along the deep pockets of the advertisers and sponsors. Then, the most beautiful women in India came flocking to Femina hungry for a fame of their own.
But India's good showing waned in the late 2000s. The reason? The very beauty pageant arsenal that was painstakingly built in the early 1990s was dismantled. The change of the helm within the organization took away that very vision that carried India to the top. The result was the poor international performance of India and the public interest waned. Beautiful women are no longer flocking to the Femina Miss India contest.
The ability to sustain a country's golden streak is best manifested by Venezuela. It is a country known to have a strong institution that can be called as a beauty pageant factory. An Australian journalist even admitted that when a Miss Australia (or any other country in general) competes against Miss Venezuela, the favor is already stacked against her. Venezuela is a certified beauty pageant crazy nation and the frenzy is being constantly fed by the magic man named Osmel Sousa who can already boast numerous crowns including the two won in 2013.
Philippines can sustain its good performance if it can ensure that the organizations handling all the Big4 candidates will begin to shore up. The main concern is how Bb. Pilipinas, the nation's premier national organization tasked to select the candidates for Miss Universe and Miss International, can keep up with modern ideas.  There are tangible evidence that Bb. Pilipinas is running out of ideas on how to dress its candidates with criticisms ran an all time high against the much maligned yellow dress of Ariella Arida. Even the national costume was not spared and it seems that this exercise is being carried out in an annual basis.
Meanwhile, the Miss World Philippines, despite snatching a crown at its infancy, lacks the necessary public interest and support when compared to Bb. Pilipinas. For such a very young organization, it is still a big question mark whether they can produce another spectacular candidate that is capable of following the footsteps of Megan Young.
All of these point to one element critical in sustaining the Philippines' good performance – ensuring that its national organization is very formidable. All the national organizations in the Philippines – Bb. Pilipinas, Miss World Philippines, Miss Philippines Earth – should have a visionary in the helm. They should invest in a good beauty pageant boot camp ensuring that the trainings that their candidates will receive are top notch. It should also keep abreast with what is en vogue so that the wardrobes that their candidates will not receive any flak on an almost annual basis. With public support and enthusiasm already in place, what the Philippines needed now is its own version of a beauty pageant factory.