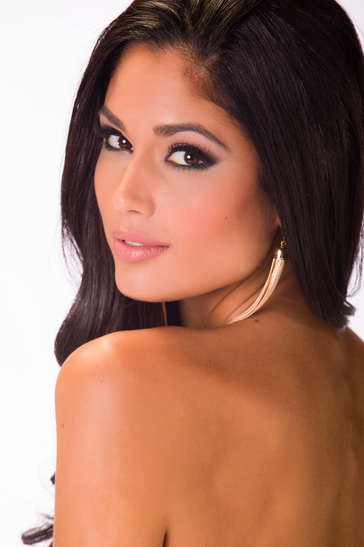 – 2nd PLACE – 
PATRICIA RODRIGUEZ
(Spain Universe)
Ines Ligron - 2nd
Tomas Haberl – 1st
Rafa Delfin – 5th
Donald West – 1st
Peter Sereno – 1st
Madusha Mayadunne – 3rd
Yael Markovich – 2nd
Steve Haynes – 4th
Internet Poll – 5th
TOTAL  POINTS – 83
Patricia Rodriguez was a revelation during Miss Universe 2013.  She ended up as 1st Runner-up to eventual winner, Maria Gabriela Isler of Venezuela, which was announced in a confusing manner because both girls did not immediately acknowledge who did win the title.   As reality sunk in, many fans were not totally happy by Patricia's placement, many were not contented that she only ended up as the runner-up, but that's water under the bridge.

Patricia's journey to Miss Universe was not a quick one.  She first competed at Miss Espana 2008, and won the title at the age of 17.  She was supposed to compete in Miss Universe 2008, but age restriction prevented her to do so.   She went on to compete at Miss World in South Africa where she ended up as one of the semifinalists.  One of her runners-up at Miss Espana, Claudia Moro, went on to compete at Miss Universe and was 6th place.  Another runner-up of hers was Alejandra Andreu who went on to win the Miss International 2008 title in Macau.

When the Miss Universe Spain franchise got a new owner in 2013, Patricia's previous title as Miss Espana did not matter anymore.  Destined to accomplish something  better and bigger in the pageant world, Patricia had to compete again in order to get the chance to become the Spanish representative at Miss Universe.  She represented Tenerife, the largest and most populous island of the Canary Islands, and easily won the national title.  Then she flew to Moscow for the Miss Universe pageant and was pegged as an early front runner.  However, disappointing photos of her very skinny figure were not well-received by pageant critics.  She probably read them, and then, she managed to gain a little bit of weight within two weeks.

At the finals, Patricia did not look like an underfed girl anymore.  She was healthy looking and performed excellently in the swimsuit and evening gown rounds.  She held strongly up to the last leg of the competition.  Her beauty did shine through, and even up to now, a lot of people still can't forget her angelic beauty before and after she was declared as Miss Universe 2013 1st Runner-up. Interestingly, she's 1st Runner-up once again – not in Miss Universe – but in our Timeless Beauty 2013.