The 2021 edition of The Miss Globe pageant will conclude in few hours and many viewers all over the world are excited to know who among the delegates will follow the footsteps of Lorinda Kolgeci of Kosovo.
Albania has always been a great choice as a host and Diamma Resort in Durres (around 30 kilometers away from Tirana) hosted all the delegates, national directors and various key people of the contest.
Fifty (50) of the most lovely women are competing for the prestigious title; however, two (2) had to leave the competition for personal reasons. These are Kenya, Sharon Waleo and Gazizova Aniya Ilhamovna of Tatarstan. Diamma Resort in Durres hosted all the delegates, national directors and other key people in the contest.
Following sub-competitions such as Miss Talent, Miss Bikini and the Head-to-Head Challenge, Missosology's core group and correspondents in Albania came up with a list of front-runners and here they are:
Philippines always sends high-caliber candidates to various international competitions and Maureen Montagne is no exception. With her experience in pageantry, strong stage presence, let alone her supporters, Maureen is going to be up there. The online votes for the Philippines started coming in the last 24 hours and she is now leading the 20% of the judging criteria. Is she the next Filipina queen bagging The Miss Globe title after Ann Collis in 2015?
Malaysia's Malveen Kaur has been consistently performing since Day 1 of the competition. Looking good on the photos, Malveen looks even better and sweeter in person. To top it all, her communication skills are impeccable and her bagging the "Head to Head Challenge" is proof of her prowess as a public speaker. We randomly asked 12 candidates who they think were in the Top 5, eleven (11) out of the twelve (12) candidates easily named her as a top contender. If she wins tonight, it would be the first time to have a winner with a height below 170 cm.
Turkey's Melike Bali is also crown contender. Her performance in the close-door preliminaries are to die for. Melike is perfectly styled 24 hours a day and her wardrobe is one of the well-selected in this batch. She is so nice to speak with and she is probably the most popular among the locals. And the cameras love this Turkish delegate. Will she also deliver tonight?
In a country where pageantry is dying, Germany's Jasmin Selberg may stop this trend through her potential placement in the Top 15, if not Top 5. Jasmin is one of the tallest contestants this year, has an angelic face and according to many contestants, has this pleasant personality.
And finally, Romania's Daniela Stefan is one of the contestants that has been ignored in the competition. Her face, body and personality will advance her into the Top 15 and hopefully into the Top 5.
Check out the full list below:
1 Philippines, Maureen Montagne
2 Malaysia, Malveen Kaur
3 Turkey, Melike Bali
4 Germany, Jasmin Selberg
5 Romania, Daniela Stefan
6 Greece, Vrisiida Andriotou
7 Guyana, Bria Renee Lawrence
8 Dominican Republic, Valentina Campion
9 USA, Capri Quattrocchi
10 Brazil, Aeny Borges
11 Belgium, Amber Vermeulen
12 Venezuela, Jhosskaren Carrizo Smiler
13 Canada, Hailey Hamelin-Wilson
14 Czech Republic, Valerie Herianova
15 Nigeria, Ester Ogechi Gabriel
16 Russia, Darina Bogoiavlenskia
17 Mexico, Lorena Herrera
18 Poland, Justyna Kokoszka
19 Portugal, Sara Almeida
20 Peru, Viveka Hernandez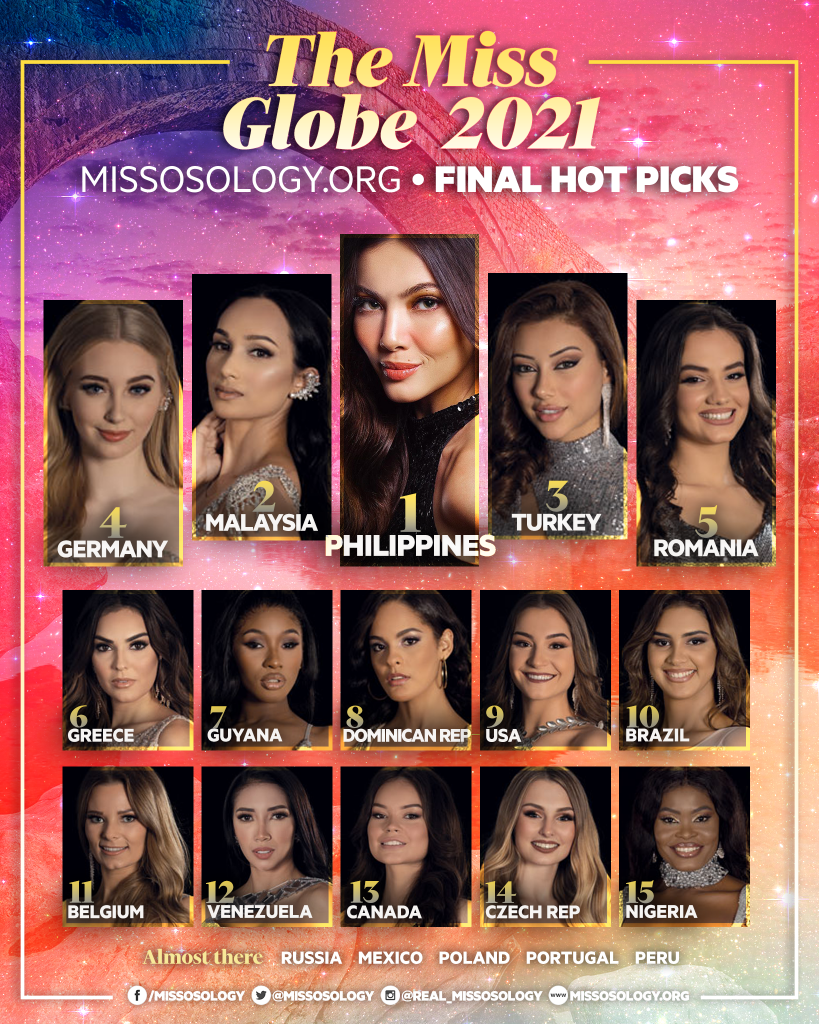 Good luck to all the candidates and thank you Deliart Association, especially to Petri Bozo for staging such an unforgettable event.
The Miss Globe is produced by the Deliart Association and will be seen at 7PM (Albanian Time) via The Miss Globe's YouTube Channel.