Top 6 reasons why India could win it this time around:
1.) India is a serious case of always a bridesmaid but never a bride at Miss International. The country's first ever stint at the pageant – first runner-up. And it's the same case in 1997 and 2003. In 1960, Iona Pinto is runner-up to Colombia's Stella Marquez. In 1997, Diya Abraham was 1st runner-up to Consuelo Adler of Venezuela and in 2003, Shonali Nagrani is second to Goizeder Azúa of Venezuela…Hey wait a minute…It's the Latinas who are in the way of clinching that crown!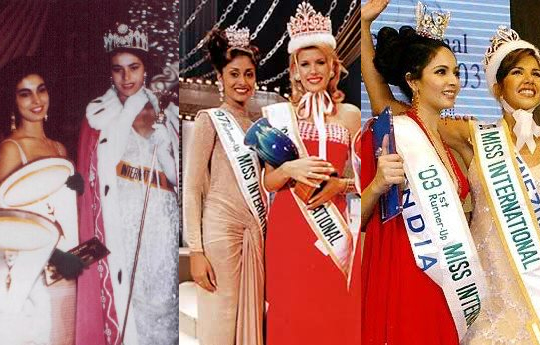 2.) India boasts two Miss Universe titles, five Miss World winners and a Miss Earth titleholder but not a Miss International crown. India is a beauty superpower and it must show its muscles by having all the Big4 crowns in the kitty.
3.) India has a lot of cultural influences in Japan. Well in fact, Buddhism and even Buddha himself originated from India. Remnant of Indian influences are reflected in many aspects of Japanese culture.
4.) If India is a hit in neighboring Korea, it should be as well in Japan. India reigned supreme in Korean based pageant Miss Asia Pacific World and it is a testament that the Indian beauty hasn't lost it touch it. At Miss World and Miss Universe, India fared better than expected. This optimism should be sustained all the way to Miss International.
5.) Politically speaking, India aligns itself with Japan. A common nemesis in the world affairs, necessitates for Japan and India to develop close relationships. The Japanese Emperor and Empress are doing an official visit to India is the same way that Manmohan Singh was in Russia days prior Manasi was called as one of the semifinalists.
6.)  India will send a high-ranking winner in the prestigious Miss Universe India competition. Gurleen Grewal was a favorite to win the crown, but she only settled for the 1st Runner-up position.  In year's past, the Miss International India was just appointed from the runners-up or semifinalists of the annual Femina Miss India competition.