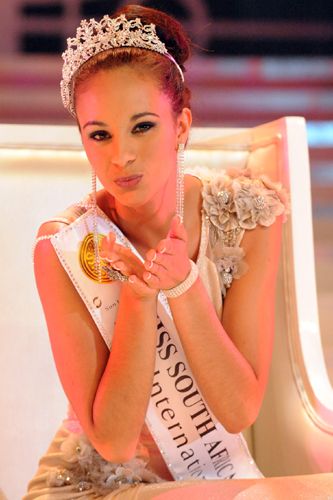 When a beautiful young woman represents a nation in a prestigious international beauty pageant a.k.a. The Big4, pride is a must. Pride in the sense that the opportunity to represent ones nation in the international field does not come easily and that there is a huge responsibility attached to it. Being hailed as your country's most beautiful and then given a chance to battle it out with the equally beautiful young women from other nations should be an exhilarating experience.
But if a young beauty queen is proud to represent her nation, would she expect her nation to be proud of her as well? Not apparently for Miss South Africa Marilyn Ramos. A major publication in South Africa labelled her as the worst Miss South Africa on the basis that she did not make it to the semis of both Miss Universe and Miss World. It is true that Marilyn was crowned with a lot of expectations but it would be very wrong to simply dismiss her because she did not reach those expectations. Above all, as a national beauty queen, she deserves respect and for anyone to call her as the worst Miss South Africa ever is uncalled for.
Of course, beauty pageant contestants are considered public figures and they should expect that there will be criticisms along the way. But this is not to say that they don't deserve any respect. More importantly, for national beauty queens, win or lose, they should be given support by her countrymen. She represented a nation in the best way that she can as such she deserves a small amount of recognition and respect.
Criticisms are part of civilized society but it must be done with caution and responsibility and with full regards to facts. Marilyn Ramos is a victim of smear campaign – a concerted effort to undermine her image and her reign. She represents all those national beauty queens who failed to achieve on what was expected. And like her, all of those national queens who failed deserves respect and appreciation. After all, a nation has the responsibility to recognize those who represented it with pride.