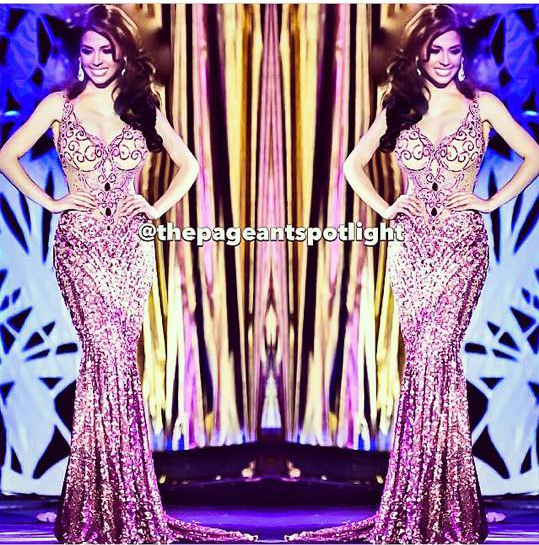 Gown, gown and more gowns! The world, at least outside of the Philippines, are already tired of seeing the posts and comments with regards to the supposedly disastrous gown worn by Mary Jean Lastimosa at Miss Universe 2014. The whole conversation of Miss Universe in the Philippines has been hijacked by the general assent of the populace that the gown designed by Alfredo Barraza was the real reason why the Philippines was out of the Top 5 which the country has consistently placed since 2010.
The Pageant Spotlight, a fan based pageantry group, recently posted in their instagram account a photoshopped photo of Miss Philippines Mary Jean Lastimosa wearing an alternative gown – a gown designed by Filipino designer named Leo Almodal. The gown was worn by Mary Jean during the Miss Universe rehearsals. The question is, based on the altered photo do you think that she could have penetrated the Top 5 wearing an Almodal instead of a Barazza?
Irate fans outside of the Philippines are bewildered by frustrations of the Filipinos. One interesting viewpoint is that no gown could have possibly saved Mary Jean which many considered as a mediocre candidate. Even Miss France Camille Cerf even stated that Mary Jean had no business even in the Top 10! So whether she used an Almodal or a Barraza it couldn't have possibly changed her fate and that the Filipinos are so foolishly fixated in the gown issue. After all, gown does not matter that much at Miss Universe! Is it?
Well, there are so many instances when gown matters a lot of Miss Universe. In 2010, Mariana Vicente, perhaps the most stunning Miss Puerto Rico we've seen in years, burned her chances in winning the crown when she used that heavy looking gown. While some fashion observers liked it, pageant watchers gasp in unison when they saw that horrible gown. There is no doubt by now that Mariana's Miss Universe campaign ended the moment she stepped onstage with that gown.

In 2012, Melinda Bam also ruined her chances with a poor gown choice. She used too much gold and yellow and to think that she is fair skinned and blonde. The gown simply overpowered her and despite many predicting her win, her eventual non-exclusion at the Top 5 was simply sealed by her gown.
The story of Mariana and Melinda proves that gowns do matter at Miss Universe. While people will yawn and smirk at this another article about an oft-discussed topic, let's pause for a moment on what can we learn from this. It is important that contestants should understand that gowns can change the dynamics of the competition at Miss Universe. It is critical that the gown should not overpower the wearer. Avoid heavy, weird and unconventional gown designs no matter how fashion forward it is or how haute-couture it may seem. Indeed, Jeannie Mai was telling the truth when she said that Miss Universe is not about the gown. It is about how the girl looks in a gown.