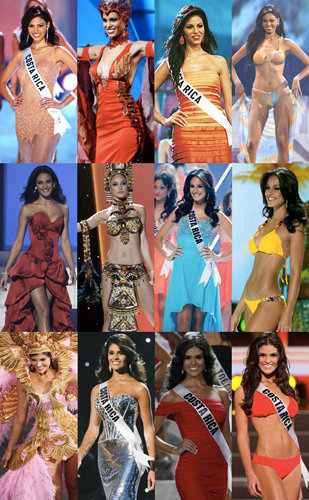 by Ric Galvez
I wouldn't be surprised if Costa Rica will win the Miss Universe crown in the next five years. In 2011, I witnessed how Johana Solano gave everyone a run for their money. Unlucky for her, Spanish speaking Latinas were not favored in Brazil but in any given day, I would gladly exchange her for Miss Brazil at the Top 5. One of the most memorable thing about Johana is how her gown was described by Jeannie Mai as something that reminds her the November Rain video. I like that comment and I think that it underscores the uniqueness of Johana.
Last year, I was approached by a Costa Rican journalist about the chances of Fabiana Granados. I told him that her greatest disadvantage is that her sash is pretty much weak but I quickly followed that Fabiana's experience at Miss Earth will help her a lot. It turns out that experience is indeed the trump card of Fabiana. She was the first to be called in the semis and she exuded a lot of confidence and I unanimously credit it to her exposure in international pageants.
In 2004, I was amazed by Nancy Soto. For me, she was an exotic beauty in the sea of blondes and the usual Latina look. She was a beauty that defies expectations and I love the fact that Costa Rica managed to be in the semis after 50 years! Yes, half a century and Nancy was Costa Rica's Mpule.
This year, I would like to fearlessly forecast that Karina Ramos is a surefire semifinalist at Miss Universe 2014 with a lot of potential to become the winner! One look at her and I fell in love. Karina is simply a classic blend of sweetness and elegance. I just hope that she will be properly groomed and a more palatable gown should be given to her. For now, Costa Ricans should be comforted that they have a top notch delegate and a semis slot is already reserved for Karina. Above all else though, they should be happy that their country is finally getting things right at Miss Universe.