Washington DC.  Pageant experts and missosologists are agreeing that Miss World 2016 can be anybody's ballgame.  There is no clear winner, despite the fact that only one more fast track event is missing in order to complete the preliminary competitions.  With the available information and news that we have accumulated so far, there are quite a few delegates who have been most visible in many of the important competitions.
Top 5 – Crown Contenders
Based on overall performance, so far, it is Hungary's Tímea Gelencsér who is leading the race.  Being a Top 10 finalist in Talent, and also a sports finalist, she is on the roll in amassing important points that will be useful to push her into the Top 10.  Not only that, her Beauty with a Purpose video was one of the 24 projects selected for public viewing, which simply indicates that she has a unique and commendable charity program in her native Hungary.  In our observation, Tímea seems to be the down-to-earth type which is normally appreciated at Miss World.  She also has a good command of the English language, which is important once she represents the organization in numerous charity events and galas.  Hungary may be a small country, but the amount of support that Tímea gets from her constituents back home is truly remarkable.  Like we said in the previous hot picks, she could be the first Hungarian to win an important major international title.
Although Tímea is the one leading at this moment, we still cannot deny the fact that Catriona Gray of the Philippines remains as major contender for the crown.  Catriona missed the top spot to Timea because the latter made it to the sports challenge, while she did not.  However, her social media presence is quite overwhelming.  There is no clear indication as to how the social media category is being evaluated, but based on frequency of views on anything that has Catriona on it, she seems to be the clear winner for the Social Media award. She is No.1 in the MobStar ranking, as of press time.  It is also most likely that Catriona will be declared as the Talent champion, and will be given the chance to perform on stage during the finals, as the winner of this category will be solely based on public votes.  Needless to say, Catriona's strong presence will be continuously felt leading to the finals.
In third place is Bayartsetseg Altangerel of Mongolia, who is currently the second highest ranked Miss World delegate via the MobStar ranking.  It is quite surprising how a country of only three million people can amass such massive support on social media, but it came as no surprise at all.  Bayartsetseg is a celebrity, and is being supported publicly by Mongolia's highest government officials, as well as by her Marco Polo co-stars, who are mostly based in Hollywood.  She is also being backed up by young volunteers who are a part of the charity organization that she co-founded many years back.  Such is Bayartsetseg's charisma, and the strong support comes from the fact that she has already proven many times that she can talk the talk and walk the walk.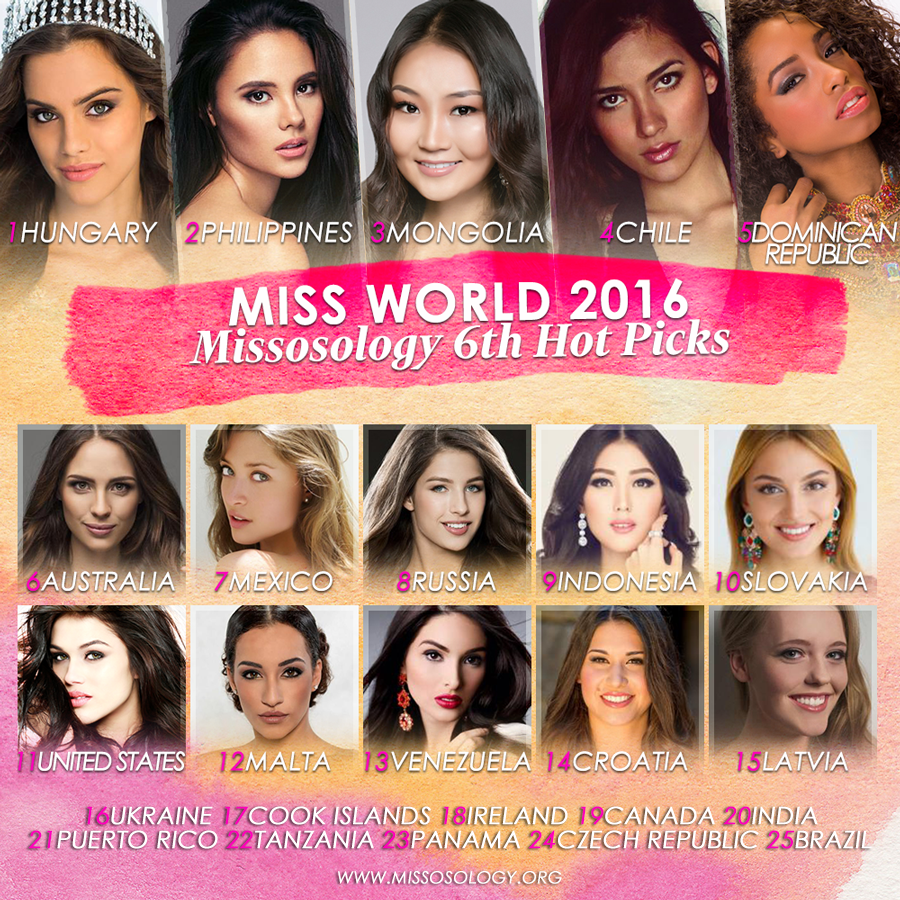 Antonia Figueroa of Chile went up several places into fourth place, thanks to her amazing talent – playing the violin – which is also consistent with her Beauty with a Purpose project, teaching blind children music.  Antonia is indeed a talented musician.  Among the South Americans, it seems that she has the best chance of placing high in the competition, considering the fact that her qualifications go beyond physical beauty.  She is, in fact, an environmental civil engineering student, which is a university course dominated mostly by males.  Antonia's exotic beauty is hard to ignore, so we expect her to also do well in the Top Model competition.
Meanwhile, still in fifth place, is the black Barbie from the Dominican Republic.  Yaritza Reyes maintains her rank, and is still being considered as a major contender for the crown.  If there is a woman of color who can win the crown this year, it is definitely Yaritza!  The last time we have seen a black Miss World winner was in 2001, but we have been seeing colored girls placing in the Top 5 almost consistently.  Yaritza is believed to be a strong contender for the Top Model competition, which will happen tomorrow, so we shall keep on eye on her!
6th to 10th Places
Australia's Madeline Cowe is now getting closer into the Top 5.  At sixth place, she is starting to prove what a great contender she is.  Although she has been in our radar since the beginning, we felt that Madeline was just keeping a low profile.  In the sports event, she was part of the winning red team, and that has given her some boost.  Her Beauty with a Purpose project is something to watch out for as it is said to be relevant and important in her native Australia.  
Mexico's Ana Girault moved down to seventh place.  The most talked about Miss World delegate has no classification, so far, in any of the published events.  But, we are optimistic that she will shine in the very important Top Model competition, because let's admit it, she has the most gorgeous face in the pageant!
Russia's Yana Dobrovolskaya follows Ana at eight position.  Her only placement, so far,  is a Top 20 classification in the talent competition.  However, this angelic beauty cannot be simply ignored.  Her predecessor was last year's Miss World runner-up, and in terms of beauty Yana is just as stunning as Sofia Nikitchuk.
In ninth place, and is relatively new in our ranking is Indonesia.  Natasha Mannuela just came out of nowhere, as we saw her becoming strong in the MobStar ranking.  She is currently ranked third among the 117 Miss World delegates. Traditionally, Indonesia is well-prepared in the most important aspect, which is Beauty with a Purpose project, and this year will be no exception.  An Indonesian fashion designer is said to dress up the girls in the Top Model competition tomorrow, so that might give Natasha an edge.
Completing our Top 10 is Kristína Činčurová of Slovakia.  If there is someone to blame why some girls may turn "lesbian" while in the competition, it's because of Kristína!  She is absolutely breathtaking!  We pray that Miss World will not waste this outstanding beauty because just like Ana, she has not placed in any of the events so far.  If Beach Beauty was an event this year, it would be a battle between Kristína and Ana, for sure!
11th to 20th Places
Audra Mari of the United States is gaining back her momentum right now and is in 11th spot.  As the host delegate, she knows that she cannot disappoint her fellow Americans, so she is doing her best to be more visible in various events.  Following her at 12th place is Malta's Anthea Zammit who is a Top 10 finalist in talent and was also a qualifier in sports challenge, belonging to the winning red team, and was even declared bronze medalist in the individual category.  Venezuela's Diana Croce is in 13th position, largely because she is one of the most beautiful delegates this year, and is also one of the best dressed.  Her BWAP project was one of the 24 selected for public viewing, so that may give us a sign that she is in the radar.  Croatia's Angélica Zacchigna is in 14th place, thanks to her silver medal finish in sports as well as her Top 10 finish in talent.  Although Angélica and Malta's Anthea are almost tied in terms of performance, we think that Anthea's edge is her English proficiency and communication skills.  While in 15th place, we have Latvia's Linda Kinca who is also a Top 10 contender in the talent round, and a qualifier in the sports challenge.  Unlike Angélica and Anthea, Linda failed to get an individual medal, so she ranks lower than the other two.
In 16th place is Ukraine's Oleksandra Kucherenko who goes up and down in our ranking.  We will see after the Top Model event if this Ukrainian teenager is a shoo-in for the crown.  In 17th place is Cook Islands, the only sure Top 20 placer based on the official rules of Miss World 2016.  Natalia Short made history by being the first from the Pacific island country to enter the first cut in any major international pageant, after she won the sports challenge. She was also one of the Top 21 placers in the talent competition.  In 18th place is very beautiful Niamh Kennedy of Ireland whom fans believe has the most captivating eyes in the competition. At 19th spot is Anastasia Lin of Canada who slid in our ranking when we learned that she was not present during the Beauty with a Purpose presentation.  At 20th place, and still holding on is Priyadarshini Chatterjee of India.
Puerto Rico, Tanzania, Panama, Czech Republic and Brazil are in the 21st to 25th spot.
Top Model – the main indicator of who will most likely win in the competition – will be held on December 15th, and after that, there will be a major overhaul in the ranking.  The next update will be our Final Hot Picks, and we will base it on the overall performance of the girls since the beginning of the competition.  Who do you think should we include on the list?  Post your comments below so we can hear from you. /Stephen I. Diaz