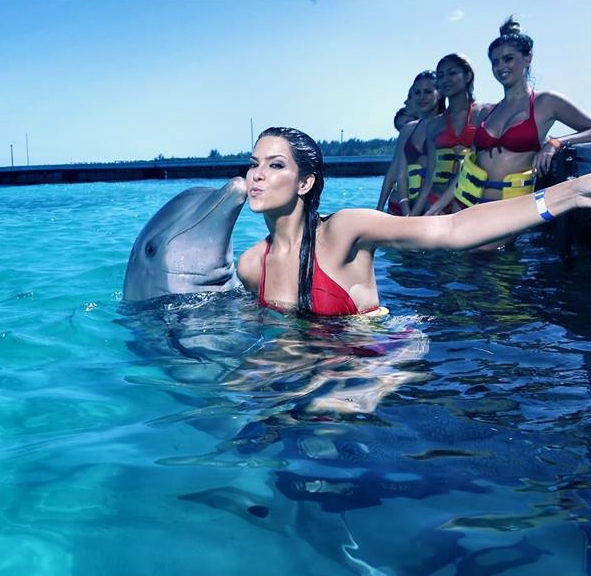 And the winner is:
23 international models compete in 10 days for the crown powered by Eurol
On the 8 of November 23 international models arrived from all over the world to compete at the world finals of Miss Multiverse 2013/ 2014. This year's final was at the spectacular Hard Rock Hotel & Casino Punta Cana where the contestants stayed for 10 days their inner beauty could shine through. This thread explains the journey.
The 10 days

:: An overview of activities of the 10 days during the Miss Multiverse world finals.
A kiss you never forget
Swimming with dolphins, adventure, photo shoots, excursions and more…
On 8th of November, 23 international models arrived at the Punta Cana airport and where taken by Metro bus to the Hard Rock Hotel & Casino Punta Cana. They all arrived before 7 pm as at 8 pm we had a press presentation where the contestants where given their Miss Multiverse country sashes. Many pictures where taken, the film crew taped many hours of first impressions, the night ended with a party.
On 9th of November we started the day with a morning meeting to explain the pageant, the rules, the schedule and create a great atmosphere in this new group. After this the contestants had their first professional photo shoot with Herman van Gestel and the TV crew made with each girl their official TV presentation. The night ended with an amazing bikini fashion show and party with DJ Bob Sinclar.
On 10th of November we attended the morning mass at the Basilica of Higuey the Roman Catholic Church of great importance in the Dominican Republic. The Pageant was honored with receiving a public blessing from the cardinal. After lunch at the hotel we went on an amazing catamaran trip to explore the Caribbean Sea. The day was closed with a lovely group diner and cocktail party at the hotel.
On 11th of November
was the official photo shoots for each contestant. After having their hair and make-up done the contestants did their personal photo shoot with top photographer Herman van Gestel who started each session with an explanation of best positions to be Photographed. In the evening we attended a white merengue party where each contestant presented herself on stage.
On 12th of November
the personal photo shoots were finished, the contestants enjoyed some free time on the beach. After lunch we were picked up by our Metro Bus to go to Dolphin Island start location where the girls were taken by speedboat to the Dolphins. The swimming with dolphins was the highlight of every ones day. The evening was filled with a lesson of poker at the Hard Rock Casino.
On 13th of November
the group photo shoots were made by top photographer Herman van Gestel, the contestants also enjoyed half a day free time on the beach. Then in the evening we prepared for a welcome diner for Catwalk coach and television star Mariana Verkerk to make her entrance at the pageant. We closed the evening with a cocktail at the Mansion and small party at club Oro.
On 14th of November
the rehearsals for the Miss Multiverse world finals November 16 started. Mariana Verkerk was in charge of this and started working with the contestants on their catwalk experience, trained them while managing the choreography and music. This activity took all day and together with the founder and CEO of Miss Multiverse Linda Grandia we closed the day with a late diner.
On 15th of November
we visited the orphanage Ninos de Cristo in La Romana which Miss Multiverse is supporting . After this we went to Marina Casa de Campo to prepare and walk in the fundraise fashion show for the orphanage, the show was choreographed by Mariana Verkerk and hosted by Linda Grandia and Hilda Peguerro it was a great success. 2 girls of the orphanage joined us on the catwalk.
On 16h of November
the contestants had rehearsal and final rehearsal in the day-time Tension was in the air while we were waiting for the all guests to arrive at the theatre of the Hard Rock Hotel & Casino Punta Cana and the show to start. The Miss Multiverse finals were hosted by Founder and CEO Linda Grandia and fully filmed by SuperCanal. The Judges panel had a hard time but succeeded.
On 17th of November
6 of the top 10 winners of Miss Multiverse pageant stayed to promote the past event while all others went back to their own countries. The Miss Multiverse organization is proud to say that the after pageant atmosphere was very friendly and peaceful.
And the journey of the 6 top 10 winners continued for 2 weeks more with: photo shoots, a helicopter flight to a private island near Las Terrenas Dominican Republic, a trip by private airplane to Canaima Venezuela, diverse helicopter trips in the jungle of Venezuela, a trip with private airplane to Los Roques Venezuela, a trip with private airplane to Caracas to shop there, a stay at a private villa in Cap Cana and a stay at a private villa in La Romana, Activities in Bavaro Adventure park. A meet and greet with Marc Anthony, diverse trips on Yachts to islands in the Caribbean, parties and much more.
Brazil's Debora Lyra becomes Miss Multiverse 2014
On November 16, 2013 Miss Multiverse Brazil was chosen by a professional panel of judges to become Miss Multiverse 2014. The judges panel consisting of international Television Catwalk coach and show producer Mariana Verkerk, Top photographer Herman van Gestel, Sponsor Celco Auto CEO Fortunato Canaan, Venue Sponsor Hard Rock Hotel & Casino Punta Cana. During the 10 journey they were also around to interact with the contestants and work with them to get a better understanding of their character and personality. 1st Runner up Miss Multiverse Latvia, Simona Kusova, 2nd Runner Up Miss Multiverse Netherlands Roos van der Blom. 3rd Runner Up Miss Multiverse Dominican Republic Charina Masiel Perez. 4th Runner Up Miss Multiverse Germany Johanna Acs. The top 10 countries in no specific order: Belgium, Netherlands, Brazil, Germany, Dominican Republic, Latvia, Ukraine, Mauritius, Taiwan. We thank all our sponsors for their support it was an amazing week and event.
Meet Miss Multiverse 2014…
Debora Lyra was born in Vila Velha, She was a model since age 8 and had wanted to be Miss Brasil since age 12. With the encouragement of her father, she soon began to participate in and win some beauty contests. Lyra won the Miss Brazil in 2010 representing and participated in Miss Universe 2010. On December 27, 2011, Débora Lyra was involved in a severe car crash, for which her spleen has been removed and some interventions in her spine where due. She overcame many things in her life and the Miss Multiverse organization is proud to have this driven beauty as Miss Multiverse 2014.
Miss Multiverse is sponsored by:
Powered by Eurol Lubricants. Hotel and event venue Hard Rock Hotel & Casino Punta Cana, Media partner Super Canal, Transportation by Group Metro, Car transport by Mercedes Benz Autozama, Hair by Star Products RD, CCN, Celco Auto, Plaza Lama, SGN natural gas, Cei-RD, Ministery of Tourism, Dominican Embassy in the Netherlands, Dutch Embassy in the Dominican Republic, Dolphin Island, Bavaro Adventure Park, Club Oro. With specials thank you an amazing team; Frank Jorge, Mariana Verkerk, Angelica Lopez Ingrid van Hees, Alina Cernei, Herman van Gestel, Daniel Flores Mr. Bienvenido, Miss Multiverse 2013 Wioleta Kobylarzsyk. Rodrigo Chapur & the team of the Hard Rock Hotel.
Miss Multiverse Reality TV program
10 episodes broadcasted by Super Canal in Latin America and the United States
Miss Multiverse is an international beauty pageant that is going into its 5th year of existence. This high end competition with its origin in the Netherlands is seeking for beauty inside and out. During the 10 days journey the contestants are 24/7 followed by film camera's to give the television Audience in Latin America, the Caribbean and the entire Unites States a real look inside this exiting world of glitter and glamour, drama and fun. For sponsoring, participation, partnering and general information please go to the website, Facebook or twitter account. (See below)
Contact information:
Miss Multiverse by G & G Exchange
CEO Miss Multiverse: Linda Grandia
Cell phone DR: +1 829 929 3869
Cell phone NL: +31 6 380 56 135
Address: Kepplerstraat 13, 3817 TA Amersfoort
The Netherlands
Skype: Lgausachsgrandia
http://www.missmultiverse.com
http://www.facebook.com/missmrsmultiverse
Twitter: @MrsMultiverse