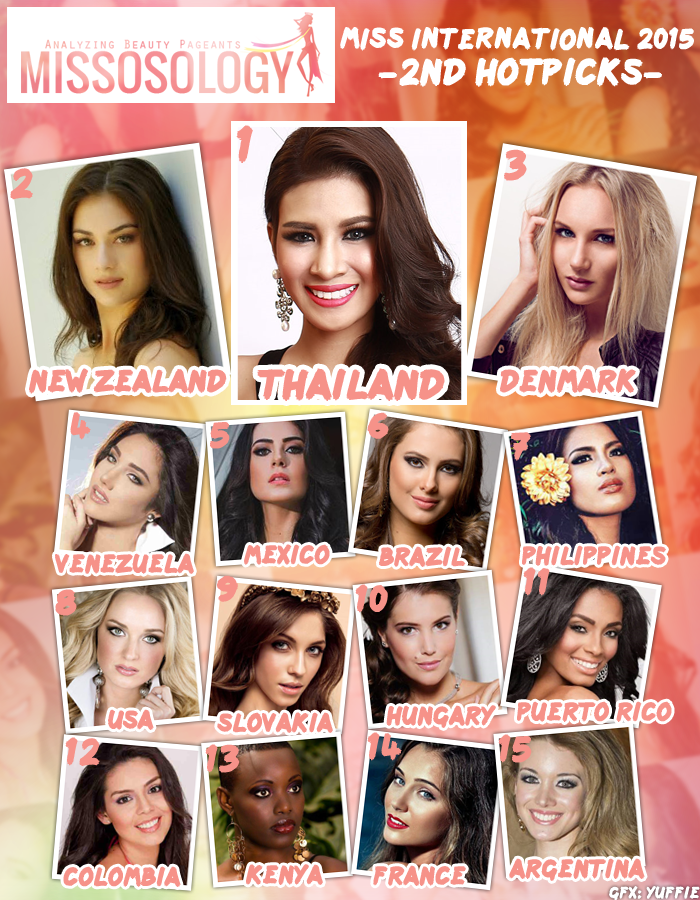 MISS INTERNATIONAL 2015
2nd Official Hot Picks
1. THAILAND (Sasi Sintawee) – Less than two weeks before arrival, it's no surprise to see Sasi as the one to beat! She was the overwhelming favorite to win her national title, and the judges did not disappoint her fans and followers. She is the only delegate to have competed in a nationally televised Miss International local competition, with no less than the reigning Miss International 2014 Valerie Hernandez as the guest of honor. No other national organization has done that. So that means a lot to the ICA people, who organize the annual BIG 4 pageant. It has to be noted that Sasi was a former Miss Earth Thailand, who competed in Manila last year, where she ended up as a Top 16 semifinalist. After she was abandoned by the organization that she used to represent, she put thing into pieces and vied for the title of Miss International Thailand 2015. Her impeccable stage presence and overall projection were convincing enough to make her win.
2. NEW ZEALAND (Hayley Robinson) – Hayley's name is consistently being tagged by pageant experts as one of the most beautiful faces to grace the upcoming MI pageant. Hayley has a face of angel, the type that is demand in Japan and perfect for commercial modeling. By now, we hope that Hayley has already improved her speaking skills. Her mediocre performance at the Q&A portion of Miss World New Zealand 2015 had cost her the crown, so despite being the top favorite, she only settled for the 1st Runner-up position. But, this could turn out to be a blessing in disguise because Casey Radley, who was also a runner-up at the MWNZ two years ago, finished with an impressive 3rd place at Miss International 2013.
3. DENMARK (Mette Riis Sørensen) – As time passes, Mette is getting more and more visible in the pageant radar. Her national director is doing a great job in keeping her presence alive! We heard from those close to her that Mette is actually very reserved, yet an articulate young woman, which by the way is very typical among Scandinavians. Intelligent but poised, Mette reminds us of last year's Miss Finland, Milla Romppanen, who was part of the Top 5. So far, she is leading the European pack with her classic look, and those beautiful blonde hair that is being worshiped in Japan!
4. VENEZUELA (Edymar Martinez) – Despite topping the 1st Hot Pick, Edymar failed to sustain her rank after numerous comments about her nose that looked "unnatural" and "imbalanced" flooded our forum. But, that should not be a concern for this beautiful young woman, who was a top favorite at last year's Miss Venezuela but only settled for the Miss Internacional title. Yes, the nose may look distracting by looking at the old photos, but recently, the imperfection does not look obvious anymore. Once Edymar arrives in Japan, for sure, normal people won't even notice the nose! It will be her inner personality that will make her shine through, and that is always true among Venezuelan delegates.
5. MEXICO (Lorena Sevilla) – Lorena's fans at the Missosology forum have been very supportive of her, and that is truly commendable. Although she is not as stunning as her predecessor, Vianey Vazquez, there must be a reason why she is loved by her constituents, and why Lupita Jones had chosen her to compete for Miss International 2015. Mexican delegates at Miss International could either be a "hit" or a "miss". There were times, for instance in 2012, when their delegate, Jessica García Formenti, made it into the Top 15 although nothing much was expected of her. And then came the year 2013 when their delegate, Lucero Montemayor, who was considered an upgrade over Jessica, failed to place. So we hope that Lorena will be more of a "hit" instead of a "miss".
6. BRAZIL (Isis Stocco) – Well, this came as a huge surprise for many of us because it's been two years since we last heard of Isis in the world of pageantry. Despite being a favorite at Miss Universe Brazil 2013, Isis was only declared 3rd Runner-up, to the disappointment of many pageant fans. Although we think that Isis is a stunningly beautiful woman, much of the photos that we see of her were that of 2013, so we really don't know what has become of her since then. But, we believed back then that she really deserved to compete in a major international pageant.
7. PHILIPPINES (Janicel Lubina) – Recent photos of Janicel did not flatter her looks. She is starting to lose the momentum, and her styling is becoming less than mediocre. So, if she does not wear the Philippines sash, nobody wuld notice her, but since she is "Miss Philippines", there will always be thousands and even millions of fans who will cheer and support her online. Janicel was featured twice in an online Japanese media, so she should capitalize on that aspect. It means that people in Japan are interested in the conclusion of her journey to become the next Miss International.
8. USA (Lindsay Becker) – After being crowned as Miss US International, Lindsay's photos and updates have been very scarce. We know that she is a beautiful blonde woman, and her type of look will certainly suit well among the Japanese, but there is another blonde delegate who is more visible than her, and that is the Danish delegate. Interestingly, Lindsay was a judge during Mette's national competition where the latter was chosen as Miss International Denmark 2015! Who will prevail between the two, come November 5th? Will it be the judge, or the one who was judged?
9. SLOVAKIA (Barbora Bakošová) – Barbora was recently featured here in our website, and it was revealed that she was a performer in a dance group that used to win in major international competitions. A dancer and a performer, Barbora has the goods to perform well in the finals. But that won't be enough if she does not back it up with a bubbly personality and good social skills. Basically, these qualities are necessary not just for her, but for all the delegates.
10. HUNGARY (Linda Szunai) – Although Linda has gone five ranks down, it does not mean she is totally losing steam. We heard that she has been working really hard with her speaking skills and has been practising with a Venezuelan trainer who is based in Budapest. This former Miss Hungary has already competed in Miss World, where she was a Top 30 finalist. Mentally speaking, she has an advantage over the other deleagtes, but she really needs to step up her game and show more competitiveness.
11. PUERTO RICO (Wilmary Moncion) – Rumors had it that Puerto Rico was not sending a delegate to Miss International, and that was later proven to be a hoax. It just turned out that a new franchise holder was in the making, and the group had appointed Wilmary, who was a major favorite at last year's Miss Universe Puerto Rico representing Salinas, but was shockingly eliminated in the Top 6. Now is her chance to prove her worth as she carries the pressure of being the successor of the reigning queen. No country has ever achieved a back-to-back win at Miss International, so we might see it happening this year!
12. COLOMBIA (Natalia Ochoa) – Sweet looking and intelligent, we all know that when it matters the most, the Colombians will deliver the goods! Natalia is a very competitive woman, and with the support of an organization that is consistent in producing the best evening gowns, it won't be a surprise if Colombia will be in the winners' circle again.
13. KENYA (Eunice Onyango) – After being selected as Miss International Kenya 2015, Eunice is the only confirmed black African to compete at Miss International, so far. She is very exotic, and with those piercing eyes, she can be considered as a black goddess. Our advice to Eunice is to always be positive and never ever look at the negative side of being a black woman in Japan. Lots of black delegates got discouraged in the middle of the competition, and that is true in many instances. But last year's 1st Runner-up, Zuleika Suarez of Colombia, did not show signs of such weakness. She was the most loved delegate among the staff, and her fellow delegates herself. She even won Miss Friendship. So Eunice must be assured that her country, Kenya, already has a lot of fans her in Japan because of their superiority in marathon and long distance running. Take advantage of that!
14. FRANCE (Charlotte Pirroni) – France is once again sending one of their runners up at Miss France and Charlotte will hopefully make France proud. Historically speaking, France has won Miss International once, but in the last ten years, they have only made it into the semifinals once. It's quite ironic knowing that the major sponsor of Miss International is the business conglomerate of Akemi Shimomura called "Miss Paris". Last year, France sent an extraordinary contestant, Aurianne Sinacola who may have won the Miss Perfect Body award, but still failed to enter the semifinals.
15. ARGENTINA (Helena Zuiani) – Helena is very beautiful, and just like her predecessor, we barely know anything about her. As much as we want to put her higher in the rankings, we can only put her in the 15th spot because we cannot just ignore her beauty. She is, after all, named after the mythological woman whose beauty could launch a thousand ships.