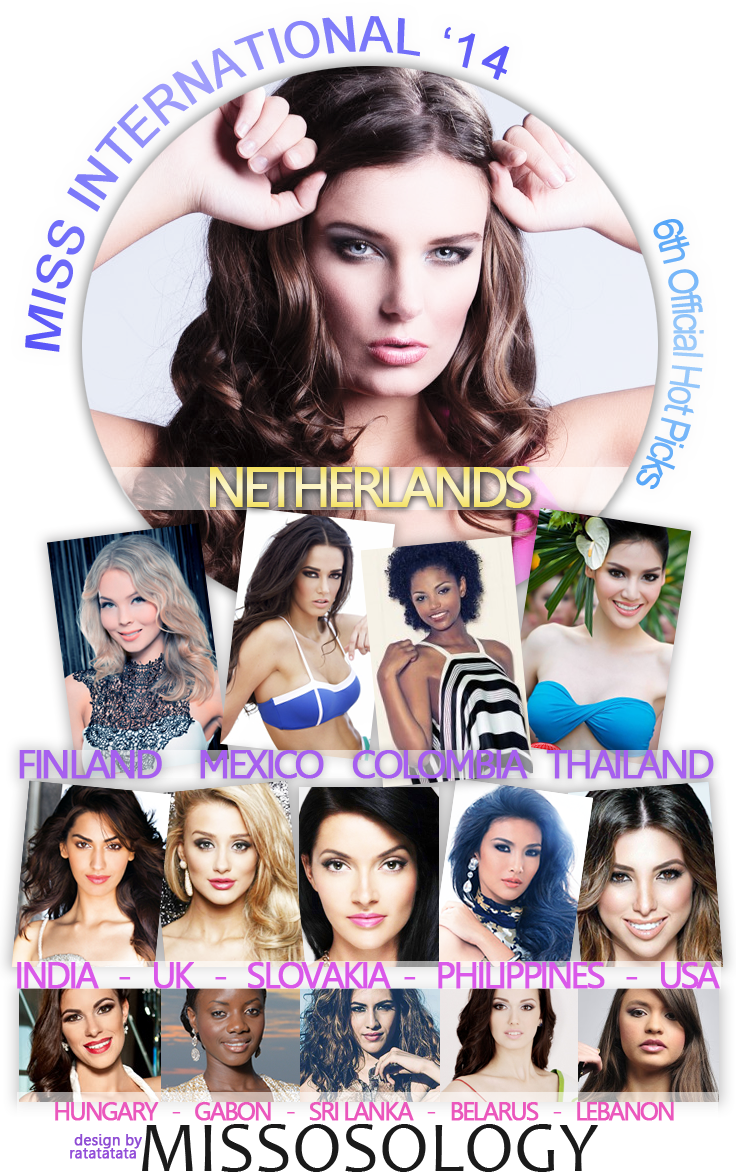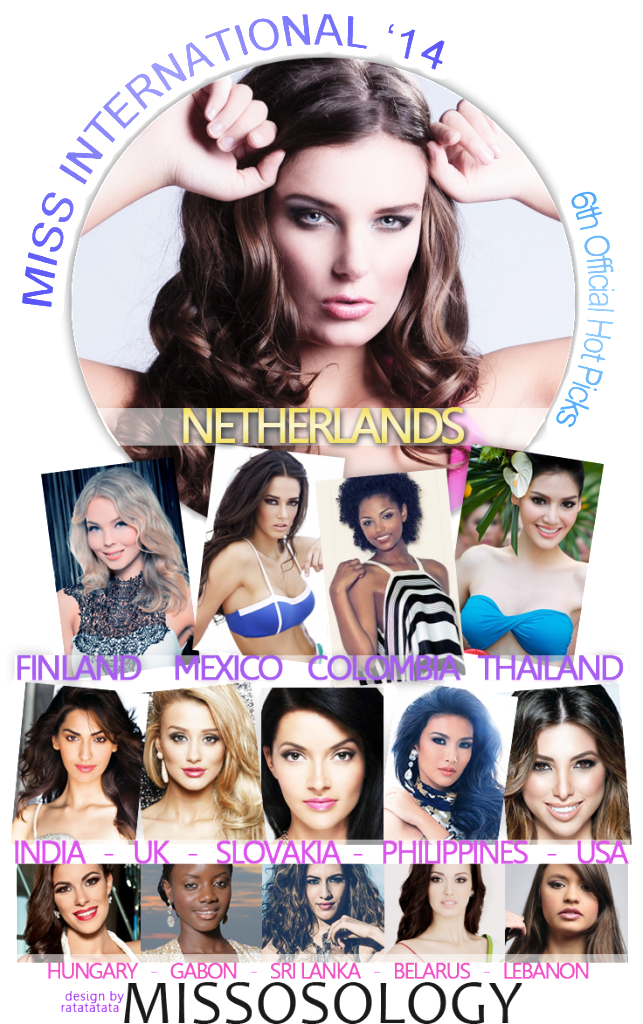 MISS INTERNATIONAL 2014
6th Official Hot Picks by Missosology
1. Netherlands.  Shauny's determination is becoming more and more evident as the final night is fast approaching.   Not only that her physical beauty is being admired by many, her intelligence and friendly personality are two factors why she is consistently being talked about in Missosology.
2. Finland.  From nowhere, Milla became an instant favorite!  Why?  Because her queenly bearing, very endearing personality, mixed with her demure yet expensive look, give her a unique balance that makes her different and distinct among the rest of the candidates.  She is a blonde "royalty".  One can always see her being prim and proper, as if she was educated in an exclusive girls' school of the past.
3. Mexico.  There is no doubt that Vianey has one of, if not the best faces of this year's competition.  Her face is perfect for a commercial model in Japan!  What is rather disappointing about this Mayan goddess is her speaking skills.  During the Miss International forum, she was an epitome of a perfectly made up woman, but when she spoke, she lacked the spunk to appeal to the listeners.  Other than that, this woman is topnotch, and if facial beauty is the only basis for this competition, she definitely gets our nod!
4. Colombia.  A lot of people think that Zuleika is overrated, but we disagree.  Aside from her exotic beauty and well-shaped body, this ebony beauty from one of the most successful countries in Miss International is actually one of the very few Latinas who is fluent in English.  Her husky voice is so sexy and charming, one will fall in love while listening to her.  So, never count her out just because of her skin color which is usually not favored in Japan.
5. Thailand.  This woman never loses steam.  She is everywhere!  She always smiles, greets her fans and is always poised and attentive to whatever is happening around.  Her national director and organization trained her well!  There seems to be no inch of mistake for her every move.
6. India.  Jhataleka is a woman of substance.  She is an eloquent speaker.  One can gauge that this young woman has something in between her ears once you engage in a conversation with her.  Her smile is also so infectious as she is blessed with a perfect set of teeth.
7. United Kingdom.  Although Victoria moved down in our ranking, it does not mean that we are slowly ignoring her.  As of the moment, we notice that another blonde is stealing the limelight, and that is Miss Finland.  But Victoria is still amazing!  Her warm personality, which is balanced with her wholesome outlook made her a hit among the university students when they attended a local school festival in Tokyo last Monday.
8. Slovakia.  Lucia, was no doubt, the queen of the Miss International Forum!  Aside from her wonderful speech that was sincere, honest and humorous all at the same time, her styling during that important event was close to perfection!  She definitely nailed that round, and needless to say, she became our instant favorite!
9. Philippines.  Bianca is into a lot of pressure.  The reigning queen is from her country, so the expectation is extremely high for this well-accomplished young woman who is representing a country with unbelievably loyal pageant fans.   Although news about her admission to a Tokyo hospital brought a certain amount of concern to her fans, she's now back in the game and was in fighting form during the Press Presentation.
10. USA.  Samantha is your "girl-next-door" type of beauty queen.  She is someone with whom you can relate to, but at the same time, you are bound to listen to her when she speaks.   There is no doubt that many of the young people who help the organization have a little crush on Samantha because she is indeed very charming.
Bubbling Up:
11. Hungary 12. Gabon 13. Sri Lanka 14. Belarus 15. Lebanon
The 6th Hot Picks are partly based on the Japan Food Festa activity, Miss International Forum, and the overall  performance of the girls during the Press Conference.