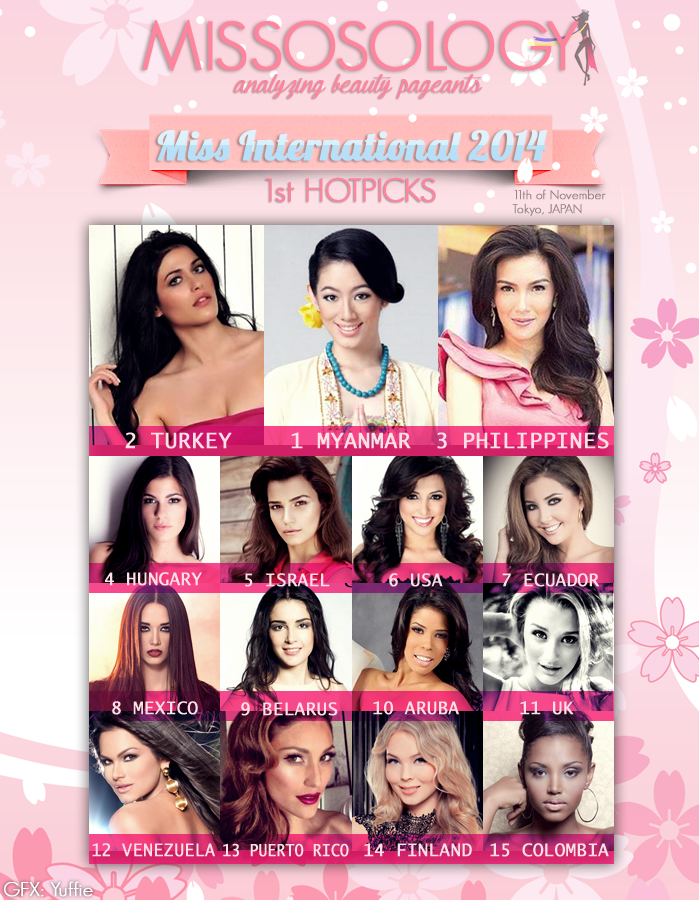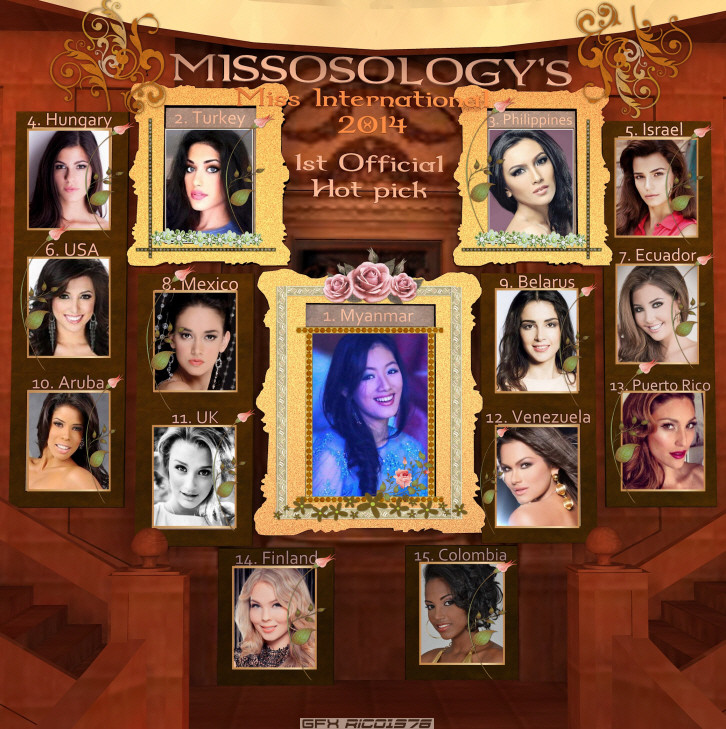 MISS INTERNATIONAL 2014 
1st Official Hot Picks by Missosology
1. Myanmar
2. Turkey
3. Philippines
4. Hungary
5. Israel
6. USA
7. Ecuador
8. Mexico
9. Belarus
10. Aruba
11. United Kingdom
12. Venezuela
13. Puerto Rico
14. Finland
15. Colombia
What happens when the reigning Miss International and a staff of Miss International Organization go to a country to witness and judge the selection of the national delegate for MI?  Well, your guess is as good as ours!  At this rate, the newly crowned Miss Myanmar International 2014 Khin Wai Phyo Han, who was crowned by no less than MI 2013, Bea Rose Santiago, is bound to win the crown this coming November 11th in Tokyo, Japan.  If you remember it right, Bea Rose was elected as Bb Pilipinas International by then ICA Chairperson Hirofumi Hashimoto in Manila, and then months later, she won the Miss International 2013 title in Tokyo.  Going back to our Myanmar queen, this young lass, who stands 175 cm, is only 18 years old, but is very eloquent in the English language.  She has porcelain white skin, and is well-poised, prim and proper.  If Khin will win, she will be the third Asian in a row to win the Miss International crown, something that has never happened before.
In 2nd place is the Turkish delight, Gizem Koçak, who is coming to Japan as a revenge for the non-participation of their overage delegate last year.  Another 18-year-old lass, it seems that Turkey really made sure that their delegate this year would be within the age range to be able to compete.  In 3rd place is Bianca Guidotti, the delegate where the reigning queen is from.   Although Miss International has never allowed a back-to-back victory ever in its long history, a lot of Filipinos are hoping for a "first" this year for their beloved Philippines.
In 4th place is Dalma Karman, the newly crowned queen from Hungary, who is a product of a four-month YouTube-based reality show that chose the Hungarian delegate for Miss International.  This is the first and only pageant system to select a national delegate for a BIG 4 Pageant.  In 5th place is the delegate from Israel, Shani Hazan.  This is the first time in the history of Israel that a former Miss Israel winner will compete at Miss International, after competing in Miss World.  Normally, the winner of Miss Israel would compete only in either Miss World or Miss Universe, but not at Miss International, so this is another thing that MIO should also take into consideration because some countries are slowly taking their pageant very seriously.  Last year, Iceland's Sigrun Armannsdottir was also an ex-Miss Iceland and Miss World delegate, who competed at Miss International.
Joining the upper ranks at 6th Place is the American delegate, the beautiful and bubbly Samantha Brooks, who won in a very competitive Miss US International batch.  It won't be hard for Samantha to continue the semifinal streak of the USA,  or maybe higher.  She is followed by the angelic beauty from Ecuador, Carla Prado, who was the runner-up at the Miss Ecuador beauty pageant.  The 19-year-old native of Salinas will try to duplicate the victory that her compatriot accomplished three years ago in Chengdu, China.
Another Latina looks really promising in our list, at 8th Place, and she is the gorgeous bella from Mexico, Vianey Vasquez.   The last time Mexico had won the MI crown was in 2009.    Belarus' Natallia Bryshten is in 9th Place, and one can notice her beauty that spells royalty.    Aruba's Francis Sousa is in 10th Place.  Armed with a very hardworking national director, we are confident that this year, Aruba will not just go back home with a Best in National Costume Award, but a much deserved placement in the semis, or a placement that could duplicate Alexandra Ochoa's 1st Runner-up placement in 1994, or even better.  It was Aruba's best finish in MI, to date.
Completing the 1st Hot Pick list in the 11th to 15th place are the delegates from United Kingdom, Venezuela, Puerto Rico, Finland and Colombia.  The UK had organized a pageant that selected their delegate this year, which is a positive development compared to the past method of merely appointing someone to represent UK.   Venezuela is not as strong as they've always been, while Puerto Rico selected a formerly brunette-turned-blonde miss, to suit the Japanese taste of beauty.   Speaking of blonde beauties, Finland is sending a sweet blonde beauty, probably learning from Viivi Suominen's surprising placement in 2012, where she was hailed as 1st Runner-up, and the only blonde in the Top 5.  Lastly, Colombia is sending a coffee beauty, and we are a bit doubtful of her chances, knowing the prejudice of Japanese judges against women of color, which has been proven by historical fact.