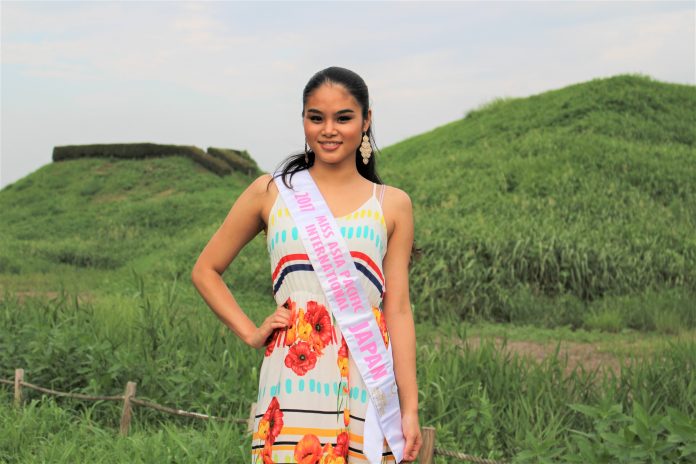 Yuki Sonoda to compete at
Miss Asia Pacific International 2017
"I am tremendously honored to be the first Japanese-Filipino to represent Japan in this prestigious competition."
Such were the words that came out of the mouth of Yuki Sonoda, who was appointed as Miss Asia Pacific Japan 2017 by the current license holder Stephen Diaz.
The 23-year-old aspiring lawyer successfully finished her law studies at the prestigious Rikkyo University in Tokyo.  While preparing for her bar exam, she is currently working as an office assistant in a Tokyo-based real estate firm.
"We actually planned to send Yuki last year to Palawan, Philippines for the revival edition of Miss Asia Pacific International," said Diaz, who also sent last year's delegate, Natsuki Suzuki.  "As the first runner-up during last year's Miss Supranational Japan competition, Yuki was supposed to be sent to one of the international pageants where I own the Japanese license. Being the good girl that she was, she prioritized her studies and turned down my offers.  This year, however, she said that she wanted to do Miss Asia Pacific International. So, I did not have any second thoughts to appoint her," he added.
Yuki is now busy preparing for the upcoming international pageant, which will be held in Manila this November.  She admits that as of the moment, her body is not yet ready to compete internationally, so she needs a rigorous training regimen.  She is also busy reading about international humanitorian issues in preparation for the interview round.
"I think that my biggest advantage is my communication skills.  I can speak English fluently, aside from my native language which is Japanese.  Also, I can converse in Tagalog because my mom is from the Philippines," Yuki affirmed with confidence.  "Basically, I don't want to answer questions with the usual pageant cliches.  I want to know what to say, when to say it and how to say it.  The world right now is so polarized with very divided political views.  I want to be able to speak on neutral ground, without offending one or the other."
Although her ambition is to become an international lawyer someday, Yuki has always dreamed of becoming a beauty queen.  Instead of competing for her mother's homeland, she decided to represent Japan.  After all, she has been holding a Japanese passport all these years.
"I really wanted to become a beauty queen when I was small.  This is my first pageant since May of last year.  I competed back then as Miss Kagoshima at the inaugural Miss Supranational Japan beauty contest.  My roots are from Kagoshima. I am proud to say that my father is said to have descended from the family tree of the legendary samurai, Saigo Takamori.  Being a fighter runs in my blood," Yuki added.
No Japanese has ever won the Miss Asia Pacific International title since its inception as a regional pageant back in the late 1960s. Atsumi Ikeno was the first delegate in 1968 where she was adjudged second runner-up, and is so far the best placement to date by any Japanese delegate.