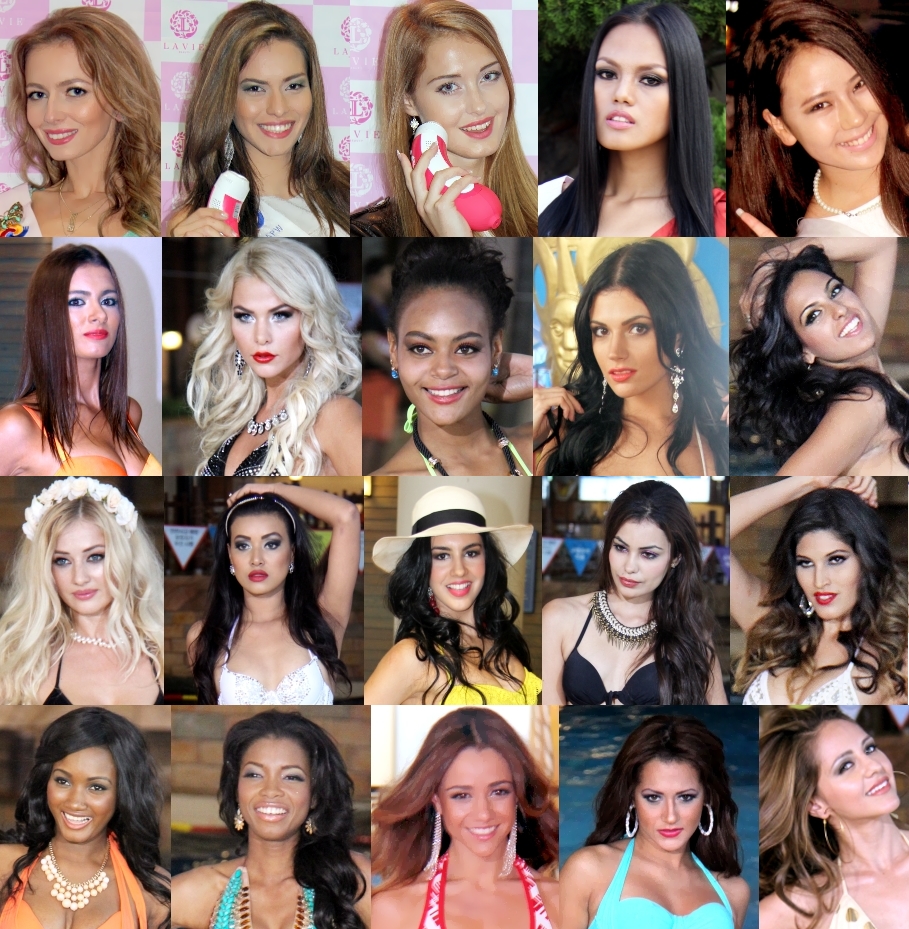 20 Brightest Stars of Miss Asia Pacific World 2013
Missosology's Fearless Forecast & Review
Since its inception, Missosology has been covering the Miss Asia Pacific World pageant and besides its highs & lows and controversies in the past, we continued to support it due to the fact that we "believe" that the organization has what it takes to change for the better. This year, we have finally witnessed the soul of Korea – the pageant's "mother-nation" finally welcomed their 'own' international beauty contest with open arms.
Adding the label "super-talent" to the title sets Miss Asia Pacific World apart from other international tilts since they pick not necessarily the most beautiful girl, but the most beautiful from the talented and personable ones. The 44 contestants will be judged on poise, personality, and elegance through the swimsuit & evening gown segments while some contestants that performed best during the Talent preliminaries will be fast-tracked to the semifinals and will have the great opportunity to be signed with the nation's top K-Pop entertainment/talent management.
The credibility of the pageant is uphill; all contestants truly enjoyed their experience throughout their stay in Korea. The Miss Asia Pacific World 2013 pageant showed a lot of promise this year, and yes, despite everything, it has exceeded expectations and probably will for many generations to come. We at Missosology interacted with the contestants behind the curtains and stage lights for 2 weeks. Here's our fearless forecast & review.
Russia, Ekaterina Grushanina
– Fashionably stylish, classy, statuesque, strong stage presence, polished social skills, 2 international titles tucked in her belt– what more can you ask for? A clear front-runner of the competition, no one can deny that she has so many strengths! She knows how to play her cards well and could possibly win another crown for her country this year. When asked what her favorite hobby is, Ekaterina quipped – "collecting crowns!"
Sweden, Moa Madicken Öberg – This stunner became our immediate favorite. She was selected Most Popular in swimsuit by the viewing public during the preliminary show. Moa not just won the hearts of Koreans and the media but also the admiration and respect of her co-candidates. This amazing beauty looks and acts like a princess.
Venezuela, Mercedes Pieruzzini – You just can't ignore her! Venezuela has the bubbliest personality. Her catwalk skill is full of energy. Sassy, exciting & sexy, she will also see action & represent Cojedes in next year's Miss Venezuela pageant.
Philippines, Czarina Rosales – A huge press favorite, she has an intriguing mix of "classic-conservative" & "fierce-fashion-forward" packaging. This professional singer became one of the standouts in the talent round after performing a spectacular song & dance number.
Mongolia, Battulga Bilguunzaya – She knows how to light up the stage with her sensual radiance and set it on fire through her superb and confident catwalk . Her glamorous cosmopolitan sophistication and solid determination will help her in her goal to grab the crown. We salute "Bella" for being one of the most disciplined delegates of the pageant.
Egypt, Meriam George
– This year's recipient of the Best National Costume award is ready to surprise more than one in Korea. When she competed in Miss Universe & Miss Earth – she had beauty and a perfect body. Not enough. Now she has all she was lacking: experience, after competing in two international pageants, she will compete with the "whole package" this time.
Latvia, Simona Kubasova – Perfect from head to toe", it cannot be denied that she grabs the attention of people at first sight and she never lets go. She is oozing with sensuality in her swimsuit with those luscious lips, those ripe bosoms, that trim-and-slim figure. She can easily duplicate or surpass the feat of her sister Dayana Kubasowa who placed as Miss Asia Pacific World 2nd runner-up last year.
Mozambique, Carmen Milton – The Venus Raj deadringer from Mozambique is totally endearing to everyone around her. Perhaps the most beautiful African contestant of batch 2013, she's expected to soar high through her eloquence & regal bearing.
Ukraine, Zavhorodnia Alla – She's considered the most appealing to pageant followers throughout the globe. She has a heart-melting smile that easily charms anyone with whom she comes in contact with.
Sri Lanka, Stephanie Siriwardhana – A breath of fresh air, this former Miss Universe contestant is very attractive up-close, stylish, well-educated and is truly a great representative of her beautiful country. She's one of the chosen few to deliver her mesmerizing singing prowess during the finale.
Kazakhstan, Evgenia Klishina
– She has sparkle, beauty, charisma, amazing stage presence and some of the most gorgeous pair of legs the Korean crowd probably have ever seen! For many pageant observers, she's "the one to beat" in Talent competition. This pediatric doctor placed as a semifinalist in last year's Miss World pageant.
Nepal, Malina Joshi – Miss Nepal is very pretty, exquisite and also manages to shine in the competition.
Ecuador, Tatiana Romero – a regal beauty considered by many as a tough chic to beat from Latin America. During the talent competition, the center of the equator burned the stage as she started with a very demure dance then changed her costume on stage. She exposed a sexy Ecuadorian costume and shook her guns in front of the audience! Ecuador is hotness personified!
India, Srishti Rana – She is another striking delegate with so many fans from her country. She seemed to be rather shy and her attitude is quite modest. It is interesting to note that some national directors and fans we've spoken with are predicting her to take it all. With such beauty and curvaceous body, no one can deny that Srishti is a major contender for the crown.
USA, Zukka Santiago – She oozes 'Latin goddess' with every step she makes. She has the face, she has the figure…will she have the crown this time? This aspiring actress certainly knows how to work the stage.
Guinea, Souadou Drame
– She seemed to be very confident and has a very pretty face. This African super beauty has the most perfect smile.
Trinidad & Tobago, Greer Iton – Greer always stands out because of her cheerful personality. She's very dynamic, making friends in every corner of a room!
New Zealand, Cody Carlece Yerkovich – beautiful face and perfect body. The biggest surprise in the preliminaries, don't be surprised if she makes it all the way to the top.
Puerto Rico, Kiara Zayas Rodriguez – From the buzz, she's very personable and friendly, and because of that she wins a lot of fans. As always, she also puts her best foot forward and makes the most of what she has. This TV presenter deserves a lot of props.
Honduras, Reyes Nelly – Nelly is said to be a strong candidate for the Miss Congeniality award, due to her friendliness, sparkle and fun attitude toward the pageant. She has a very interesting story – she survived a tragic car accident and comma.
************************************************************************************************************************
Australia, La-Toyah Asha
– Just a wonderful all around candidate, she is one of the girls that could also be a big surprise in the finale. The lady from down under has a great singing voice. Australia got talent! Definitely!
Bolivia, Paola Sanchez Martinez – She has been compared more than once to winning actress Penelope Cruz. She had one of the most interesting and unique talents. During the talent competition, Paola did a dance number and surprisingly at the middle of her performance, she did a magic trick. She inflated some long balloons. It was somehow a solemn moment when she made a balloon-swallowing act. Everybody was flabbergasted. She was having a tough time putting it all inside her mouth but when she turned back… VOILA! Everything was gone! MAGIC!
Canada, Mina Rani Khtari – Bring it on! There's a cheerleader on the house! Who is she? C-A-N-A-D-A! Perhaps the fiercest delegate in the competition, heavy eye makeup is her signature look. This electrifying beauty has the most stunning pair of eyes in the competition.
Central African Republic, Manuella Rossi – This beautiful black diva made the crowd crazy during the talent competition by performing a sizzling traditional dance number.
Chile, Lisset Alexandra Lopez – A hot & spicy Latina with awesome hour-glass figure. She is one of our top favorites during the national costume competition.
China, Ren-Yue Zhang – She's not as traditional and quiet as Westerns portray Chinese women and she took herself as an example. She has such an engaging personality. Her spontaneous and fun behavior gained her many admirers.
Estonia, Irina Gorlova – Pretty girl with a cute button nose. She looks her best when she's all glammed up.
Ethiopia, Desta Undesa – She sparkles a lot whenever she smiles and it brings light to her face which makes her very, very pretty. This newbie to the pageant world has the potential to make waves if given the right packaging and preparation.
Greece, Teontora Vranic – This very attractive, stylish, well-educated and overachieving lady is the obvious choice for this country.
Hong Kong, Meng Shuai
– Her modeling experience will serve her well when she goes onstage during the contest proper. She's one of the friendliest girls around.
Hungary, Zsofia Kovacs – She makes a strong impression and can be the first semi-finalist for her country. She's oozing with sex appeal & could be the hottest girl to ever cross any pageant stage.
Korea, Lee Ji Young – Though the buzz faded a bit as other ladies started shining in the spotlight, perhaps the strong early impressions will help carry her through the final moments. The hometown girl is still in contention!
Macau, Yu Nian Yu – She's chic and hip. She seems to do everything right so far, and is obviously competing in order to make as strong an impression as possible.
Malaysia, Kieren Laurent Simon – This girl is clearly the loveliest among the Malaysians sent to any international beauty contests. We just love her!
Nigeria, Olowoniyan Temitope Elizabeth – She came in late but her presence is highly felt in the competition. So girls, better watch out!
Panama, Jeniffer Brown – Her explosive sensuality every time she entered the stage makes her stand out. She has very beautiful skin, color and boast s one of the best bodies in the competition.
Siberia, Oyuna Batueva – Her regal runway skills and beauty makes her a favorite since the very beginning. With a flawless preliminary presentation and a supermodel aura, it won't be surprising if she makes the cut.
Singapore, Daphne Michaela Lakhiani – She has exquisiteness, intelligence and one of the most fashionable wardrobes. Daphne is also one of the friendliest contestants in this year's group.
Slovenia, Masa Denonik – this sexy blonde has very classic supermodel looks & high-fashion demeanor.
Taiwan, Hsu Chien-Ching – She is just cute, a very charming young woman with a good chance to succeed here.
Thailand, Katreeya De Preter – She has very flawless skin, she looks like Snow White.
Uganda, Stella Semakula Nankya – A professional and talented designer, she looks extremely polished and confident throughout, even in the most casual of situations
Vanuatu, Valerie Martinez – No one can deny the dignified bearing and elegant carriage this lady brought to Korea. Further respect must be accorded to her for being the first representative ever from this island nation in the international pageant – Valerie really made a great impression.
Vietnam, Diem Thuyen – You cannot beat her extremely potent combination of a sexy figure and a beautiful face combined with heavy doses of sex appeal.
************************************************************************************************************************
The Beginning
October 18 was a remarkable day for Missosology, the third consecutive year of exclusively covering the celebrated Miss Asia Pacific World 2013 in the Republic of Korea. This year is a benchmark as it boasts the first time for a Beauty Pageant to open doors to the most talented women all over the world for them to reach their full potential as singers, dancers, and actresses. They will be given management contracts that shall launch them as world renowned artists – the road to becoming CELEBRITIES.
Tagging it this year as Miss Asia Pacific World Super Talent Endeavor 2013 makes this pageant more enticing than ever! Given that it gives importance to talent, it is still a Beauty Pageant, as judges will base their verdict on who shall win the RED CROWN of Miss Asia Pacific World 2013 by their Physical Beauty, Personality, Catwalk, and Intelligence. The only difference of this year's edition is that all the ladies with exceptional talent will have the opportunity to become Superstars.
The 44 ladies around the world started their journey in Miss Asia Pacific World Super Talent Endeavor 2013 last October 15. They stayed at the Centermark Hotel in Seoul from October 15-17. This officially started the spectacle of Miss Asia Pacific World 2013! Some of the ladies did their video shoot. They went to the palace and wore Hanbok (traditional Korean Dress). They went shopping in Seoul and experienced the great cuisine of Korea.
On the early morning of October 17, the delegates from all over the world went to Ramada Hotel in Hwang Ju to do a photo and video shoot. They stayed there till October 19 and went straight to Nanju at Jeung Heung Gold Spa and Resort.
Missosology's Journey With The Girls
Upon Missosology's arrival at the Incheon International Airport last October 18 at exactly 8:05pm (Korean Time), we were overwhelmed by the reception of the MAPW Organizers. We had a limousine service at the airport to bring us to the five star resort hotel at Nan ju – Jeung Heung Gold Spa and Resort.
It was a 6 hour land travel from Incheon International Airport to Nanju's Jeung Heung Gold Spa and Resort. We arrived there at 4am; it was exhausting but upon seeing the place, we were besieged. We saw Jeung Heung's famous roller coaster swimming pool slide – the biggest roller coaster slide in ASIA.
8am of October 19 started our official coverage as the girls arrived in Jeung Heung. It was surprising that a lot of the ladies were much better looking in person. Seeing these beautiful ladies made us realize that the judges will really have a hard time in choosing the winner.
Hats off to the wonderful preparation of the organizers of Miss Asia Pacific World Super Talent Endeavor 2013! This is one festive pageant!
PHOTO GALLERIES
CHERISH & LAVIE BEAUTY! Miss Asia Pacific World 2013
https://www.facebook.com/media/set/?set … 458&type=3
Swimsuit Competition – Miss Asia Pacific World 2013
https://www.facebook.com/media/set/?set … 458&type=3
Miss Asia Pacific World 2013 National Costume Competition
https://www.facebook.com/media/set/?set … 458&type=3
Halloween Party! Miss Asia Pacific World 2013
https://www.facebook.com/media/set/?set … 458&type=3
Miss Asia Pacific World 2013 in Dr. Misian Beauty Clinic
https://www.facebook.com/media/set/?set … 458&type=3
1st Korean Food Day, Sponsor Visit: Miss Asia Pacific World 2013
https://www.facebook.com/media/set/?set … 458&type=3
Photo & Video Shooting: Miss Asia Pacific World 2013
https://www.facebook.com/media/set/?set … 458&type=3
Swimsuit Fun Shoot & Dinner Photos: Miss Asia Pacific World 2013
https://www.facebook.com/media/set/?set … 458&type=3
Miss Asia Pacific World 2013 TALENT Competition
https://www.facebook.com/media/set/?set … 458&type=3
Pawee's Personal Photos: Miss Asia Pacific World – Year 3
https://www.facebook.com/nicholopaulo/photos_albums