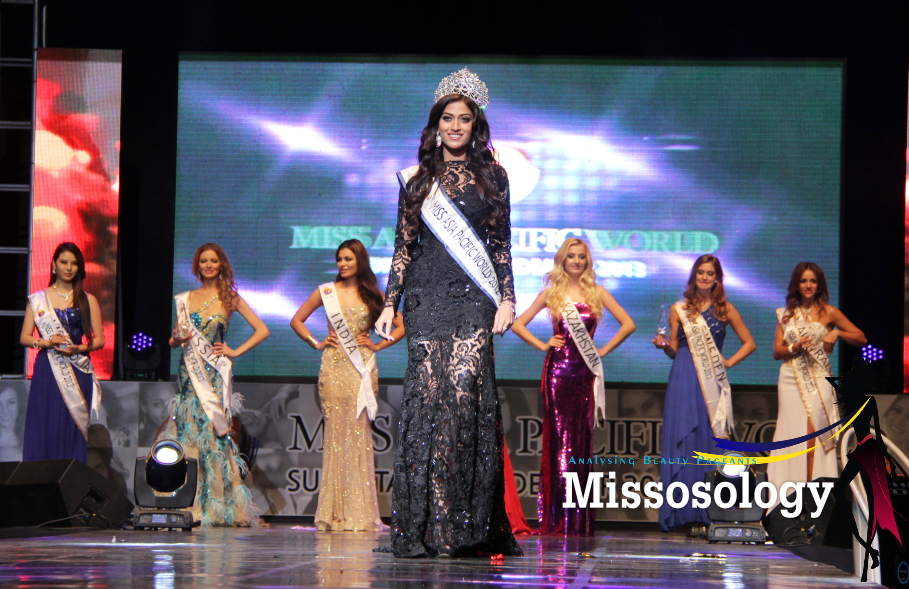 She did not win I Am She pageant in 2010; she was not the first runner-up; neither the second. Nevertheless, she was fated to compete & represent "Incredible India" on international stage in Korea, and eventually become a part of pageant history as Miss Asia Pacific World 2012 winner.
Flashback
3 years ago, Himangini Singh placed as a Top 10 semifinalist in India's national pageant for sending winners to the Miss Universe pageant. Former Miss Universe Sushmita Sen, also the pageant's C.E.O, saw immense potential in "Hima" so she decided to be her trainer and mentor for a budding international beauty contest.
On June 16, 2012 in Seoul, South Korea, Hima cried when she received the lavish crown from Miss Asia Pacific World 2011, Diana Starkova of Ukraine with the joint approval of the audience, contestants, and international press. She conquered the judges with her poise, elegance & mystical beauty. One of her shining moments happened during the evening gown competition. She donned a luxurious killer dress designed by Neeta Lulla and sparkled like no any other onstage. During pageant events & activities, she also managed to stand out. Observers found her to be the most complete of all the beauties competing for the title – she had those captivating eyes that can make you stare at her without even trying. But there was something beyond her appearance. Her voice was sweet and sexy; her words were wise. She is culturally aware & spoke depth about anything under the sun. She is friendly & very sweet – endearing qualities which enhance her natural beauty.
Friendship
"Hima" & I formed a fast friendship last year, and a year and a half later, we're still as close as ever. It was a surreal moment meeting this divine beauty. When you're with her, you could just feel her warmth and kindness immediately, and the way she carries herself was just so grounded.
Sushmita's First Protégé
I will never forget speaking with her director Sushmita Sen a couple of times over the phone. She was rapturous & very proud of Hima – her first protégé to make a mark in any international beauty pageant. She describes it as "another feat" added to India's history of victories in the international pageant circuit. The taste of victory will never be sweeter for Hima when she had a rousing welcome at the airport back in her native land. There were so many people chanting her name and saying 'victory to India'.
Back-to-back Victory
For the first time in the competition's history, the same nation has claimed the crown twice in a row. Looking every inch a certified queen & clad in a ravishing Rajat Tangri creation, Himangini Singh crowned her fellow Indian Srishti Rana as Miss Asia Pacific World 2013 in a glittering coronation night held in Korea on October 30. Miriam George from Egypt was the 1st runner-up, while Evgenia Klishina from Kazakhstan came third. The historical back-to-back win of India marked the crossing of more than one milestone in their track record in international beauty pageants. Such rare feat happened way back in the year 2000 when Priyanka Chopra took the Miss World crown from compatriot Yukta Mookhey & kept the title home for the second consecutive year.
What's up?
More successes have come her way ever since she won one of the considered most important beauty titles in India. She was honored by the chief minister for bringing pride to her nation. She was launched as the Face of ORRA Diamond Jewellery – India's finest jewellery retail chain. Now working as one of the top models across her nation, she was also chosen as the Face of Blenders Pride Fashion Week. Himangini is currently shooting for Telugu movie and will soon debut in Bollywood.
Parting Words
Hima will always be a special friend to me. With so much going for her, there is no telling where she could end up. She comes off as a fun-loving, yet determined young woman, who is content with riding out her wave of success. When all is said and done, she is quite the package. Her amazing beauty, unmistakable Indian charm and, most importantly, her delightful character, we are ready to bet the bank on her longevity.
Message from the Queen
I have always been a great fan of Missosology. It is a platform which introduces you to the whole new world of beauty pageants. A little walk down the memory lane, and I can quite vividly remember my time at MAPW'12. All contestants used to eagerly track the votes we earned on the Missosology website. Yes, they did matter a lot, being a quantifiable gauge of popularity. Being popular on Missosology used to give us immense amount of confidence/self-belief and was an important factor behind winning. Winning the hearts of people after all is a true conquest. Thank you Missosology for making me a Star!!!
It is not possible to talk about Missosology without mentioning the star maker Mr. Pawee Ventura. He has an eye for beauty. With all his experience he can almost predict the winner every time. But the way Pawee makes all the contestants feel comfortable with his unbiased care towards all makes us feel like home miles away from home. Thank you for all!