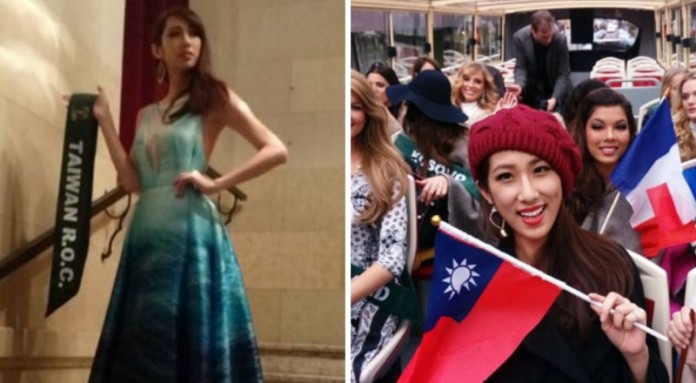 Miss Earth recently is in the news worldwide after an incident involving Miss Taiwan Wen-Yin Ting. The issue? What sash should she wear! China Post published a news article entitled "Beauty queen claims organizers told her to wear a Chinese Taipei sash". Taipei Times meanwhile wrote "Taiwanese beauty queen suspended for refusing to wear 'Chinese Taipei' sash".
The Quartz, an online publication meanwhile looked things on a macro scale. The headline in its webpage states – "China's latest censorship battlefield is global beauty pageants". The online news website included the issue regarding Miss World Canada on top of the sash issue of Miss Earth Taiwan.
What happened at Miss Earth 2015 is nothing new or unique. Ask Miss Universe Taiwan Szu Yu Chen, who in 2003 cried when she was forced to wear a Chinese Taipei sash. Back then, a publication named Free Republic, in the name of freedom and capitalism, crowed "Chinese communists force Miss Taiwan to change name in pageant". Taipei Times wrote "Beauty queen renamed" and started the article with "China has obstructed the participation of Taiwan's representative in the Miss Universe contest".
So what is exactly at stake in here? Well, many countries recognize the People's Republic of China as the sole China and that Taiwan, known officially as the Republic of China, is merely its province. A few of handful countries meanwhile considers Republic of China (Taiwan) as the sole China. United Nations has only a seat and that's for communist China and any moves to provide one for Taiwan was routinely blocked.
In many sports events including the Olympics, Taiwan is identified as Chinese Taipei. The Miss Earth 2015 pageant is currently staged in Austria and the country only recognizes the People's Republic of China. There is no doubt that China exerted political pressure so that Miss Taiwan will not wear the correct sash.
As of the press time, many publications claim that Miss Taiwan Wen-Yin Ting was ejected from the competition. However some reports said that she is still staying the competition and may be admitted once she agreed on wearing the Miss Chinese Taipei sash.