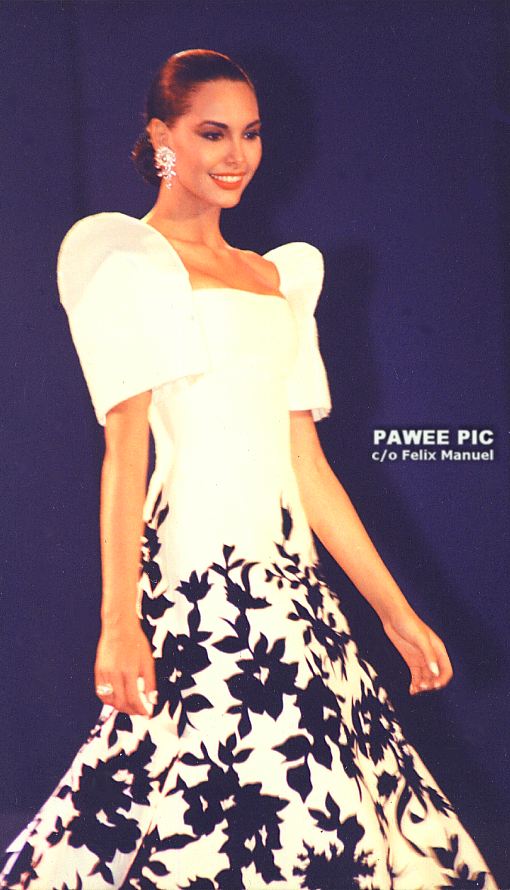 It is a common fact that national costumes has been a tradition of Big4 pageants. Miss Universe, Miss International and Miss Earth conducts annually the National Costume contest while Miss World briefly had it in 1971 and again between 1992 to 1997. The colorful ensemble with all that feathers and bulky accessories can sometimes blow out of proportion but this contest actually injects the much needed cultural aspect to the Big4 Pageants. (Miss World may have abandoned the National Costume Award but it has cleverly replaced it with Dances of the World which is in essence is way better to present to the world the culture of each participating nations.)
In several instances though, the cultural ingredient in a Big4 pageant has been spiced up a bit. Not contented with the National Costume show, some host nations upped the ante by staging a separate program showcasing its own national costume. This is true during the Miss Universe 1994 when a Philippine terno contest was conducted as well as during the Miss Earth 2010 ao dai contest and Miss World 2013 Top Model contest. Miss International also showcased the revered national dress of the host nation in 2014 but no formal contest was conducted.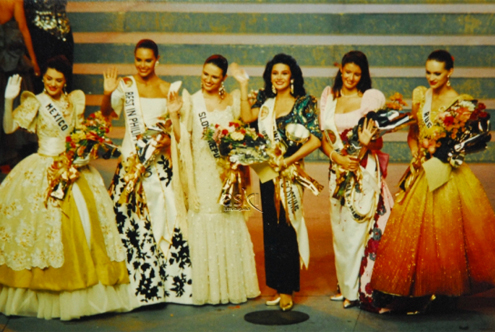 Interestingly, the show to promote the national costume of a host nation happens only when an Asian nation hosts the pageant. During the Miss Universe 1994 contest, local designers were tasked to create a Philippine terno for each contestant. Terno is actually a Spanish word meaning matching or to match and basically describes the baro't saya ensemble worn by women during colonial times. It is usually characterized by butterfly sleeves or with a pañuelo (shawl). Miss Venezuela Minorka Mercado emerged as the winner of the Best in Philippine Terno Award thanks to her statuesque figure that lent class and sophistication to the costume that she donned. In the same contest, several awards were also given. Miss Philippines Charlene Gonzales and Miss Belgium Christelle Roelandts shared the Best in Hair Award. Charlene also won the Best in National Costume Award with Miss Mexico Fabiola Perez Rovirosa and Miss Russia Inna Zobova as runners-up.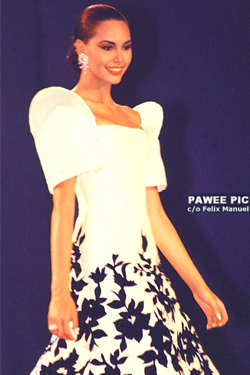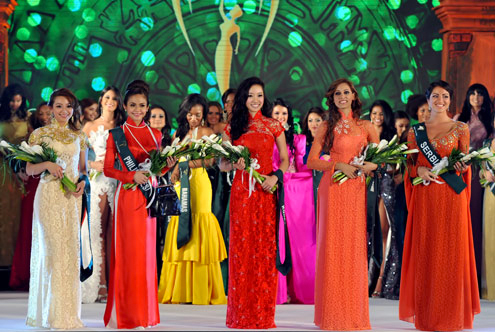 When Vietnam hosted in the Miss Earth 2010, it took the opportunity to promote its well respected national costume called the ao dai. The costume is a tight-fitting silk tunic worn over pants and has also been promoted during Miss Universe 2008. What makes the ao dai great is that the variety of patterns and designs that one can create is simply endless. It is said that the regional variety of ao dai can be determined with the hat accessory wherein conical hats are of South Vietnamese origin while the circular ones are of North Vietnamese. The contest was held in Nha Trang and Miss Serbia  Tijana Rakic won the Best in Ao Dai Award. Miss Chinese Taipei Liu Hsing-Jung, Miss Korea Lee Gui-joo, Miss Nicaragua Junieth Rosales and Miss Philippines Kris Psyche Resus were the runners-up.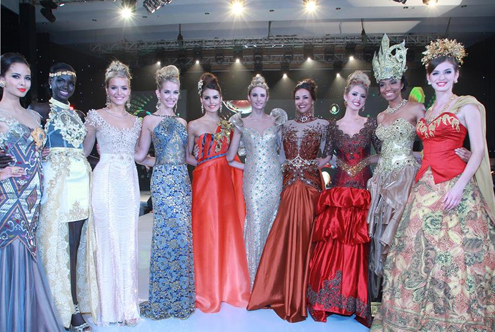 Meanwhile, during the Miss World 2013 contest, 48 elite Indonesian designers were tasked to create gowns and dresses for the Top Model competition with a Byzantine theme. What happened though is that the Indonesian designers have poured the regional dresses and fashion concepts on their artworks and it can be argued that it has more Indonesian in it than Byzantine. Take for example the dress used by the winner of the contest, Miss Philippines Megan Young. Her dress was actually designed by a Balinese designer with patterns and concepts all taken from Balinese culture. Second place winner Miss USA Olivia Jordan was clearly wearing a batik fabric while third place winner Miss France Marine Lorphelin was obviously wearing a kebaya. Miss Ukraine Anna Zaiachkivska and Miss Brazil Sancler Frantz rounded up the Top 5.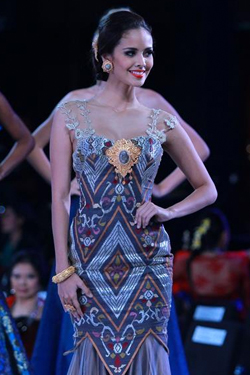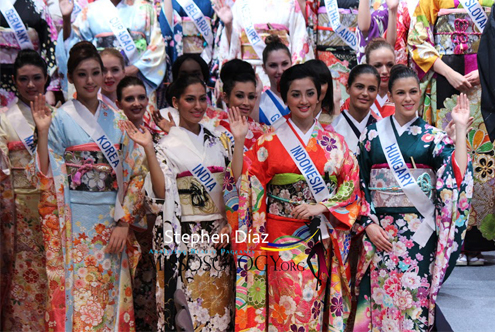 Miss International, as late as it may be, joined this trend by staging a kimono fashion show. Exquisite and very expensive silk kimonos were paraded on stage and each delegate had a fun of their life by donning one of the rich cultural heritage of Japan. Wearing a kimono is not an easy task. It is full of symbolism and one should be culturally aware in order to properly wear it. For example, kimono is usually wrapped with the left side over the right. Do it the other way around and you are actually in the state of mourning! A kimono can easily fetched up to $20, 000 and is usually reserved for special and traditional occasions.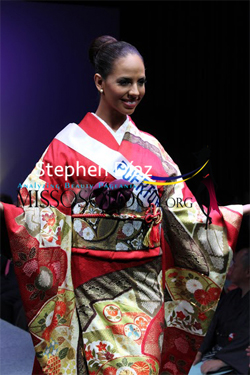 Staging these shows and contests do entail additional costs to host nations but it helps promote their cultures. It gives worldwide publicity to their traditional costumes and there has been strong and positive reaction among the  global audience. The question however is whether the host organizations have the resources to stage it and whether they have strong cultural identities that can provide a distinct costume that can be used for this similar contest. If say, Korea is to host a Big4 Pageant, a hanbok contest sounds plausible but if England will host it, what costume shall be used? Also, as pointed out earlier, it is only the Asian nations that bothered to stage this extra contest. Other regions are not really keen to promote their national costumes.
While it is pleasurable to think that a contest promoting the host country's national costume could be held regularly, it is very unlikely that it will happen anytime soon. It would be only possible if host nations can see the worth and wisdom of doing such a contest. Thus for the moment, it is only through reminiscing the years when it happened that we can truly enjoy seeing the battle of the ao dais, the ternos, the kebayas and the kimonos.