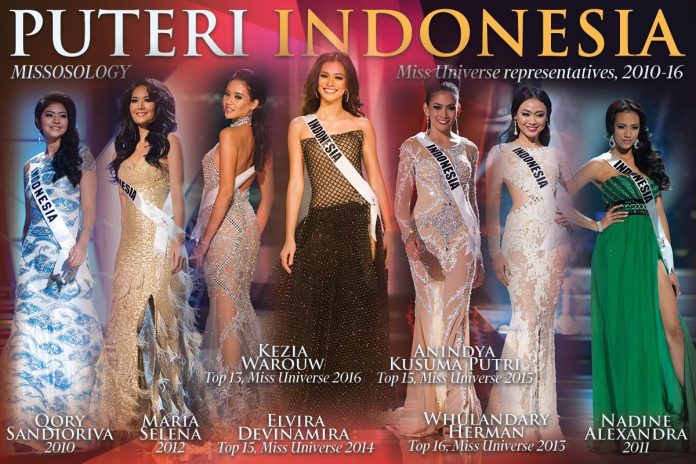 There is no question that Indonesia is a rising star in the world of pageantry. From Rank 86 in 2012, the country climbed astonishingly to the 59th spot at the Big5 Ranking post Miss Universe 2016. Check out the ranking here
Last pageantry year, Indonesia is pretty consistent in placing at the semis of major international beauty pageants. The country is actually the second strongest in 2016 despite the fact that it hasn't won any major international crown. That should change soon as the trajectory suggests that Indonesia is bound to win a Big5 crown within the next 5 years.
Tonight, the new Puteri Indonesia will be crowned and whoever it will be, she will embark into the seemingly impossible quest of winning the Miss Universe title. Indonesia has shown remarkable progress at Miss Universe. However, ever since Whulandary made it to the semis in 2013, there is one big obstacle that prevents Indonesian beauties from progressing further – the swimsuit competition.
This problem must be addressed by the Puteri Indonesia organization if it wishes to bring home the most prized major international crown in Indonesia. Central to this problem is the inherent conservatism in Indonesia. Anindya Kusuma Putri for example admitted that she faced strong opposition from her parents when she informed them that she must wear a swimsuit in public.
Whulandary in Miss Universe 2013 has shown a lot of confidence during the swimsuit competition but she chose to wear a one piece suit which is a huge disadvantage. Contestants lose a lot of points with one piece suits because it gives a false impression that you are not confident enough to show off your body. Meanwhile, Kezia Warouw in January may have chosen a two piece suit but her monotonous expression and boring moves show lack of self confidence.
The current trend at Miss Universe suggests that a candidate doesn't have to be shapely or perfect. All she needs is confidence and the ability to tell the judges that she is happy of her body and is unafraid to show it off. Thus, it is crucial that the winner of Puteri Indonesia this year will be trained on how to be confident while wearing a swimsuit. This is the only way that Indonesia can get past the semis and get a better luck in penetrating the Top 6 or Top 3. Or even win that elusive Miss Universe crown!