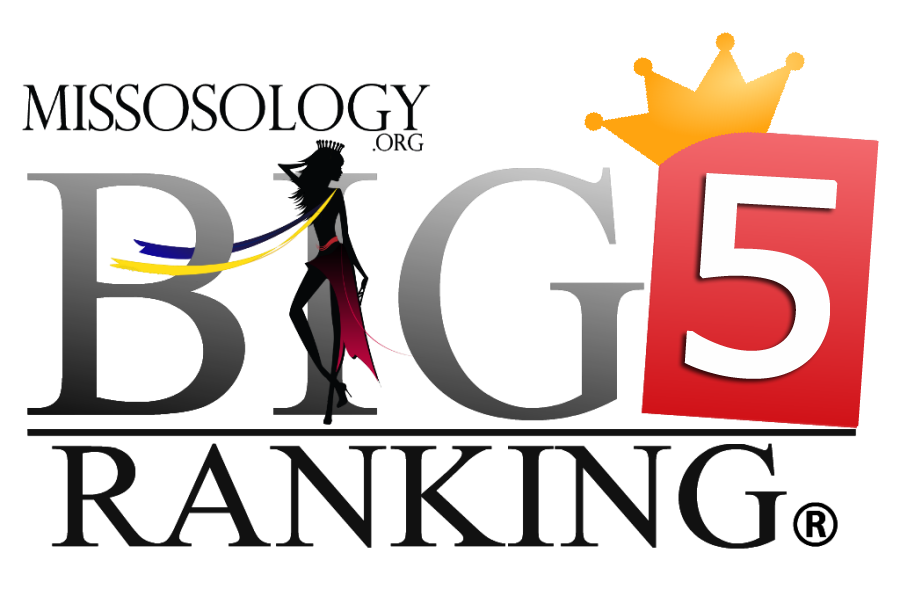 Pageant Year 2016 officially ended with the 65th Miss Universe pageant, which was held at the world's most passionate pageant fans, the islands of of the Philippines.  At the conclusion of the annual event, France's Iris Mittenaere bested 85 other hopefuls for the coveted crown, earning them 200 more points.  Raquel Pélissier 1st Runner-up placement had added 180 points to Haiti, which was good enough to put them into the Top 100 for the very first time since we introduced the ranking in 2010.  Colombia's 2nd Runner-up placement had given them 160 points, which further solidified their presence in the Top 5.
With the addition of Miss Supranational into the official Big 5 major international pageants, the 2016 pageant year ended with Belarus being the highest gainer.  From 125th place in 2015, it went up into 79th position, up by 46 ranks.
The newly updated ranking further reveals a new trend in the pageant market.  Back in the early years, Europe was dominating the beauty pageant industry, which slowly became a Latin American thing.  However, recent data has shown that Southeast Asia is the region that is indeed gaining momentum.  Led by the Philippines (4th), the Southeast Asian region is home to some of the biggest gainers in our ranking.  Thailand went up from 24th to 20th place; Indonesia from 67th to 59th; Vietnam from 75th to 67th; while the biggest gainer of all is Myanmar, who went up by 26 ranks from 146th to 120th.  This simply shows that the gradual shift of business interest in the beauty pageant industry to the Southeast Asian market is something to look forward to in the next few years.
| 2012 | 2013 | 2014 | 2015 | Rank 2016 | COUNTRY/TERRITORY | BIG5-TOTAL | Universe | World | International | Earth | Supranational |
| --- | --- | --- | --- | --- | --- | --- | --- | --- | --- | --- | --- |
| 1 | 1 | 1 | 1 | 1 | U.S.A. | 20352 | 8190 | 5830 | 4700 | 1292 | 340 |
| 2 | 2 | 2 | 2 | 2 | VENEZUELA | 17807 | 6090 | 4565 | 4840 | 1932 | 380 |
| 3 | 3 | 3 | 3 | 3 | BRAZIL | 13348 | 4390 | 3245 | 3580 | 1698 | 435 |
| 5 | 5 | 5 | 4 | 4 | PHILIPPINES | 12431 | 3340 | 2540 | 4040 | 2006 | 505 |
| 4 | 4 | 4 | 5 | 5 | COLOMBIA | 12114 | 4490 | 2155 | 4260 | 824 | 385 |
| 9 | 10 | 9 | 7 | 6 | AUSTRALIA | 10491 | 2830 | 3795 | 3020 | 546 | 300 |
| 7 | 8 | 8 | 9 | 7 | INDIA | 10356 | 2820 | 3335 | 2540 | 996 | 665 |
| 10 | 7 | 6 | 6 | 8 | SPAIN | 10136 | 2660 | 2280 | 4120 | 886 | 190 |
| 6 | 6 | 7 | 8 | 9 | FINLAND | 9865 | 3040 | 2640 | 3880 | 220 | 85 |
| 8 | 9 | 10 | 10 | 10 | JAPAN | 9683 | 2810 | 1555 | 4740 | 458 | 120 |
| 11 | 11 | 11 | 11 | 11 | SWEDEN | 9330 | 3860 | 3090 | 1830 | 420 | 130 |
| 14 | 14 | 13 | 12 | 12 | FRANCE | 9192 | 2480 | 3600 | 2410 | 492 | 210 |
| 12 | 12 | 12 | 13 | 13 | ISRAEL | 8595 | 2760 | 3485 | 2120 | 200 | 30 |
| 13 | 13 | 14 | 14 | 14 | GERMANY | 8485 | 2900 | 2795 | 2520 | 210 | 60 |
| 17 | 16 | 16 | 16 | 15 | MEXICO | 8262 | 2660 | 2190 | 2200 | 842 | 370 |
| 15 | 15 | 15 | 15 | 16 | SOUTH AFRICA | 7994 | 2470 | 4350 | 230 | 774 | 170 |
| 18 | 18 | 17 | 18 | 17 | PUERTO RICO | 7907 | 3200 | 2030 | 1860 | 372 | 445 |
| 19 | 19 | 19 | 19 | 18 | KOREA | 7402 | 1530 | 1640 | 3280 | 832 | 120 |
| 16 | 17 | 18 | 17 | 19 | UNITED KINGDOM | 7335 | 300 | 4885 | 2120 | 30 | 0 |
| 28 | 27 | 25 | 24 | 20 | THAILAND | 6600 | 1610 | 1170 | 2140 | 1120 | 560 |
| 24 | 24 | 24 | 25 | 21 | CANADA | 6283 | 2560 | 2000 | 980 | 368 | 375 |
| 23 | 22 | 20 | 20 | 22 | NETHERLANDS | 6266 | 1980 | 2210 | 1740 | 236 | 100 |
| 22 | 23 | 23 | 23 | 23 | ARGENTINA | 6201 | 2060 | 1980 | 1790 | 256 | 115 |
| 20 | 20 | 21 | 21 | 24 | GREECE | 6190 | 2450 | 1880 | 1520 | 170 | 170 |
| 21 | 21 | 22 | 22 | 25 | NORWAY | 6025 | 2250 | 1635 | 1810 | 290 | 40 |
| 31 | 30 | 30 | 29 | 26 | POLAND | 5860 | 840 | 1230 | 1910 | 1050 | 830 |
| 25 | 25 | 26 | 26 | 27 | ITALY | 5467 | 2220 | 1735 | 1070 | 402 | 40 |
| 27 | 26 | 27 | 27 | 28 | NEW ZEALAND | 5360 | 1140 | 2160 | 1880 | 130 | 50 |
| 30 | 31 | 31 | 32 | 29 | PERU | 5196 | 2230 | 1430 | 810 | 446 | 280 |
| 35 | 34 | 35 | 35 | 30 | DOMINICAN REPUBLIC | 5165 | 1680 | 1620 | 1240 | 420 | 205 |
| 26 | 28 | 28 | 28 | 31 | IRELAND | 5100 | 1390 | 2420 | 1220 | 40 | 30 |
| 29 | 29 | 29 | 31 | 32 | DENMARK | 5090 | 1150 | 2215 | 1200 | 340 | 185 |
| 33 | 33 | 33 | 34 | 33 | ENGLAND | 5038 | 2540 | 610 | 1430 | 218 | 240 |
| 32 | 32 | 32 | 30 | 34 | AUSTRIA | 4915 | 1200 | 2205 | 1170 | 340 | 0 |
| 34 | 35 | 34 | 33 | 35 | JAMAICA | 4805 | 1110 | 3345 | 240 | 40 | 70 |
| 36 | 36 | 36 | 36 | 36 | ICELAND | 4680 | 910 | 1560 | 1880 | 10 | 320 |
| 40 | 40 | 39 | 38 | 37 | RUSSIA | 4603 | 1030 | 1300 | 1310 | 768 | 195 |
| 37 | 37 | 37 | 37 | 38 | BELGIUM | 4480 | 1440 | 1240 | 1500 | 150 | 150 |
| 41 | 41 | 41 | 41 | 39 | PANAMA | 4364 | 1380 | 810 | 1350 | 284 | 540 |
| 39 | 39 | 40 | 40 | 40 | TURKEY | 4171 | 800 | 1405 | 1570 | 176 | 220 |
| 38 | 38 | 38 | 39 | 41 | SWITZERLAND | 4122 | 1640 | 1320 | 690 | 392 | 80 |
| 42 | 42 | 42 | 42 | 42 | CHILE | 3772 | 1790 | 730 | 460 | 722 | 70 |
| 44 | 46 | 46 | 45 | 43 | CZECH REPUBLIC | 3612 | 620 | 650 | 860 | 902 | 580 |
| 46 | 44 | 44 | 44 | 44 | ECUADOR | 3588 | 930 | 855 | 810 | 788 | 205 |
| 43 | 43 | 43 | 43 | 45 | TRINIDAD & TOBAGO | 3455 | 1450 | 1675 | 110 | 150 | 70 |
| 45 | 45 | 45 | 46 | 46 | COSTA RICA | 3056 | 850 | 750 | 1010 | 356 | 90 |
| 47 | 47 | 47 | 47 | 47 | BOLIVIA | 3016 | 840 | 840 | 1020 | 246 | 70 |
| 56 | 56 | 52 | 52 | 48 | UKRAINE | 2988 | 840 | 640 | 710 | 408 | 390 |
| 50 | 49 | 48 | 48 | 49 | CHINA PR | 2941 | 490 | 1320 | 740 | 326 | 65 |
| 49 | 50 | 50 | 51 | 50 | PARAGUAY | 2896 | 940 | 630 | 510 | 556 | 260 |
| 52 | 51 | 51 | 50 | 51 | LEBANON | 2712 | 760 | 1060 | 570 | 262 | 60 |
| 48 | 48 | 49 | 49 | 52 | HONGKONG | 2695 | 1040 | 730 | 840 | 50 | 35 |
| 53 | 53 | 53 | 53 | 53 | MALAYSIA | 2627 | 620 | 1120 | 580 | 172 | 135 |
| 55 | 54 | 55 | 54 | 54 | GUAM | 2456 | 700 | 1060 | 510 | 186 | 0 |
| 62 | 62 | 62 | 60 | 55 | HONDURAS | 2406 | 540 | 380 | 810 | 416 | 260 |
| 51 | 52 | 54 | 55 | 56 | YUGOSLAVIA | 2400 | 430 | 1240 | 570 | 160 | 0 |
| 57 | 57 | 58 | 58 | 57 | SRI LANKA | 2340 | 580 | 870 | 680 | 60 | 150 |
| 59 | 61 | 57 | 57 | 58 | SCOTLAND | 2320 | 940 | 655 | 310 | 350 | 65 |
| 86 | 74 | 71 | 67 | 59 | INDONESIA | 2313 | 420 | 800 | 680 | 138 | 275 |
| 54 | 55 | 56 | 56 | 60 | URUGUAY | 2310 | 1180 | 800 | 290 | 30 | 10 |
| 59 | 59 | 60 | 61 | 61 | NICARAGUA | 2290 | 570 | 445 | 1070 | 190 | 15 |
| 61 | 60 | 61 | 62 | 62 | SINGAPORE | 2146 | 720 | 540 | 600 | 256 | 30 |
| 64 | 64 | 64 | 64 | 63 | PORTUGAL | 2045 | 440 | 620 | 710 | 160 | 115 |
| 63 | 63 | 62 | 63 | 64 | GUATEMALA | 2022 | 760 | 460 | 540 | 232 | 30 |
| 58 | 57 | 59 | 58 | 65 | ARUBA | 1890 | 480 | 870 | 510 | 20 | 10 |
| 65 | 65 | 65 | 65 | 66 | WALES | 1836 | 980 | 460 | 220 | 106 | 70 |
| 85 | 86 | 87 | 75 | 67 | VIETNAM | 1792 | 130 | 590 | 450 | 302 | 320 |
| 66 | 66 | 66 | 68 | 68 | NIGERIA | 1720 | 400 | 890 | 60 | 310 | 60 |
| 68 | 68 | 68 | 66 | 69 | CURACAO | 1710 | 1060 | 400 | 180 | 50 | 20 |
| 70 | 70 | 70 | 71 | 69 | EL SALVADOR | 1710 | 900 | 310 | 240 | 210 | 50 |
| 67 | 67 | 69 | 70 | 71 | CHINESE TAIPEI | 1706 | 510 | 500 | 350 | 226 | 120 |
| 82 | 82 | 73 | 76 | 72 | SLOVAK REPUBLIC | 1680 | 360 | 320 | 340 | 330 | 330 |
| 81 | 85 | 79 | 74 | 73 | KENYA | 1650 | 200 | 890 | 180 | 320 | 60 |
| 69 | 69 | 67 | 69 | 74 | POLYNESIE FRANCAISE | 1587 | 250 | 410 | 480 | 432 | 15 |
| 71 | 71 | 72 | 72 | 75 | BAHAMAS | 1572 | 550 | 660 | 60 | 162 | 140 |
| 99 | 92 | 82 | 77 | 76 | HUNGARY | 1550 | 420 | 520 | 200 | 190 | 220 |
| 77 | 78 | 73 | 73 | 77 | GUYANA | 1380 | 210 | 1130 | 10 | 20 | 10 |
| 76 | 75 | 77 | 79 | 78 | CROATIA | 1360 | 280 | 870 | 30 | 40 | 140 |
| 125 | 126 | 126 | 125 | 79 | BELARUS | 1290 | 0 | 130 | 330 | 0 | 830 |
| 89 | 80 | 79 | 81 | 80 | GHANA | 1260 | 290 | 800 | 10 | 140 | 20 |
| 73 | 72 | 75 | 78 | 81 | CYPRUS | 1240 | 380 | 540 | 190 | 120 | 10 |
| 74 | 76 | 81 | 83 | 82 | MALTA | 1210 | 350 | 580 | 200 | 60 | 20 |
| 72 | 72 | 76 | 80 | 83 | HAWAII | 1200 | 370 | 10 | 820 | 0 | 0 |
| 75 | 77 | 78 | 82 | 84 | ZIMBABWE | 1191 | 150 | 835 | 10 | 176 | 20 |
| 77 | 78 | 84 | 84 | 85 | NAMIBIA | 1175 | 520 | 510 | 100 | 20 | 25 |
| 91 | 81 | 85 | 86 | 86 | GIBRALTAR | 1171 | 90 | 870 | 140 | 36 | 35 |
| 82 | 87 | 82 | 84 | 87 | EGYPT | 1170 | 240 | 470 | 60 | 370 | 30 |
| 98 | 93 | 92 | 89 | 88 | MAURITIUS | 1165 | 290 | 500 | 60 | 240 | 75 |
| 99 | 97 | 97 | 98 | 89 | ROMANIA | 1135 | 140 | 390 | 60 | 290 | 255 |
| 80 | 84 | 88 | 88 | 90 | LUXEMBOURG | 1130 | 270 | 270 | 480 | 40 | 70 |
| 79 | 82 | 86 | 87 | 91 | ANGOLA | 1120 | 550 | 550 | 0 | 0 | 20 |
| 104 | 104 | 97 | 92 | 92 | MONGOLIA | 1098 | 0 | 310 | 470 | 298 | 20 |
| 93 | 95 | 95 | 94 | 93 | KAZAKHSTAN | 1052 | 80 | 660 | 10 | 202 | 100 |
| 92 | 94 | 94 | 96 | 93 | US VIRGIN ISLANDS | 1052 | 290 | 560 | 10 | 62 | 130 |
| 84 | 87 | 89 | 90 | 95 | BERMUDA | 1010 | 450 | 550 | 10 | 0 | 0 |
| 88 | 89 | 90 | 91 | 96 | TANZANIA | 1006 | 190 | 360 | 60 | 396 | 0 |
| 89 | 90 | 91 | 93 | 97 | TUNISIA | 970 | 80 | 310 | 580 | 0 | 0 |
| 96 | 99 | 99 | 99 | 98 | LATVIA | 956 | 110 | 260 | 280 | 176 | 130 |
| 94 | 96 | 96 | 97 | 99 | BOSNIA & HERZEGOVINA | 952 | 0 | 260 | 0 | 642 | 50 |
| 109 | 107 | 105 | 106 | 100 | HAITI | 930 | 560 | 150 | 140 | 50 | 30 |
| 87 | 90 | 92 | 95 | 101 | CZECHOSLOVAKIA | 920 | 220 | 250 | 450 | 0 | 0 |
| 107 | 105 | 106 | 105 | 102 | NORTHERN IRELAND | 880 | 0 | 540 | 0 | 280 | 60 |
| 116 | 116 | 113 | 112 | 103 | SLOVENIA | 872 | 180 | 230 | 0 | 212 | 250 |
| 97 | 97 | 100 | 100 | 104 | ESTONIA | 860 | 370 | 240 | 40 | 150 | 60 |
| 95 | 100 | 101 | 100 | 105 | CUBA | 825 | 360 | 280 | 140 | 30 | 15 |
| 118 | 119 | 120 | 122 | 106 | SURINAME | 805 | 310 | 100 | 50 | 40 | 305 |
| 99 | 101 | 102 | 102 | 107 | BOTSWANA | 800 | 270 | 460 | 0 | 70 | 0 |
| 102 | 102 | 103 | 103 | 108 | MARTINIQUE | 750 | 50 | 190 | 30 | 470 | 10 |
| 102 | 103 | 104 | 104 | 109 | CAYMAN ISLANDS | 740 | 290 | 430 | 0 | 20 | 0 |
| 117 | 118 | 117 | 117 | 110 | ALBANIA | 715 | 360 | 140 | 0 | 80 | 135 |
| 110 | 110 | 109 | 108 | 111 | GEORGIA | 700 | 120 | 240 | 40 | 250 | 50 |
| 105 | 105 | 107 | 107 | 112 | NORTHERN MARIANAS | 650 | 270 | 10 | 290 | 80 | 0 |
| 106 | 107 | 108 | 108 | 113 | CONGO, D.R. | 640 | 330 | 150 | 140 | 20 | 0 |
| 122 | 114 | 111 | 110 | 113 | NEPAL | 640 | 0 | 300 | 80 | 250 | 10 |
| 113 | 113 | 114 | 113 | 115 | BULGARIA | 630 | 230 | 350 | 10 | 10 | 30 |
| 113 | 114 | 116 | 114 | 116 | BELIZE | 610 | 360 | 170 | 20 | 50 | 10 |
| 108 | 109 | 110 | 111 | 117 | SERBIA & MONTENEGRO | 590 | 170 | 30 | 130 | 260 | 0 |
| 112 | 111 | 111 | 114 | 118 | BARBADOS | 580 | 140 | 430 | 0 | 10 | 0 |
| 119 | 120 | 119 | 119 | 118 | KOSOVO | 580 | 410 | 20 | 0 | 90 | 60 |
| 165 | 165 | 154 | 146 | 120 | MYANMAR | 580 | 90 | 40 | 60 | 30 | 360 |
| 120 | 121 | 122 | 120 | 121 | GUADELOUPE | 570 | 60 | 180 | 190 | 100 | 40 |
| 111 | 111 | 114 | 116 | 122 | LIBERIA | 560 | 40 | 450 | 40 | 30 | 0 |
| 130 | 122 | 120 | 121 | 122 | SERBIA | 560 | 90 | 150 | 110 | 170 | 40 |
| 115 | 117 | 117 | 118 | 124 | TURKS & CAICOS | 530 | 400 | 80 | 0 | 50 | 0 |
| 122 | 123 | 123 | 123 | 125 | BRITISH VIRGIN ISLANDS | 500 | 320 | 170 | 0 | 10 | 0 |
| 124 | 124 | 124 | 124 | 126 | ETHIOPIA | 476 | 110 | 210 | 70 | 66 | 20 |
| 139 | 129 | 129 | 129 | 127 | LITHUANIA | 466 | 30 | 180 | 120 | 46 | 90 |
| 121 | 125 | 125 | 125 | 128 | ST. LUCIA | 450 | 60 | 260 | 0 | 130 | 0 |
| 134 | 134 | 135 | 134 | 129 | MACAU | 440 | 0 | 140 | 100 | 170 | 30 |
| 171 | 164 | 153 | 151 | 130 | GABON | 436 | 40 | 40 | 40 | 36 | 280 |
| 126 | 127 | 127 | 127 | 131 | SEYCHELLES | 410 | 10 | 390 | 10 | 0 | 0 |
| 135 | 136 | 128 | 127 | 131 | ZAMBIA | 410 | 70 | 160 | 40 | 140 | 0 |
| 126 | 128 | 130 | 130 | 133 | SWAZILAND | 370 | 20 | 350 | 0 | 0 | 0 |
| 129 | 130 | 131 | 132 | 134 | MACEDONIA FYR | 360 | 0 | 140 | 160 | 30 | 30 |
| 140 | 139 | 135 | 131 | 135 | SOUTH SUDAN | 350 | 0 | 270 | 30 | 50 | 0 |
| 148 | 148 | 146 | 144 | 136 | MOLDOVA | 345 | 0 | 140 | 50 | 20 | 135 |
| 128 | 120 | 131 | 132 | 137 | GRENADA | 320 | 10 | 310 | 0 | 0 | 0 |
| 130 | 132 | 133 | 134 | 137 | MOROCCO | 320 | 170 | 80 | 50 | 0 | 20 |
| 137 | 137 | 138 | 137 | 139 | UGANDA | 312 | 0 | 240 | 10 | 62 | 0 |
| 130 | 132 | 133 | 134 | 140 | USSR | 300 | 170 | 30 | 100 | 0 | 0 |
| 133 | 134 | 137 | 138 | 141 | ANTIGUA & BARBUDA | 290 | 110 | 180 | 0 | 0 | 0 |
| 141 | 141 | 141 | 142 | 142 | SIERRA LEONE | 260 | 10 | 200 | 10 | 30 | 10 |
| 135 | 137 | 139 | 139 | 143 | VIRGIN ISLANDS | 250 | 210 | 40 | 0 | 0 | 0 |
| 142 | 142 | 142 | 140 | 144 | FIJI | 230 | 20 | 60 | 120 | 30 | 0 |
| 138 | 140 | 140 | 140 | 145 | RHODESIA & NYASALAND | 220 | 10 | 210 | 0 | 0 | 0 |
| 148 | 149 | 149 | 153 | 146 | COOK ISLANDS | 216 | 100 | 90 | 0 | 26 | 0 |
| 145 | 143 | 143 | 143 | 147 | SAMOA | 196 | 100 | 40 | 0 | 56 | 0 |
| 148 | 149 | 149 | 153 | 148 | GAMBIA | 190 | 50 | 90 | 0 | 0 | 50 |
| 154 | 152 | 149 | 149 | 149 | MONTENEGRO | 180 | 60 | 110 | 0 | 0 | 10 |
| 142 | 144 | 144 | 144 | 149 | NEW CALENDONIA | 180 | 10 | 0 | 160 | 10 | 0 |
| 147 | 146 | 146 | 146 | 151 | CRIMEA | 170 | 0 | 0 | 0 | 170 | 0 |
| 142 | 144 | 144 | 146 | 151 | PAPUA NEW GUINEA | 170 | 100 | 70 | 0 | 0 | 0 |
| 156 | 156 | 154 | 152 | 153 | REUNION | 166 | 100 | 0 | 0 | 56 | 10 |
| 146 | 146 | 146 | 149 | 154 | ALASKA | 160 | 160 | 0 | 0 | 0 | 0 |
| * | * | * | * | 155 | RWANDA | 155 | 0 | 10 | 0 | 0 | 145 |
| 148 | 149 | 149 | 153 | 156 | ST. VINVENT & THE GR. | 140 | 80 | 60 | 0 | 0 | 0 |
| 154 | 152 | 154 | 156 | 157 | BONAIRE | 130 | 90 | 30 | 0 | 10 | 0 |
| 163 | 159 | 160 | 159 | 157 | COTE D'IVOIRE | 130 | 10 | 90 | 20 | 10 | 0 |
| 152 | 152 | 154 | 156 | 157 | ISLE OF MAN | 130 | 0 | 130 | 0 | 0 | 0 |
| 152 | 152 | 154 | 156 | 157 | MONTE CARLO | 130 | 0 | 130 | 0 | 0 | 0 |
| 158 | 157 | 159 | 159 | 161 | MADAGASCAR | 120 | 10 | 60 | 10 | 40 | 0 |
| 156 | 157 | 160 | 161 | 162 | SAN MARINO | 110 | 0 | 0 | 110 | 0 | 0 |
| 162 | 159 | 162 | 161 | 162 | ST. KITTS & NEVIS | 110 | 30 | 80 | 0 | 0 | 0 |
| 158 | 159 | 162 | 163 | 164 | JORDAN | 100 | 10 | 60 | 30 | 0 | 0 |
| 192 | 167 | 167 | 166 | 164 | LESOTHO | 100 | 10 | 90 | 0 | 0 | 0 |
| 158 | 159 | 162 | 163 | 164 | MONTSERRAT | 100 | 0 | 100 | 0 | 0 | 0 |
| 158 | 159 | 162 | 163 | 164 | WESTERN SAMOA | 100 | 0 | 100 | 0 | 0 | 0 |
| 167 | 169 | 166 | 167 | 168 | PAKISTAN | 98 | 0 | 0 | 0 | 98 | 0 |
| 175 | 173 | 170 | 169 | 169 | CAMEROON | 90 | 0 | 20 | 10 | 40 | 20 |
| 179 | 173 | 170 | 169 | 169 | KYRGYZSTAN | 90 | 0 | 50 | 30 | 10 | 0 |
| * | 184 | 181 | 181 | 171 | EQUATORIAL GUINEA | 80 | 0 | 40 | 0 | 0 | 40 |
| 163 | 165 | 167 | 168 | 171 | JERSEY | 80 | 0 | 80 | 0 | 0 | 0 |
| 165 | 167 | 169 | 169 | 173 | SINT MAARTEN | 70 | 40 | 30 | 0 | 0 | 0 |
| 171 | 173 | 175 | 175 | 173 | TOGO | 70 | 0 | 0 | 50 | 0 | 20 |
| 168 | 170 | 170 | 172 | 175 | BANGLADESH | 60 | 0 | 60 | 0 | 0 | 0 |
| 168 | 170 | 170 | 172 | 175 | GREENLAND | 60 | 40 | 20 | 0 | 0 | 0 |
| 168 | 170 | 170 | 172 | 175 | OKINAWA | 60 | 60 | 0 | 0 | 0 | 0 |
| 171 | 173 | 175 | 175 | 178 | CONGO, REP. OF THE | 50 | 0 | 0 | 30 | 20 | 0 |
| * | 194 | 185 | 181 | 178 | GUINEA | 50 | 0 | 40 | 0 | 0 | 10 |
| 171 | 173 | 175 | 175 | 178 | ST. BARTHELEMY | 50 | 0 | 50 | 0 | 0 | 0 |
| 175 | 178 | 175 | 175 | 178 | TONGA | 50 | 0 | 20 | 0 | 30 | 0 |
| 192 | 194 | 185 | 181 | 182 | ARMENIA | 40 | 0 | 0 | 20 | 10 | 10 |
| 175 | 178 | 179 | 179 | 182 | BRITISH GUIANA | 40 | 0 | 0 | 40 | 0 | 0 |
| 192 | 194 | 197 | 197 | 182 | IRAQ | 40 | 10 | 0 | 0 | 10 | 20 |
| 175 | 178 | 179 | 179 | 182 | MALAWI | 40 | 0 | 40 | 0 | 0 | 0 |
| * | 194 | 197 | 197 | 186 | AZERBAIJAN | 30 | 10 | 0 | 0 | 0 | 20 |
| 182 | 184 | 185 | 187 | 186 | CAPE VERDE | 30 | 0 | 20 | 0 | 0 | 10 |
| 182 | 181 | 181 | 181 | 186 | DOMINICA | 30 | 10 | 20 | 0 | 0 | 0 |
| 179 | 181 | 181 | 181 | 186 | FRENCH GUIANA | 30 | 30 | 0 | 0 | 0 | 0 |
| 179 | 181 | 181 | 181 | 186 | PALAU | 30 | 0 | 0 | 30 | 0 | 0 |
| 182 | 184 | 185 | 187 | 191 | AFGHANISTAN | 20 | 0 | 0 | 0 | 20 | 0 |
| 182 | 184 | 185 | 187 | 191 | CAMBODIA | 20 | 0 | 10 | 0 | 10 | 0 |
| 192 | 194 | 185 | 187 | 191 | CHAD | 20 | 0 | 10 | 0 | 10 | 0 |
| 182 | 184 | 185 | 187 | 191 | GUERNSEY | 20 | 0 | 20 | 0 | 0 | 0 |
| * | 194 | 197 | 197 | 191 | GUINEA-BISSAU | 20 | 0 | 20 | 0 | 0 | 0 |
| 182 | 184 | 185 | 187 | 191 | NIUE ISLAND | 20 | 0 | 0 | 0 | 20 | 0 |
| 182 | 184 | 185 | 187 | 191 | SAINT-MARTIN | 20 | 20 | 0 | 0 | 0 | 0 |
| * | * | 197 | 197 | 191 | SAO TOME & PRINCIPE | 20 | 0 | 10 | 0 | 0 | 10 |
| 182 | 184 | 185 | 187 | 191 | SYRIA | 20 | 0 | 20 | 0 | 0 | 0 |
| 182 | 184 | 185 | 187 | 191 | TIBET | 20 | 0 | 0 | 0 | 20 | 0 |
| 182 | 184 | 185 | 187 | 191 | TRINIDAD | 20 | 20 | 0 | 0 | 0 | 0 |
| 192 | 194 | 197 | 197 | 202 | ALGERIA | 10 | 0 | 10 | 0 | 0 | 0 |
| 192 | 194 | 197 | 197 | 202 | ANDORRA | 10 | 0 | 10 | 0 | 0 | 0 |
| 192 | 194 | 197 | 197 | 202 | BHUTAN | 10 | 0 | 0 | 0 | 10 | 0 |
| 192 | 194 | 197 | 197 | 202 | NEW HEBRIDES | 10 | 10 | 0 | 0 | 0 | 0 |
| * | * | * | * | 202 | PALESTINE | 10 | 0 | 0 | 0 | 10 | 0 |
| 192 | 194 | 197 | 197 | 202 | TANGANYIKA | 10 | 0 | 10 | 0 | 0 | 0 |
| 192 | 194 | 197 | 197 | 202 | TOKELAO | 10 | 0 | 0 | 0 | 10 | 0 |
| * | 194 | 197 | 197 | 202 | UZBEKISTAN | 10 | 0 | 10 | 0 | 0 | 0 |
| 192 | 194 | 197 | 197 | 202 | ZANZIBAR | 10 | 0 | 0 | 0 | 10 | 0 |
---
TOP 10 Countries/Territories
(sorted by pageant)
---
MISS WORLD (since 1951)
1. U.S.A. – 5,830
2. UNITED KINGDOM – 4,885
3. VENEZUELA – 4,565
4. SOUTH AFRICA – 4,350
5. AUSTRALIA – 3,795
6. FRANCE – 3,600
7. ISRAEL – 3,485
8. JAMAICA – 3,345
9. INDIA – 3,335
10. BRAZIL – 3,245
---
MISS UNIVERSE (since 1952)
1. U.S.A. – 8,190
2. VENEZUELA – 6,090
3. COLOMBIA – 4,490
4. BRAZIL – 4,390
5. SWEDEN – 3,860
6. PHILIPPINES – 3,340
7. PUERTO RICO – 3,200
8. FINLAND – 3,040
9. GERMANY – 2,900
10. AUSTRALIA – 2,830
---
MISS INTERNATIONAL (since 1960)
1. VENEZUELA – 4,840
2. JAPAN – 4,740
3. U.S.A. – 4,700
4. COLOMBIA – 4,260
5. SPAIN – 4,120
6. PHILIPPINES – 4,040
7. FINLAND – 3,880
8. BRAZIL – 3,580
9. KOREA – 3,280
10. AUSTRALIA – 3,020
---
MISS EARTH (since 2001)
1. PHILIPPINES – 2,006
2. VENEZUELA – 1,932
3. BRAZIL – 1,698
4. U.S.A. – 1,292
5. THAILAND – 1,120
6. POLAND – 1,050
7. INDIA – 996
8. CZECH REPUBLIC – 902
9. SPAIN – 886
10. MEXICO – 842
---
MISS SUPRANATIONAL (since 2009)
1. BELARUS – 830
1. POLAND – 830
3. INDIA – 665
4. CZECH REPUBLIC – 580
5. THAILAND – 560
6. PANAMA – 540
7. PHILIPPINES – 505
8. PUERTO RICO – 445
9. BRAZIL – 435
10. UKRAINE – 390