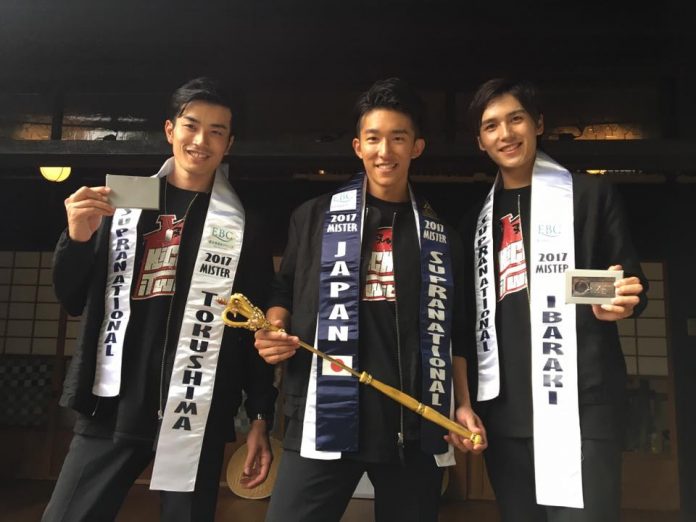 Kamakura – Pageant first-timer Takanori Uekusa, who represented Tokyo, became the ultimate winner of Mister Supranational Japan 2017, besting five other finalists from all over Japan.  At 27 years of age, Takanori is currently managing his own business venture in Tokyo.  He will now prepare for the upcoming Mister Supranational 2017 competition in Poland.  After the announcement of the winner, Takanori did not bother to hide his emotions. He dedicated his victory to his mother who had raised him single-handedly.

Finishing in second place was Riku Yuasa, who represented Tokushima.  24-year-old Riku is now working in Tokyo where he also finished his university studies.  Incidently, Riku was a classmate of Miss Supranational Japan 2016 Risa Nagashima at Hosei University.  Both of them majored in Sports Science.
In third place was Kazunori Hatomi of Ibaraki, who is the youngest contestant at 21.  He is a sports major at Juntendo University and dreams of becoming the next superhero such as Kamen Rider, which is popular among children.
During the interview portion, Takanori shared his experience when he went backpacking to the Amazon jungle in Brazil.  He jokingly said that he would never try eating a crocodile again.  After seeing how a live crocodile was being butchered for consumption, he reflected on the value of life and how we human beings should appreciate the food that we eat.  Takanori had conquered North America, the Caribbean and South America just by backpacking.
The Mister Supranational Japan finals was held in an old Japanese house in an open air setting. It was intimately attended by families and friends of the finalists.  Reigning Miss Supranational Japan 2017, Yuki Koshikawa, sat as one of the judges. This year's contest was sponsored in part by Ebisu Beauty Clinic.  / Stephen I. Diaz