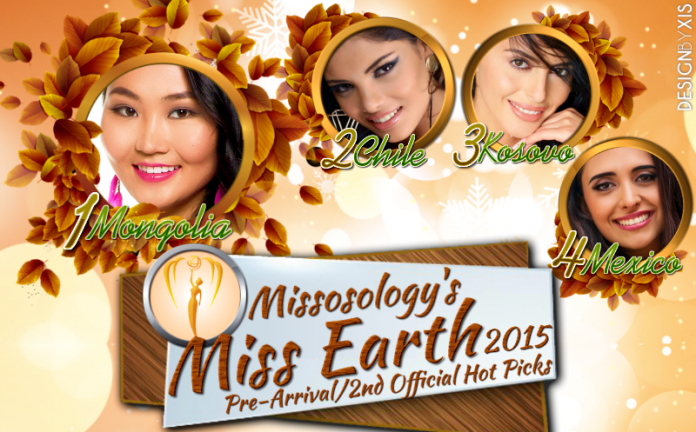 Miss Earth 2015 Pre-Arrival Hot Picks
1. Mongolia
2. Chile
3. Kosovo
4. Mexico
5. Panama
6. South Africa
7. Venezuela
8. Ghana
9. Myanmar
10. Ecuador
11. Philippines
12. Mauritius
13. Australia
14. India
15. Russia
16. Sweden
A few days before all the delegates arrives in Vienna, who do you think is the hottest earth warrior as of now? It will be foolish to name someone other than Bayartsetseg "Bela" Altangerel, the Mongolian charmer who has just conquered the world with her beautifully and intelligently made eco-beauty video that has been viewed more than 100,000 times in less than a week! Her video is Miss Earth's most successful eco-video to date, and no one has probably expected that someone from the land of Genghis Khan could actually accomplish that. But what makes Bela really special? Is it just because of her video, or is there something else? Not everyone knows that Bela is actually a direct descendant of Genghis Khan's brother, so she is blood related to the popular historical figure. And with her unique background – she had experienced being robbed in Paris while backpacking – she is one courageous woman who knows what she wants, and takes actions to achieve them. Her beauty may be classified as distinctly Asian, and that is something that will surely be a hit in Europe.  Furthermore, she has walked the runways of Europe and Asia as a ramp model, aside from her job as a Hollywood actress, so it won't be a surprise if we see her rock the swimsuit and evening gown sub-contests. But, if you're not yet convinced, try conversing with her in English, French and Spanish! She can speak all those languages too! So definitely, Bela, you belong nowhere else but to the top!
In 2nd Place is the very sexy and gorgeous Natividad Leiva of Chile who was our number one in the previous hot picks! She may have dropped one spot down, but that's not to say that she is getting weaker. It just so happened that during the past week, Bela has been the trending topic, so maybe we will see more of Nati as soon as she arrives in Vienna. Meanwhile, the unheralded Kaltrina Neziri of Kosovo rose to third place, partly due to her eco-video as well! Lots of Kosovans and non-Kosovans alike have been impressed by Kaltrina so far, and her almost a year of preparation really helps. Following her, in fourth place, is the statuesque Mexican goddess, Gladys Flores, who might become Mexicos first Miss Earth winner. Mexico has been doing quite well in the past few years, so it's not surprising to notice that the Miss Earth Organization has been keeping an eye on the Mexican girls every year. Besides that, the Miss Earth Mexico organization has been doing a great job with the national pageant and environmental platform which their group advocates.
Carmen Jaramillo of Panama is now on fifth place! After the 1st Hot Pick was released, a lot of missosologists were mad that Carmen was not on the list. But they had the right reason to be furious. Carmen is quite a rare find, and Panama has not been appreciated well in Miss Earth, despite sending some gorgeous delegates in the past. Meanwhile, in sixth place is none other than the Carla Victor of South Africa, one of the brains behind the #BIG02Challenge! We think that this has propelled Carla's position way up in the ranking, and we believe that she might as well go farther as the days progress. If Miss Earth is just true to their motto "Beauty with a Cause" we are pretty much sure that we won't be seeing familiar sashes in the Top 16 or even Top 8 and Top 4. Carla is an initiator and just like Bela, we believe that they are great examples of what makes Miss Earth a truly relevant and respectable pageant. In seventh place is the newly crowned Miss Earth Venezuela, Andrea Rosales, who leads the pack if beauty of face and figure are all that matter. Indeed, she has the looks that could just end this competition much like the way Edymar Martinez ruled the Miss International pageant. However, this is Miss Earth, and we are still clueless about what Andrea has to offer in terms of environmental advocacy and her passion towards global climate change. In eight place is Ghana's Silvia Commodore who was the overwhelming favorite at her national pageant. This intelligent and pretty lady, who has the skin tone to die for, will surely make an impact in Vienna and we are excited to see all that.
Myanmar's Eaint Myat Chal is now in ninth place. Her recent photos have shown a lot of improvements and we are pretty confident that she has been preparing well for the pageant. Ecuador's Angela Bonilla is in 10th place, while Angelia Ong of the Philippines follows her in 11th spot. Mauritius' Katia Moochooram is now in 12th spot, while Dayanna Grageda and India's Aaital Khosla are in 13th and 14th place respectively. The two Maria's – Russia's Maria Chudakova and Sweden's Maria Taipaleenmäki – complete our list at 15th and 16th spot respectively.
As soon as the delegates arrive in Vienna, we expect the rankings to change drastically when the medal events start to reveal who are the organizers' favorites! It might be said that the medal events don't matter, but there is some sort of a hidden "code" that shows who are the favored girls based on certain medal events, while some are just being given as some sort consolation prizes.