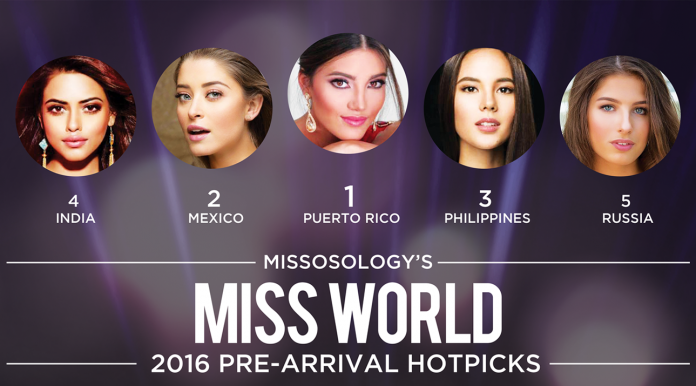 It's over.  Trump succeeded in winning the presidential election, and he is bound to sit as the next American president. But within this week, somewhere around the American capital, some 120 beautiful and accomplished women from around the world will start arriving as they compete for the title of Miss World 2016.  Washington DC, and the nearby state of Maryland will continue to be busy at this time of the year as they welcome all the delegates of Miss World, the largest and most historical Big 5 Pageant of all!
Here is our pre-arrival hot picks:
In first place is Stephanie del Valle Díaz of Puerto Rico. There is no doubt that all eyes will be on this stunning young woman, who by the way is very fluent in English and was one of the handful of delegates who got crowned by the reigning Miss World, Mireia Lalaguna of Spain.  It's been more than two decades since we had last witnessed the crowning of a Miss Worldwinner from the Caribbean, and it's been long overdue.  Puerto Rico had been doing quite well at Miss World until 2012, and has been missingthe first cut since then.  However, this time they have found a gem in Stephanie!
Following her in second place is none other than the most talked about delegate this year,  Ana Girault of Mexico.  It will be a great Christmas present for the Mexicans as well as the Mexican immigrants in the United States if Ana wins their first ever Miss World crown.  She is absolutely breathtaking, and to us in Missosology, she will remain as a frontrunner leading to the start of the competition.  North America has not won the Miss World crown since Kentucky-native Alexandra Mills won the title in 2010.
The third position belongs to Catriona Gray of the Philippines, who is not just beautiful and intelligent, she has also proven to have a golden heart.  As of this point, Puerto Rico, Mexico and the Philippines are neck-to-neck in the battle for the top spot, so we shall see how the three of them will fare in the eyes of the Miss World owner, Julia Morley.  Catriona is a great spokesperson too, so we expect her to do well in the interview and other speaking engagements.
Not far behind, and is slowly gaining momentum at fourth place is Miss India, Priyadarshini Chatterjee.  India is just fresh from a triumphant stint at Mister World, so Priyandarshini is probably aiming for a double victory – something that has never happened before.  With her lean figure, great stage presence and charismatic stature, Priyandarshini will be a formidable contender once she steps in the United States.
Rounding up our Top 5 is Yana Dobrovolskaya, who is representing mighty Russia.  Last year, Russia almost got their third Miss World crown, and looks like they are really determined to win it all this year when Yana, which was earlier assumed to compete at Miss Universe, decided to represent the federation, instead, at Miss World.  Huge points for that!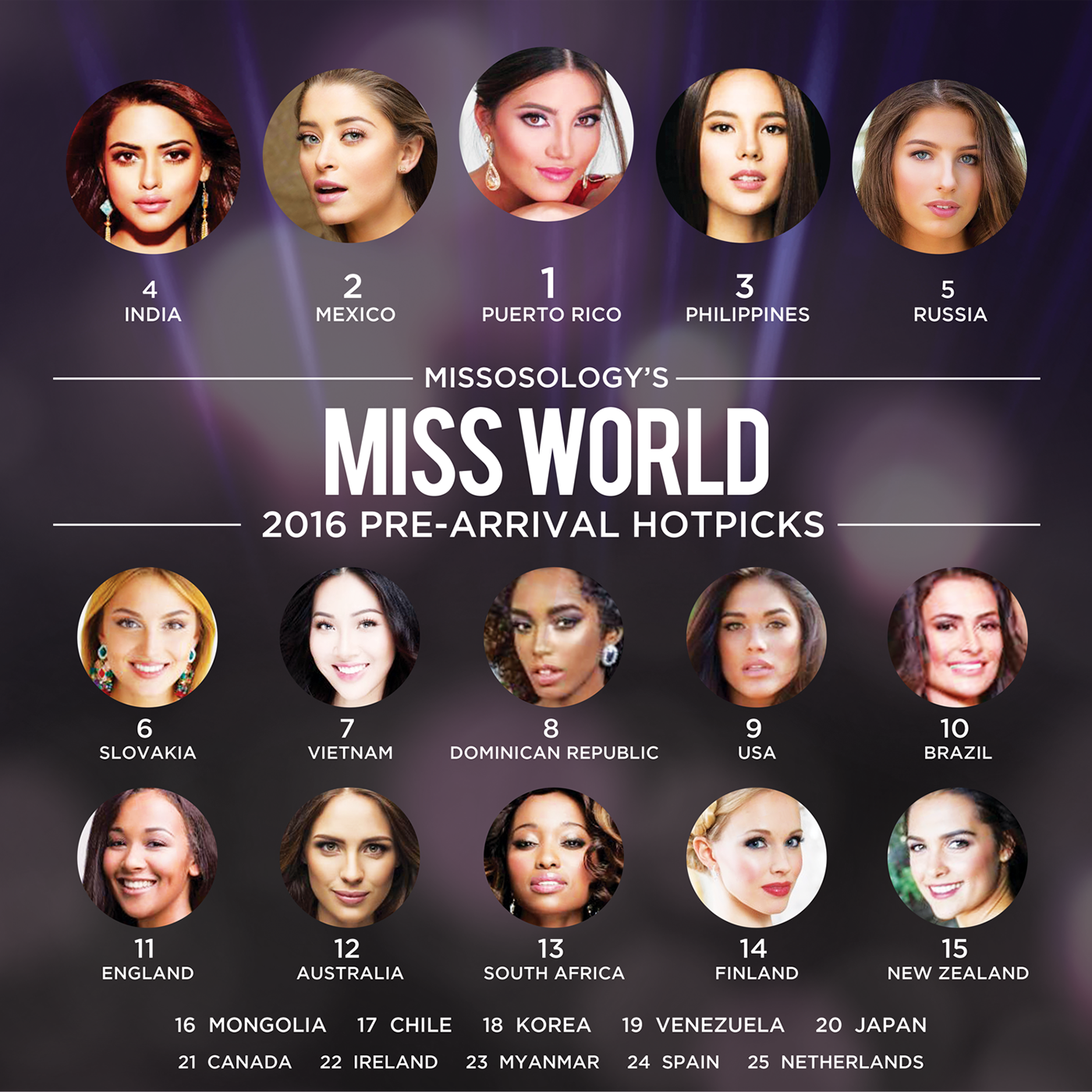 In sixth place is the blonde sensation, and jawdropping beauty from Slovakia.  Kristína Činčurová was a heavy favorite during Miss Slovensko 2016.  She easily won the title, and now she is bound to bring the first ever crown for her country at Miss World.  In fact, if she wins, it will be Slovakia's first in any major pageant.
Trương Thị Diệu Ngọc of Vietnam is in seventh place, and is one of the strongest contenders from Asia this year.  Vietnam's pageant scene has been improving this past few years, and there was even one time when it was rumored that the southeast Asian country was planning to host Miss World.  Trương has an "Asian" doll-like look which is normally being appreciated by Westerners.  She is definitely one delegate to watch out for!
In eighth place is none other than the very sexy and alluring Yaritza Miguelina Reyes Ramírez of the Dominican Republic.  If you remember it right, Yaritza was Top 10 at Miss Universe 2013, and she was the lone black delegate who made the first cut. Little did we know that three years later she would join Miss Mundo Dominicana 2016, and she easily won the title.  Now that she is more mature and prepared for another stint in a major pageant, Yaritza will be another Caribbean delegate to watch out for this year.
Host delegate Audra Mari of the United States is holding on at ninth place.  With the US presidential elections being a hot topic in her country, as well as the tremendous preparation needed to host the pageant, we have barely seen any news about Audra's road to the crown, but we are confident that this former Miss Teen USA and Miss USA 1st Runner-up is preparing well to win the crown at home soil.
In tenth place is Beatrice Bezerra da Fontoura of Brazil, who is probably the top delegate this year that is oozing with sex appeal.  The question is, will it work in the Miss World system?  Beatrice is an accomplished young woman, and has improved a lot since she her participation at Miss Universe Brazil 2014 where she ended up in the Top 5.  Many thought she should have won, though.  But now is her chance to really prove her worth as she might be destined to give Brazil their second Miss World crown.
England's  Elizabeth Grant is in 11th place, and we know that the United Kingdom always has someone from the British Isles in the semifinals list.  Elizabeth is the strongest delegate among the four.  She is then followed by Australia, Madeline Cowe, who has finally won a national crown after her failed attempt to win the Miss Universe Australia title last year, where she was 1st Runner-up.  Expect her to well at the Top Model competition.  Meanwhile South Africa's Ntandoyenkosi Kunene is on 13th spot, and is the highest placed African delegate so far, but who knows what the other African delegates can offer?  Never to be underestimated is Finland's Heta Sallinen, whom many perceived to win the Miss Suomi 2016 title, but only ended up as 1st Runner-up.  Was it a strategy so that they can place high at Miss World?  And in 15th place is Miss New Zealand, Karla de Beer, who has this really good youthful vibe and is considered a great speaker.
Actress Bayartsetseg Altangerel of Mongolia is in 16th place, followed by Antonia Cristal Figueroa Alvarado of Chile.  The serene beauty from Korea, Wang Hyun will represent the newly revamped Miss World Korea, and she is in 18th place.  Venezuela's Diana Macarena Victoria de la Coromoto Croce García is in 19th place, while the controversial half-Indian Miss World Japan, Priyanka Yoshikawa, is in 20th palce.
Canada, Ireland, Myanmar, Spain and the Netherlands complete our Top 25.
Things will certainly change from this list once the delegates arrive in Washington DC, and Maryland, so we shall see how this develops in the days to come. /Stephen I. Diaz