Graphics by Krizza Enriquez [@kxxenriquez]
Text by R. Galvez [@the4ofustraveling]
The Miss Universe 2023 pageant is now heating up. Photos and videos of candidates departing from their home countries gave fans a dose of adrenaline. Then, the trickle of arrivals in El Salvador further created a stir as each candidate gave their own version of what it means to arrive in style.
Miss Thailand Anntonia Porsild created a lot of noise and she successfully caught the attention of pageant experts and analysts. Backed by her experience, she knows how to navigate the centerstage and the spotlight. Her ethereal beauty and excellent fashion sense will carry her through the finals night.
Not to be outdone, Miss Dominican Republic Mariana Downing arrived in El Salvador on a private jet. The statuesque beauty screams Miss Universe on the day she was crowned in the nationals. She's got a lot of poise and confidence going into the competition.
There's another pageant veteran is making waves at Miss Universe 2023. Miss Puerto Rico Karla Guilfú has the backing of a strong sash weight and a wealth of personal experience in international pageantry. Beauty experts strongly believe she is a strong contender for the Miss Universe 2023 title.
Miss France Diana Leyre is gaining lots of fans and her position in our Hot Picks has skyrocketed. She's a woman to watch out for in the competition. Her sheer beauty and sophistication is worthy of a Top 5 finish. Will she bring home France's third Miss Universe crown?
Rounding up the Top 5 of the Hot Picks is Miss Venezuela Diana Silva. As the results of Miss International 2023 demonstrate, it is dangerous to underestimate Venezuelan candidates. They have heavy sash weight and they are well trained. Beauty experts expect nothing less from Diana Silva.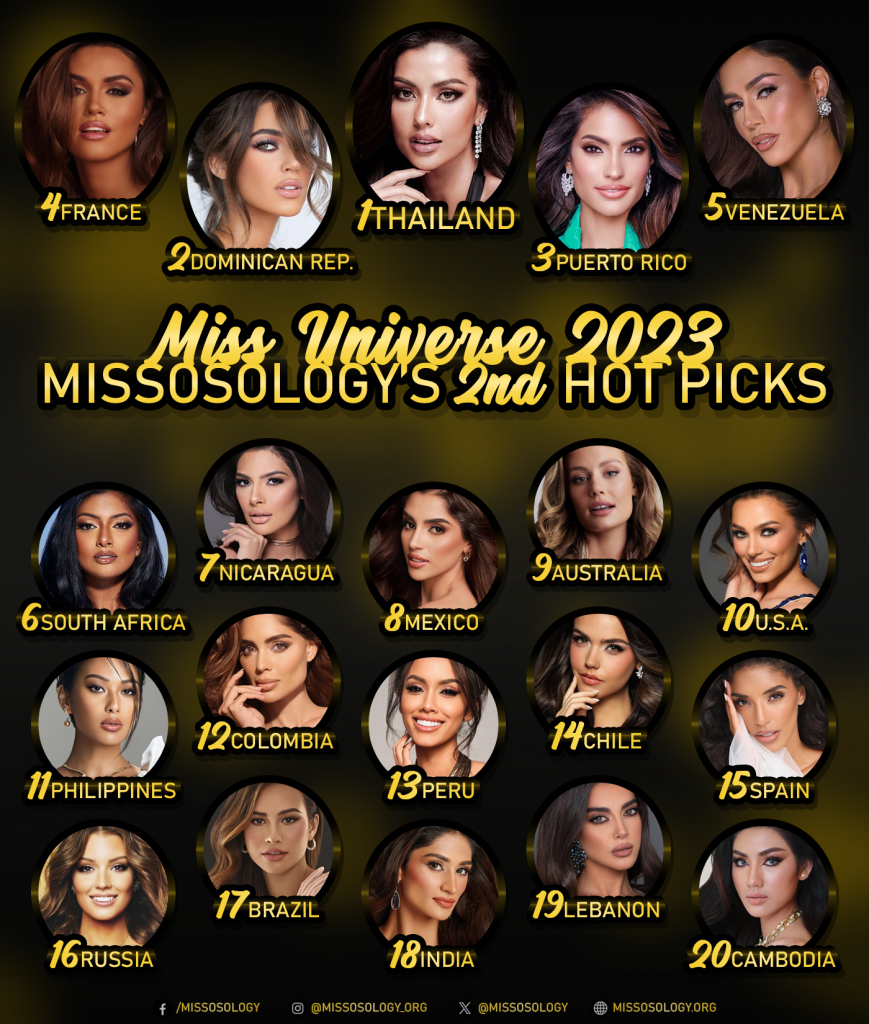 Miss Universe 2023 2nd Hot Picks complete list:
1. Thailand – Anntonia Porsild
2. Dominican Republic – Mariana Downing
3. Puerto Rico – Karla Guilfú
4. France – Diane Leyre
5. Venezuela – Diana Silva
6. South Africa – Bryoni Govender
7. Nicaragua – Sheynnis Palacios
8. Mexico – Melissa Flores
9. Australia – Moraya Wilson
10. USA – Noelia Voigt
11. Philippines – Michelle Dee
12. Colombia – Camila Avella
13. Peru – Camila Escribens
14. Chile – Celeste Viel
15. Spain – Atenea Perez
16. Russia – Margarita Golubeva
17. Brazil – Maria Brechane
18. India – Shweta Sharda
19. Lebanon – Maya Aboul Hosn
20. Cambodia – Sotima John