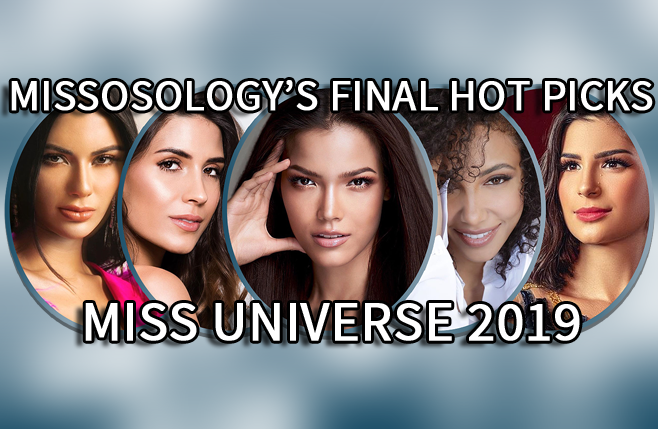 With only a few more hours to go before the much anticipated Miss Universe 2019 live telecast will start, Missosology has finally come up with a collective decision to present our final hot picks. But before anything else, we would like to remind our readers that last year, despite the complaints of being "nationalistic" or too "patriotic", Missosology was able to predict correctly the victory of Catriona Gray, and what a remarkable Miss Universe she has been. Although it saddens us to see Catriona relinquish her crown, we are very much ready to welcome the new queen. Prior to Catriona, the last time that Missosology was able to correctly predict the winner of Miss Universe was in 2014 with Paulina Vega. Incidentally, Paulina is going to judge this year's pageant and we all know what happened a year later when the unforgettable drama happened. Paulina was able to handle that awkward scenario with ease and elegance, which made us respect her even more. Paulina was also our Timeless Beauty in 2014.
Missosology's faith to Paweensuda Drouin remained intact and she is back in the No.1 position in our final hot picks. Thailand has long been shortchanged despite sending top caliber delegates at Miss Universe. They also happened to host the pageant three times, all of which were incredibly successful and memorable. After the respective victory of Thailand at Miss International and Miss Supranational, Paweensuda is poised to further cement their dominance in pageantry with a Miss Universe win. However, this is not to say that we demand for a Thai victory at any cost. Paweensuda has to work this out, and the Miss Universe stage is no easy feat. She really needs to prove her worth, and show to the universe that she is the best woman to represent the organization for a year, and be a role model for many as a confident woman with a substance.
If things don't work for Paweensuda, we can say hell to the very first Latina to win the Miss Universe crown under IMG. As of now, we can see Gabriela Tafud of Colombia as the strongest Latina to win the crown this year. As mentioned in our previous hot picks, Colombia failed to place at last year's edition, which was not shocking at all due to the lack of time to prepare their delegate. But this year, Gabriela, who is a lawyer, had more than a year to prepare and solidy her charity portfolio through the Miss Colombia organization. Even before we had another lawyer, in the person of Miss USA 2019 Cheslie Kryst, living in the Trump Tower, Gabriela was already set to compete for Miss Universe and if she wins, both lawyers will be roommates. We wonder what sort of legal issues will they be talking about.
Speaking of which, we have USA's Cheslie Kryst pegged at No.3 in our final hot picks. After the preliminary competition, we cannot simply ignore the congenial presence of Cheslie when she is on stage. She really looks amiable, approachable and relatable. At 28, she is the oldest Miss USA to compete at Miss Universe, so it is safe to say that she will be able to work with the organization with high sense of responsibility and maturity. And this is not just about the American level, but on a global scale.
At No.4, we have Gazini Ganados of the Philippines. Miss Universe has reached its highest level of prominence partly because of the Filipino fans. Pia Wurtzbach is currently the most followed Miss Universe winner on Instagram, followed by Catriona Gray. Suffice to say that the Filipino fans are the main reason why Filipino delegates at Miss Universe do really well. The support is so overwhelming, that any other delegate would wish to have even jsut a quarter of such massive support. Gazini, who has worked extremely hard to improve her public speaking skills, will continue to raise the flag for the Philippines, just like her predecessors. She is considered to be one of the most facially beautiful Miss Philippines in recent years.
Completing the Top 5, is none other than the much talked about delegate from Brazil, Julia Horta. We heard her message at the national costume presentation, and it was a very timely challenge to all those who have taken the issue of violence against women so lightly. Using that stage as a platform to raise awareness for a cause that is dear to her, we give Julia a two-thumbs up, and we won't mind seeing her with the new $5 million Mouawad crown. We admire women who have such guts.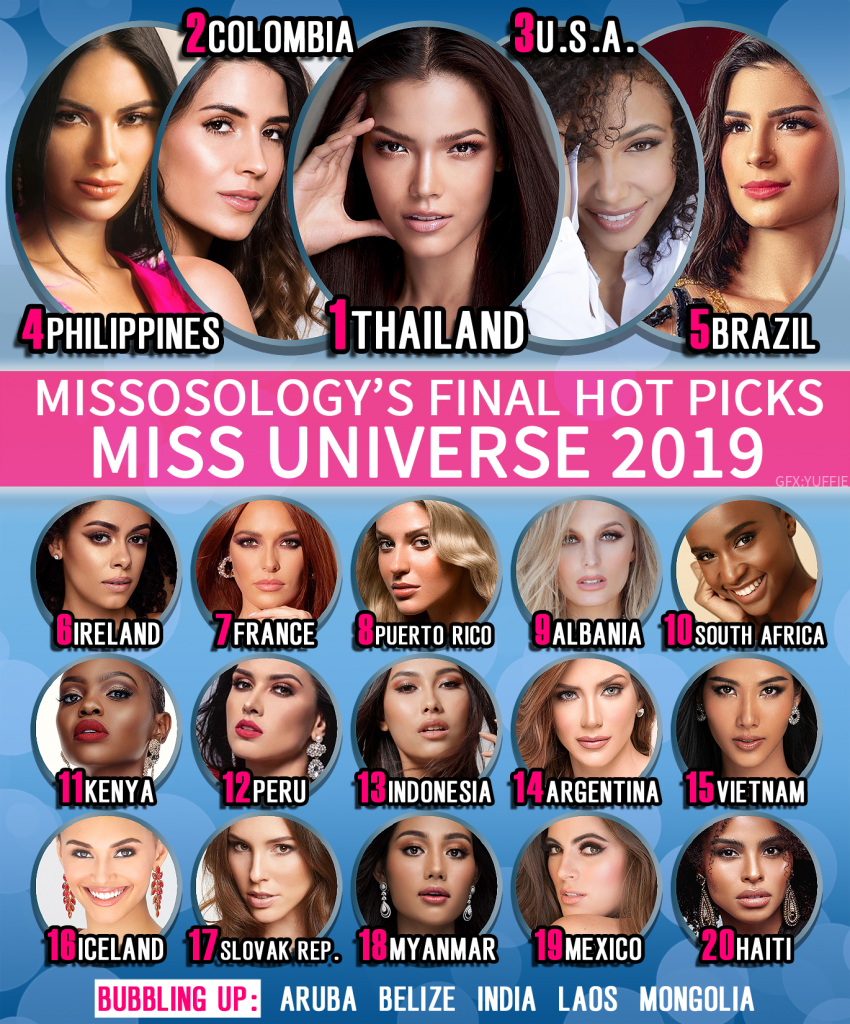 Top 10 (6th to 7th)
Closing near into the Top 5, we have Fionnghuala O'Reilly of Ireland. This NASA engineer tried her luck at the Miss USA system where she placed 3rd Runner-up in 2018. As a daughter of an Irish father and an African-American mother, she crossed the Atlantic Ocean to compete for the Miss Universe Ireland title, in which she was qualified to join, and eventually won the title. France's Maëva Coucke made news after her fall and comical recovery at the preliminary swimsuit event held last Friday. Althought we do not blame her for the painful slip (the stage should have been checked carefully if it was safe or not) we admire how Maëva handled the situation by clapping her hands and just shrugged it off! Puerto Rico's Madison Anderson is another contender who hopped to another territory and eventually won the right to compete at Miss Universe after an unsuccessful try at the Miss USA state level. After losing at the Miss Florida USA pageant, Madison took advantage of the fact that she has a Puerto Rican heritage and went on to compete at the highly competitive Miss Universe Puerto Rico pageant, currently under the leadership of Denise Quinones. Madison is more fluent in English than Spanish, which is quite interesting. She has spent most of her live in the US mainland, and has been studying at the prestigious Fashion Institute of Technology in New York City. Following Madison is Albania's Cindy Marina who is another delegate that is currently absed in the US through her studies. Born to Albanian parents, Cindy was actually raised in the US, had her education in the US and is currently studying in California where she plays volleyball. She is part of the Albanian national volleyball team. On stage, Cindy does not look like a typical pageant girl with superb pageant walk, but her fresh approach makes her pleasing to the eyes. Finally, in the Top 10, we have South Africa's Zozibini Tunzi. We definitely love the hairdo and her commanding presence makes her the strongest African delegate this year. South Africa is really serious with the Miss Universe brand since Demi-Leigh's convincing win two years ago. A back-to-back nearly happened last year, so the Miss South Africa pageant system cannot afford to play safe. So, they sent another formidable delegate in the person of Zozibini! / XAMURAI
MISS UNIVERSE 2019 Final Hot Picks

1. THAILAND (Paweensuda Drouin)
2. COLOMBIA (Gabriela Tafur Nader)
3. USA (Cheslie Kryst)
4. PHILIPPINES (Gazini Ganados)
5. BRAZIL (Julia Horta)

6. IRELAND (Fionnghuala O'Reilly)
7. FRANCE (Maëva Coucke )
8. PUERTO RICO (Madison Anderson)
9.  ALBANIA (Cindy Marina)
10. SOUTH AFRICA (Zozibini Tunzi )

11.  KENYA (Stacy Michuki)
12.  PERU (Kelin Rivera)
13.  INDONESIA  (Frederika Cull)
14.  ARGENTINA (Mariana Varela)
15.  VIETNAM (Thuy Hoang)
16.  ICELAND (Birta Abiba Þórhallsdóttir)
17.  SLOVAK REPUBLIC (Laura Longauerová)
18.  MYANMAR (Swe Zin Htet)
19.  MEXICO  (Sofia Aragon)
20.  HAITI (Gabriela Vallejo)

Bubbling up: ARUBA, BELIZE, INDIA, LAOS and MONGOLIA