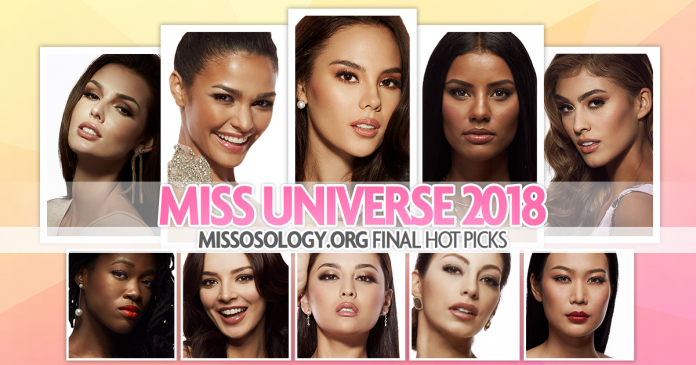 Text by R. Galvez
Graphics by Drew Francisco
The Miss Universe 2018 pageant will culminate in two days' time and the tension is now reaching fever pitch. Truly, it is exciting that the 2018 pageant season will conclude with the Miss Universe pageant. After all, among the Big5 Pageants, this is the most raucous and the most anticipated!
Truth must be told that there was no unanimous decision when it comes to the selection on who will be the number 1 in the Final Hot Picks. This is a clear indication of how intense the competition is. However, after several passionate discussions among the team of beauty experts, correspondents and editors on the ground, the choice became clearer. It has to be Miss Philippines Catriona Gray.
No one came to Miss Universe 2018 more prepared than Catriona Gray. She is counting on her pageantry experience and she already polished any imperfection that she may have.  She is like Demi-Leigh 2.0 except that she aced her prelims with her signature "lava walk" and that much talked about slow-mo spin. She has millions of passionate fans to back her up making Catriona a rare gem that Miss Universe can only have once in a blue moon. If Miss Universe is sensible enough, they will crown her because from whatever perspective, Catriona is a perfect titleholder.
But then again, one shouldn't just dismiss the competition. Miss Puerto Rico Kiara Ortega can easily follow – and even surpass – the footsteps of Cynthia Olavarría (who came a little short in winning the title in Bangkok back in 2005). Kiara is perfect in every way. She was divine in her evening gown prelims and she looks stunning in her swimsuit. She is unburdened by expectations. After all, no Puerto Rican beauty queen managed reach the Miss Universe semis since 2014!
A back to back win may again become a reality after almost a decade. Miss South Africa Tamaryn Green is a formidable candidate that could turn something improbable possible. Her elegance is difficult to hide. Her eloquence can't be denied. Whenever she walks onstage, she owns it.  While Tamaryn is in the 3rd spot on this list, Demi-Leigh crowning a fellow South African should not come as a surprise.
Making it to the 4th spot is the statuesque Miss Canada Marta Stepien. Canada suffered a semis drought from 2007-2015 but has rebounded since 2016. Interesting to note that Canada won its second Miss Universe title in Thailand. Will Marta follow suit? Probably! Her country is in fact making a comeback at the pageant and thanks to her solid performance, the idea of Canada winning its third crown is not that farfetched.
Miss Colombia Valeria Morales had been a candidate to watch out for since the beginning of the contest. She's got a lot of class and poise but her prelim performance did not meet some of the expectations. But remember, ever since that 2015 incident at Miss Universe, Colombia is doing pretty well. In 2016 the country placed as second runner-up and last year, they surprised the world by placing as first runner-up!
Miss Great Britain Dee-Ann Kentish-Rogers came out as a surprise choice by our panel of beauty experts. However, her superb performance in both swimsuit and gown preliminaries caught the attention of the multitude and she came off as the strongest candidate among the European contingent!
Miss Mexico Andrea Toscano is no doubt a scene stealer. Many of analysts believe that she could pull a surprise by placing higher than the 7th place finish accorded to her in this final Hot Picks. Meanwhile, the exotic beauty of Miss Japan Yuumi Kato was scintillating onstage during the preliminaries. While the frontrunners enjoyed loud support among their fans, Yuumi created her own niche in this contest by refusing to be drowned out.
Queenly, oozing with confidence and with a sparkling beauty, Miss Ecuador Virginia Limongi is a huge threat to the frontrunners. Watch out for her! She may be 9th place in this list but don't be surprised if she will walk away with the crown.
Completing our Top 10 is Miss Thailand Sophida Kanchanarin. Although the host delegate always misses the semis whenever the pageant is held in Thailand, the current format of Miss Universe may break that "tradition". Sophida did an excellent job as a host candidate. Her beauty is a "hit and miss" but Thailand should be proud of her graciousness and confidence.
Check out below our complete list for the final Hot Picks for Miss Universe 2018. Who do you think will win? Share your thoughts in the comment box!
1 Philippines, Catriona Gray
2 Puerto Rico, Kiara Ortega
3 South Africa, Tamaryn Green
4 Canada, Marta Stepien
5 Colombia, Valeria Morales
6 Great Britain, Dee-Ann Kentish-Rogers
7 Mexico, Andrea Toscano
8 Japan, Yuumi Kato
9 Ecuador, Virginia Limongi
10 Thailand, Sophida Kanchanarin
11 Venezuela, Sthefany Gutiérrez
12 Turkey, Tara De Vries
13 Spain, Angela Ponce
14 Nigeria, Aramide Lopez
15 Brazil, Mayra Dias
16 Russia, Yulia Polyachikhina
17 Vietnam, H'Hen Niê
18 USA, Sarah Rose Summers
19 Cambodia, Nat Rern
20 Albania, Trejsi Sejdini
21 Kenya, Wabaiya Kariuki
22 Denmark, Helena Heuser
23 Costa Rica, Natalia Carvajal
24 Nepal, Manita Devkota
25 Ireland, Grainne Gallanagh