Perhaps no other secrets in the world is as closely guarded as the Miss Universe scores. At least it used to be until the finals night. Miss Universe would reveal the preliminary scores but now its totally a secret. But there is a circulating photo recently purportedly taken from the instagram of one of the preliminary judges. Elena Semikina somehow inadvertently made public the preliminary scores. Missosology cannot verify its authenticity but it seems like an official score sheet from Miss Universe. The post on the instagram has been removed since. It is still unknown whether the scores are already the aggregate. The semifinals judges are as follows: E! News Alicia Quarles, modeling manager Corrine Nicolas, broadcast journalist David Perozzi, Elena Semikina who is the Miss Universe Canada 2010, PR and marketing manager Gabriel Rivera-Barraza, businesswoman Irina Agalarova, and Telemundo's Jose Sariego.
The photo of the scores is also blurry. Also, the preliminary competition is yet to take place. The scores did show some categories including the glam shot, swimsuit photo and evening gown. While some countries in the list is unreadable, some of the eagle eyed analysts believe the list is as follows: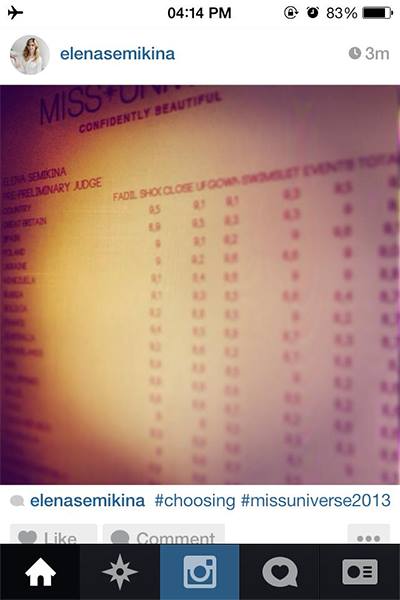 1. Great Britain
2. Spain
3. Poland
4. Ukraine
5. Venezuela
6. Russia
7. ?
8. ?
9. ?
10. Netherlands
11. USA
12. Philippines
13. Brazil
Do you think this list is genuine? Every year, there is always a hoax report showing the list of the preliminary scores but time and a again it was proven untrue. Was it really a post by Elena or some random internet hoax? Could you believe that a judge could be so careless so as to post a sensitive info online?
Shore your thoughts in a comments box below.