What went right and what went wrong
by Ric Galvez
First, let me say that the predictions of Missosology did not materialize like what we expected. It was a last minute list because there were so much doubts and hesitations about it and definitely, putting Israel on the top was quite unusual. Having said that, our top two choices Israel and Poland are on the list of most pageant websites. Of course, there are absolutely no excuses about our failure to predict the winner or on our move to predict a clapper as a winner.
Now, many of our rabid critics are gleeful of the results questioning the integrity of our beauty experts. But by looking back, say the last five years, our beauty experts did pretty well actually and these are the very same people who came up with this year's list. These were our predicted winners for the last five years at Miss Universe – Dayana Mendoza (2008), Ada Aimeé de la Cruz (2009), Rozanna Purcell (2010), Olesya Stefanko (2011) and Janine Tugonon (2012). These records alone and not counting those that were made earlier is a testament that we are doing pretty well at predictions. Also, if you look at our predicted Top 16 for Miss Universe 2013 and compare it with other major beauty pageant related websites, we are way better by having 10 out 16.
I am not going in the way of the naysayers and pessimists who enjoy our failures. Definitely, we will improve our methodology but I still believe that our core team are beauty experts. I will not allow a single mistake ruin all the good performance that they had shown in the past. We had some disastrous performance like in 2004 and 2007 but our team always bounces back. I have to admit that what makes this year's pageant tougher to predict was the lack of real frontrunners. Well in fact, personally, I consider both Israel and Poland to be mediocre in their prelims performances and choosing a one-piece swimsuit was really a disaster for both.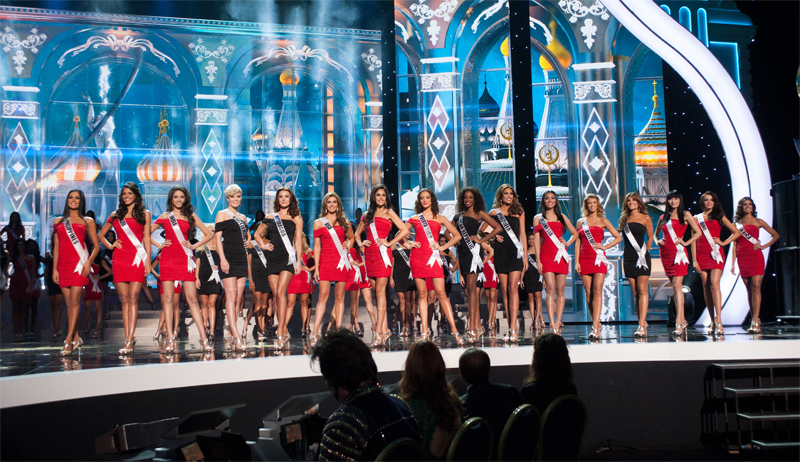 Miss Universe did surprise us, as it does in the past years. In particular, there was a great surprise that Miss China Jin Ye and Miss Switzerland Dominique Rinderknecht made it to the top 16. I don't think China is in the list of major websites but I suppose her tall height and her unique looks, i.e. the Chinese Angelina Jolie, made her a standout. Meanwhile, Switzerland was actually on the top of our pre-arrival hot picks but she did not deliver well as we expected at the prelims so she slipped from being a favorite into someone that was totally ignored.
Miss Indonesia Whulandary Herman is a pleasant addition to the Top 16. This girl aced her catwalk in many instances but at prelims she made some mistakes including her choice of one-piece swimsuit. Miss Nicaragua Nastassja Bolívar was a nice addition as well and it is also great to see Miss India Manasi Moghe making the cut. India is now on the right path to recovery. This is the second straight year that they made it to the semis. Well in fact, in our list, we put her on the 15th place.
The top favorites like Venezuela, Spain, Puerto Rico, Ukraine, Brazil, USA and Great Britain all made it. They are the obvious choices and clearly no one can dispute their placements. Personally, I was a little bit surprised with Miss Ecuador Constanza Baez. She was not in my list but she truly deserves her placement. Miss Dominican Republic is also one of the frontrunners although I underestimated her. She did get a lot of attention when she fell down on a hole onstage during the Yamamay Fashion Show but it is more about her strengths on why she made it. She is a welcome replacement to Miss Israel!
The 16th spot went to Miss Philippines Ariella Arida. I am a bit perplexed because I always believe that the winner of the voting never get way past the Top 10 like Miss Portugal in 2011. Ariella shined at the finals night and she was on her top performance.
At the swimsuit performance, I am quite shocked that there are some bodies that I am particularly not sure to be of Miss Universe caliber.
Anyway, Miss Costa Rica did show that she is an experienced candidate. Her walk was definitely a product of good training.
Miss Ukraine's body was heavenly but I am not really sold out with her walk. She could use some energy I suppose.
Miss China is statuesque but not really happy with her beauty and her walk is not impressive. Her pace was a bit weird.
Miss Ecuador has this vavavoom body! Actually she caught my attention in the prelims. My problem is that Ecuador is a weak sash at Miss Universe and many of its deserving candidates were denied of semis placement in the past years. But tonight, Ecuador shined!
Miss Great Britain came out like a sassy girl with a Hollywood vibe. I am positively elated that finally, Great Britain has a semifinalist at Miss Universe! There were English and Welsh and Scottish semifinalists in the pageant but technically, no British has made the cut. This is because before 2013, not a single Miss Universe semifinalist wore a sash named Great Britain!
Miss Indonesia did not help her case by wearing a one-piece. I am expecting more from her catwalk but she looks like she is hunching although her walk is definitely good.
Miss Venezuela is definitely top-notch delegate. Her walk was very polished and her tall height definitely projected her beauty well. She has also a very curvaceous body.
Miss Dominican Republic surprised me a bit. She was at the peak of her performance that night and I love the way she posed.
Miss Puerto Rico has this elegant catwalk but I am not happy how she was styled. Nevertheless, at that moment, I still have this belief that she can go all the way to the Top 5.
Miss Spain walked onstage with that undeniable aura. She is just irresistible and her body is also one of the best in the pageant.
Miss USA Erin Brady looks a bit chubby but she possesses a beautiful body and she walked with confidence anyway.
Miss Nicaragua has a phenomenal body and she was oozing with confidence.
Miss Switzerland's short hair is definitely not my cup of tea and like Indonesia, her choice of one piece is ruining her chances.
Miss India has nice body but she did not really have a fierce vive and instead opted for a more calculated moves. You can see how she turned after the stairs. It was too calculated that the intended impact was not delivered.
And then came Miss Brazil! She was absolutely sexy and she was fierce onstage!
Miss Philippines Ariella Arida's body form is far from being curvaceous and I am not really a fan of it. But it was Ariella's moves that captured my attention. Her long straight hair and the way she move onstage definitely gave an impact.
The entertainers chosen for the event are out of this world. I can't appreciate that Panic! song and I think it is not appropriate for the pageant. Emin is just okay and my chief complaint was that the whole show failed to present the Russian culture to the world.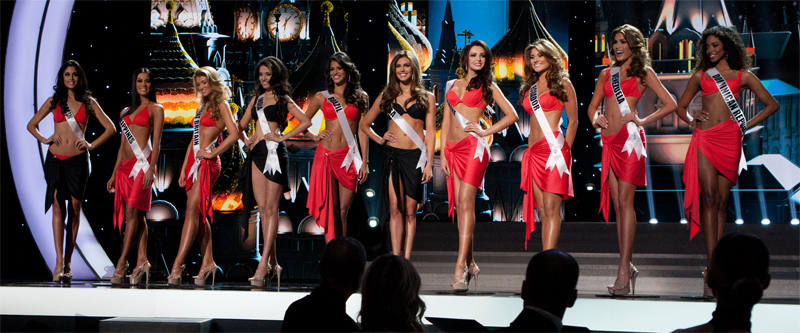 The top ten was announced in the following order: Spain, Philippines, Great Britain, India, Brazil, USA, Ukraine, Ecuador, Venezuela, Dominican Republic. I was surprised that Puerto Rico and Costa Rica did not make the cut. I am also surprised that Philippines and India were in. I mean, as a Filipino, I can get nationalistic so I am happy for Ariella being in the Top 10 but leaving Puerto Rico or Costa Rica behind was an injustice.
Anyway, the gown segment followed. Miss Spain opened the segment with such sexiness and yes, I can't take off my eyes from her breast.
Miss Philippines came out confident, elegant and sparkling in yellow. She opted to have her straight hair down and she looked just absolutely stunning! I still can't believe this girl was in the Top 16 as the winner of the popular votes. I think was in the Top 16 because of her inherent strength although I must admit her finals performance exceeded her prelims.
Miss Great Britain came out like she has been shopping in a sexy lingerie store. Her choice of fiery red and the naughty design of her gown made her look more like tacky.
Miss India was a bit weak in this segment. Her gown was really a mess with all the add-ons and feathers. Miss Brazil looks stunning. The faux precious stones were mesmerizing and the cut was definitely sexy. It hugs her figure and reveals a lot of her cleavage.
Miss USA was also a Miss Great Britain redux. The red gown was way too naughty for my taste. The lacy thing and that very generous cut from her bosom to her tummy were way too much.
Miss Ukraine in white is supposed to have a classic feel and I think she achieved it a bit. She should have walked way too fast and a bit fierce. She should have opted for a slow classic walk. Anyway, she looked elegant and beautiful.
Miss Ecuador came out shapely with her mint green gown. The gown itself was not really impressive but she walked with such confidence.
Miss Venezuela looked elegant and very shapely with her beaded gown. I am not really a fan of her but she looked wonderful.
Miss Dominican Republic was just okay. She should have opted for a much better gown. The long sleeved dress with all that curious add-ons all looked a bit cheap. The elegance that it intends to show was nowhere to be found.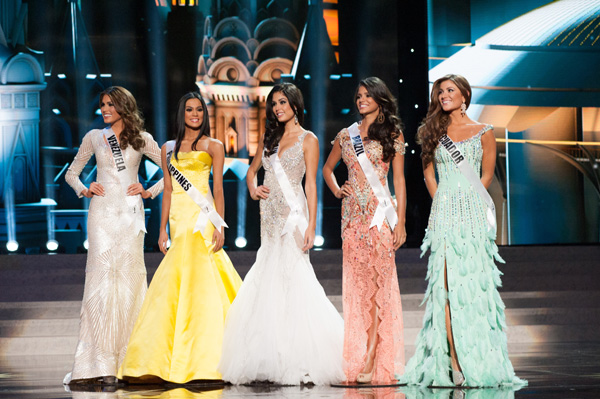 My top five were Brazil, Ukraine, Spain, Philippines and Venezuela but Ecuador, Brazil, Spain, Philippines and Venezuela.
The final Q&A was largely a non-event. Three were Spanish speakers, Miss Brazil of course speaks Portuguese and only Miss Philippines spoke English. None of them really satisfied their questions well but it was Miss Philippines who gave the best answer for me because maybe she was the only one who did not use an interpreter.
People who were watching the pageant live including myself, believed that Philippines will win the crown and eventually make history for winning the Miss World and Miss Universe crowns on the same year. But, as luck had it, Miss Philippines finished as 3rd runner-up – the same placement that they had in 2011 when, at the conclusion of the final Q&A, everyone also thought Philippines will win. Nevertheless, they are already enjoying a four-year Top 5 placement! Miss Brazil is the fourth runner-up and it is a 3-year run for them. Miss Ecuador is the second runner-up and this is the highest placement of the country at Miss Universe ever! Miss Spain is the first runner-up and the second time that they landed on this place.
And Venezuela won and for a minute it was funny to see that neither Spain nor Venezuela knew who won. It was when Spain was led away that Venezuela realized what was just happened. This is the country's 7th crown! The victory of Ma. Gabriela Isler cemented Venezuela's claim as a superpower beauty pageant country and I see that Osmel Sousa will not retire anytime soon! Felicidades Venezuela!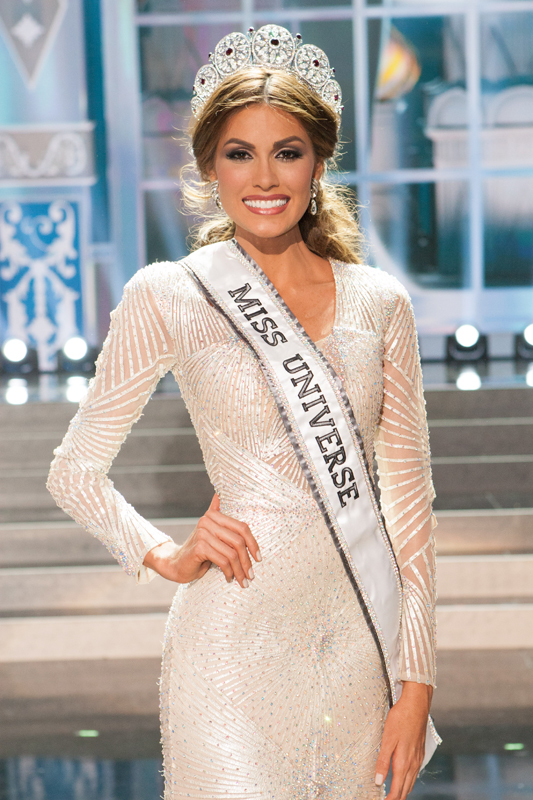 Note: I am taking this opportunity to officially extend the sympathy of Missosology to the victims of a very strong typhoon that hit my country. I think that this is a strong reminder for everyone to do more good everyday instead of fighting, bashing, insulting and bad-mouthing each other. Disasters can occur in any country and we should pray and hope that this will not happen again and that the people of the Philippines will rise up from the disaster.