Graphics by: Yuffie
It's the 10th year anniversary of Miss Supranational, and they will crown the 11th Miss Supranational queen tonight in what is expected to be the grandest and most spectacular final gala ever. 77 delegates from all over the world have gathered in Katowice, Poland to vie for the prestigious crown currently worn by Puerto Rico's Valeria Vazquez.
After a very thorough analysis by our pageant experts, and serious consideration of the inputs from our correspondents in Poland, Missosology had come up with a conclusion that Miss Supranational should not pass the chance to crown an African this year. Yana Haenisch, a vivacious beauty from Namibia is our top pick! While Miss International has been ignoring calls by pageant fans to crown an African – despite having a record number of African delegates this year – Miss Supranational can show to the world that they are more inclusive and welcoming to diverse beauty compared to the former. In fact, even the second youngest Big 5 pageant, Miss Earth, has never formally crowned an African winner in their final gala, yet. Winfred Omwakwe of Kenya may have inherited the crown in 2002, but she was not the pageant night's winner. Interestingly, the last time we have seen an African in the Miss Earth elemental court was in 2008. So, will Miss Supranational take this opportunity and pave the way for more Africans to join their pageant in the future? After all, we just can't ignore the amazing stage presence of Yana, and her impeccable way of handing interviews is an envy to most people. She is indeed a rare find, and we believe that the Miss Supranational brand will surely benefit from her reign.
However, if Yana fails to deliver tonight, we won't mind to see Anntonia Porsild of Thailand to bring home the crown that they had almost won twice! Anntonia is also a great spokesperson and very stunning up close. As many pageant fans already know, the official hotel of the winner of Miss Supranational 2019 when she is working in Asia, is also located in Thailand. So it is convenient to say that a Thai winner would be the perfect resident of the new Supra home. But whether there is the Thai hotel or not, we believe that Anntonia can win the crown on her own merits.
Following her in third place is Janick Maceta of Peru. Missosology has seen the potential in Janick since the time when one of our correspondents covered the Miss Tourism World 2018 pageant, where she was hailed as 1st runner-up. Janick has an awesome stage presence and has a congenial personality that Miss Supranational seems to appreciate these past few years. Peru has never won a major crown since 2004, so a Miss Supranational victory will be a great Christmas gift for this South American gem.
Vietnam's Ngoc Chau, with her captivating look, is also a force to reckon with! Watch out when she struts the runway, as she exudes a lot of confidence and elegance. No wonder she was also named 1st runner-up in the Miss Elegance subtitle.
And to complete our Top 5, we have Leyla van Greuning, who was the winner of the Miss Supranational South Africa pageant held last August. Leyla is 20 years of age and is also one of Africa's best hopes to secure their first win at Miss Supranational.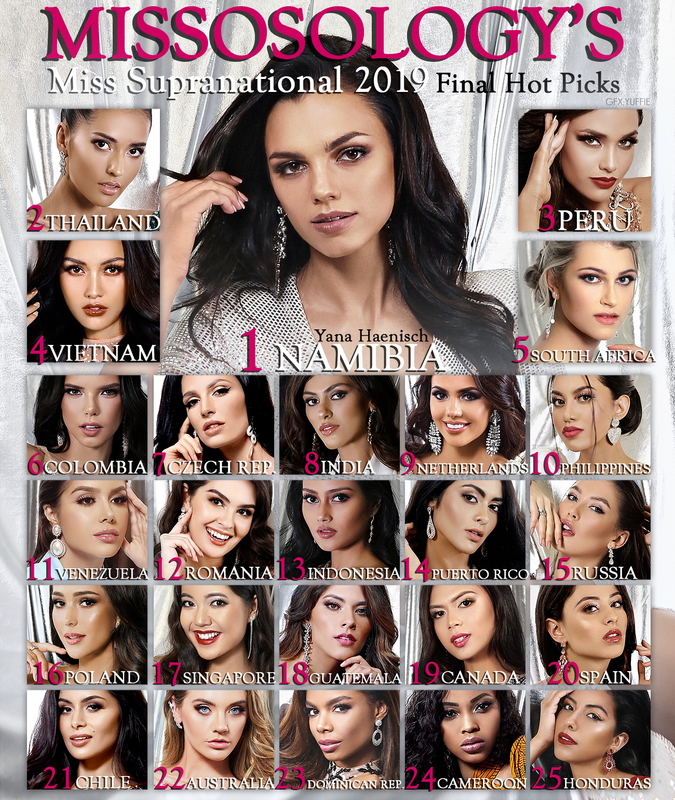 Other delegates whom we believe can pull a surprise win are Colombia, Czech Republic, India, Netherlands and the Philippines. Colombia's Yaiselle Tous is the typical Latina stage diva who can easily get the nod of the final judges. Hana Vagnerova has a sweet classical Central European face that is perfect as a magazine cover girl. Meanwhile Shefali Sood simple screams out that India shoujld not be underestimated in this pageant because she is there to win their third crown! Nathalie Mogbelzada, the Miss Elegance sub-titleholder, is a pageant veteran who knows exactly what she is doing. She has tremendously improved since Miss International 2017. Resham Saeed is expected to keep the Top 10 placement of her country, the Philippines. /XAMURAI
MISS SUPRANATIONAL 2019 FINAL HOT PICKS
1. NAMIBIA (Yana Haenisch)
2. THAILAND (Anntonia Porsild)
3. PERU (Janick Maceta)
4. VIETNAM (Ngoc Chau)
5. SOUTH AFRICA (Leyla van Greuning)
6. COLOMBIA (Yaiselle Tous)
7. CZECH REPUBLIC (Hana Vagnerova)
8. INDIA (Shefali Sood)
9. NETHERLANDS (Nathalie Mogbelzada)
10. PHILIPPINES (Resham Saeed)
11. VENEZUELA (Gabriela De la Cruz)
12. ROMANIA (Alexandra Stroe)
13. INDONESIA (Jesica Fitriana M.)
14. PUERTO RICO (Shaleyka Vélez)
15. RUSSIA (Valeriya Skolota)
16. POLAND (Kamila Swierc)
17. SINGAPORE (Naomi Huth)
18. GUATEMALA (Andrea Radford)
19. CANADA (Gloren Guelos)
20. SPAIN (Aitana Jimenez)
21. CHILE ( Katherine Muñoz )
22. AUSTRALIA ( Alexandra Wallace )
23. DOMINICAN REPUBLIC (Yaliza Burgos)
24. CAMEROON (Angele Kossinda)
25. HONDURAS (Nicole Ponce)