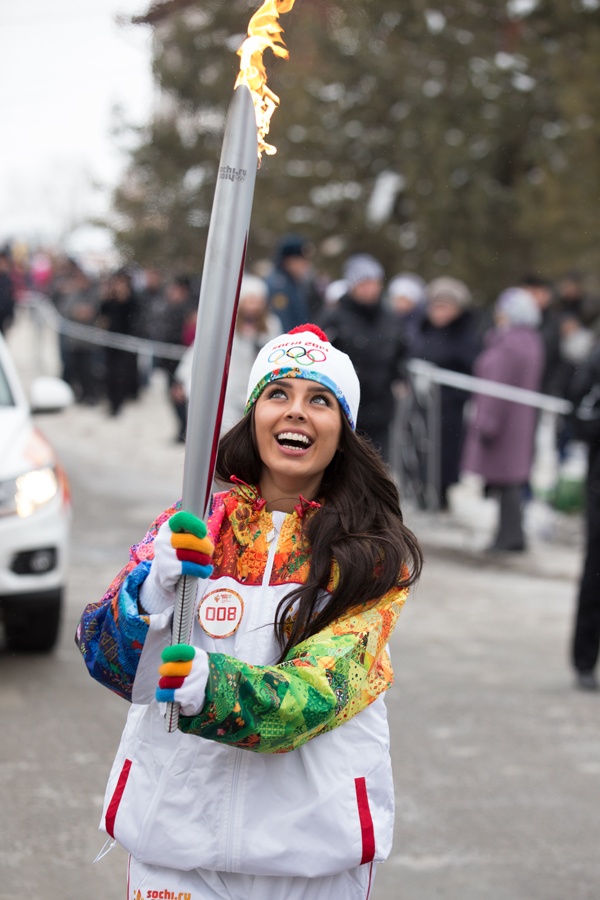 Miss Russia 2013 Elmira Abdrazakova is one of a select few Russians to participate in the Olympic torch relay, leading up to the Olympic Games in Sochi, Russia, in February 2014.
On December 8, Elmira carried the torch in her home region of Siberia.
Elmira jogged through the town of Kuybyshev eight months after winning the Miss Russia crown. She is from the nearby town of Mezhdurechensk.
"This has been such an amazing year for me," said Elmira. "Over the last few months, my life has been filled with so many important events that will remain in my memory forever. My participation in the torch relay, along with so many famous athletes and well-known figures from the world art and culture, has left a deep, patriotic impression on me."
Miss Russia is a student of Economics at the Siberian State University of Railway Transport. She graduated from music school and enjoys acting and journalism.
In 2013 Elmira Abdrazakova represented Russia at the prestigious international beauty competitions Miss World and Miss Universe.
Elmira was a figure skater as a child before asthma forced her to give up sport, but said her favorite Olympic event in Sochi will be skiing.
On Sunday's relay, Elmira handed off the torch to three-time Olympic super heavyweight wrestling gold medalist Alexander Karelin.