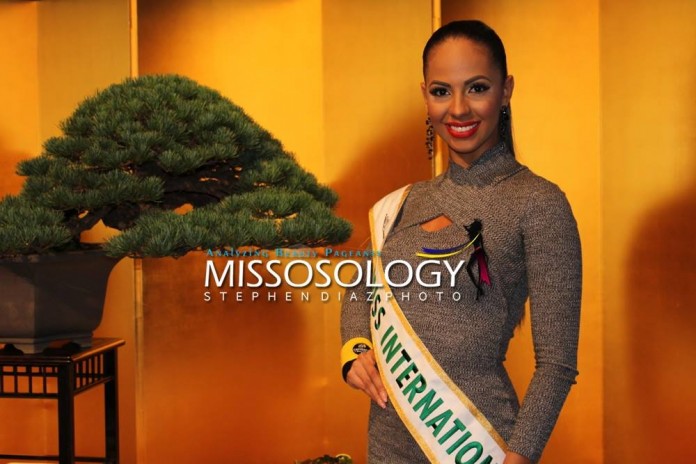 Miss International 2015 in Saitama City
Saitama City. Beautiful delegates from around the world visited the buzzling City of Saitama, located north of Tokyo, which is home to more than one million residents and the most passionate football fans in Japan. Aside from that, it is also the home of the world famous bonsai village, where well-attended bonsai trees are still being taken care of, with some as old as 500 years old, and have survived numerous earthquakes, typhoons and even World War 2.
As part of the Visit Japan campaign, and to promote the International Bonsai Exhibit at the Saitama Super Arena, the delegates were treated with a welcome dinner party, which was attended by businessmen and politicians in Saitama City. The delegates were introduced one by one at the make-shift stage, to the delight of the Japanese guests and visitors.
Hearing from the Japanese conversations at the live audience, the delegate from Mexico, Lorena Sevilla, was on everyone's mouth! She was really breathtaking tonight! Not everyone knows that exactly four years ago today, Lorena survived a car accident that almost cost her life. Who would have known that after that life-or-death experience, she would be coming to Japan four years later, and represent her country in one of the most important pageants in the world.
Another delegate who was in demand was USA's Lindsay Becker, who was always together with Sophie Loudon of the UK. So, whenever Lindsay was asked by some guests, Sophie would tag along. Both were looking gorgeous as always.
Vietnam's Phạm Hồng Thúy Vân is a breath of fresh air. Fluent in English and a bit conversant in Japanese, this 22-year-old native of Ho Chi Minh City is a charmer. Watch out for her because she has this very engaging personality, and speaks smartly. But among the mainland Asians, it was Mongolia who stole the night! Azzaya Tsogt-Ochir, who just arrived last Monday night, was making heads turn with her natural look and soft Oriental features. She is definitely another strong delegate to follow to in the next few days.
AFRICAN DELIGHT
The African beauties are not to be underestimated! Zambia's Brandina Lubuli jsut arrived last night, and was obviously suffering from jet lag, but she was still gorgeous! Kenya's Eunice Onyango was always full of smiles and mind you, she has a great personality. When you are close to her, you will be stunned by her beautiful skin, expressive eyes and of course, her infectious smile. We really hope that this year, there will be a serious revamp of the judging panel, and that, black beauties will be fairly judged together with the light skinned girls. It's about time that Miss International will be kind to Africa!
NEW HAIR STYLE
Some of the girls have started to step up their game although mostly everyone are cordial to one another. New Zealand's Hayley Rose Coombe (formerly known as Hayley Robinson) had redeemed herself tonight and is back in the game! Sporting a straight jet black hair, she exuded confidence and grace. Venezuela's Edymar Martinez sported a bun hair for the first time since she came to Japan, and it looked quite cute on her. Janicel Lubina of the Philippines showed up with soft curls to the left, and was looking fabulous. Hungary's Linda Szunai styling tonight was spot on! Meanwhile, Poland's Ewa Mielnicka, who admitted having a problem with Japan's dry weather, has finally groomed her hair well, and was looking fresh! Brazil also sported a different look tonight.
NEW ARRIVALS
Costa Rica's Melania Gonzalez and the Dominican Republic's Irina Peguero may have just arrived, but they were looking great. Luxembourg's Natascha Bintz is giving us a Nia Sanchez and Zuleika Riviera vibe, which made us wonder if she was sent to the right pageant. Her overall appeal is more fitting for Miss Universe.
THE TALENTED ONES
Three delegates performed their respective talents in front of everyone. Slovakia'sBarbora Bakošová did a song number of Alicia Key's "If I Ain't Got You" and when asked what she was thinking of when she sang that song, she said that it was her boyfriend. She was then followed by a string peformance, rendered by Miss Northern Mariana Islands, Jian Joyner. And finally, Puerto Rico's Wilmary Moncion-Roman did a salsa, which was well-applauded, especially by her fellow Latinas.
THE SILENT KILLERS
It may be too early to tell who exactly will win the crown of Miss International 2015, but a few girls may just win it by surprise. Canada's Kathryn Kohut is no stranger to pageants. In her stints to several pageants in Canada as well as the one she competed in Thailand last year, she placed in the Top 3. Hawaii's Brianna Acosta may pull another Casey Radley surprise, come final night. Being a product of the Miss USA system indeed has an advantage. Nicaragua's Yaoska Ruiz is very simple and candid, yet you can sense her intelligence and wit. During the Miss Nicaragua 2015 pageant, she was a pleasant surprise at the finals, and we wonder if she will surprise us again during the MI finals.