More than a week to go before Nellys Pimentel virtually crowns the next Miss Earth, new delegates are emerging as forces to reckon with in the competition as pre-pageant activities unfold each day.
The three all-important pre-judging rounds, especially the intelligence and environmental awareness round, caused a major shake-up in our Fourth Hot Picks.
Back in the Top 4 and clinching the top spot is South Africa's Lungo Katete. She wasn't the heavy favorite during pre-arrivals, but Lyndl slowly but surely made her presence felt in the competition. Impressing pageant fans in the three prejudging rounds with her classy demeanor and good communication skills, it won't be surprise if this girl from the Rainbow Nation gets crowned on November 29. After all, an African Miss Earth is long overdue.
Down one spot is Venezuela's Stephany Zreik who sealed her "front-runner" status in the competition during the fitness, form and poise round. She is leaving no stones unturned in order to bring Venezuela back in the Miss Earth stage.
A new entry in our Top 4 is Myanmar's Amara Shune Lei who keeps on impressing pageant observers. She is Myanmar's most prepared delegate in Miss Earth history. One of the freshest faces in the batch, Amara is slowly but surely climbing to the top.
In fourth place is Roxanne Allison Baeyens of the Philippines, who is one of the most consistent delegates in the competition.
Check out the full list below:
1 SOUTH AFRICA, Lungo Katete
2 VENEZUELA, Stephany Zreik
3 MYANMAR, Amara Shune Lei
4 PHILIPPINES, Roxanne Allison Baeyens
5 POLAND, Sabina Połtawska
6 CANADA, Gloren Guelos
7 USA, Lindsey Coffey
8 NETHERLANDS, Tessa le Conge
9 PANAMA, Anayansi De Gracia
10 COLOMBIA, Natalia Romero
11 SINGAPORE, Christina Cai
12 BANGLADESH, Meghna Alam
13 ICELAND, Dagbjört Rúriksdóttir
14 THAILAND, Teeyapar Sretsirisuvarna
15 US VIRGIN ISLANDS, Isabella Bennett
16 DENMARK, Michala Rubinstein
17 BELARUS, Mariia Reznyuk
18 CAMBODIA, Sothnisay Heng
19 ARGENTINA, Estrella Danieri
20 PUERTO RICO, Krystal Badillo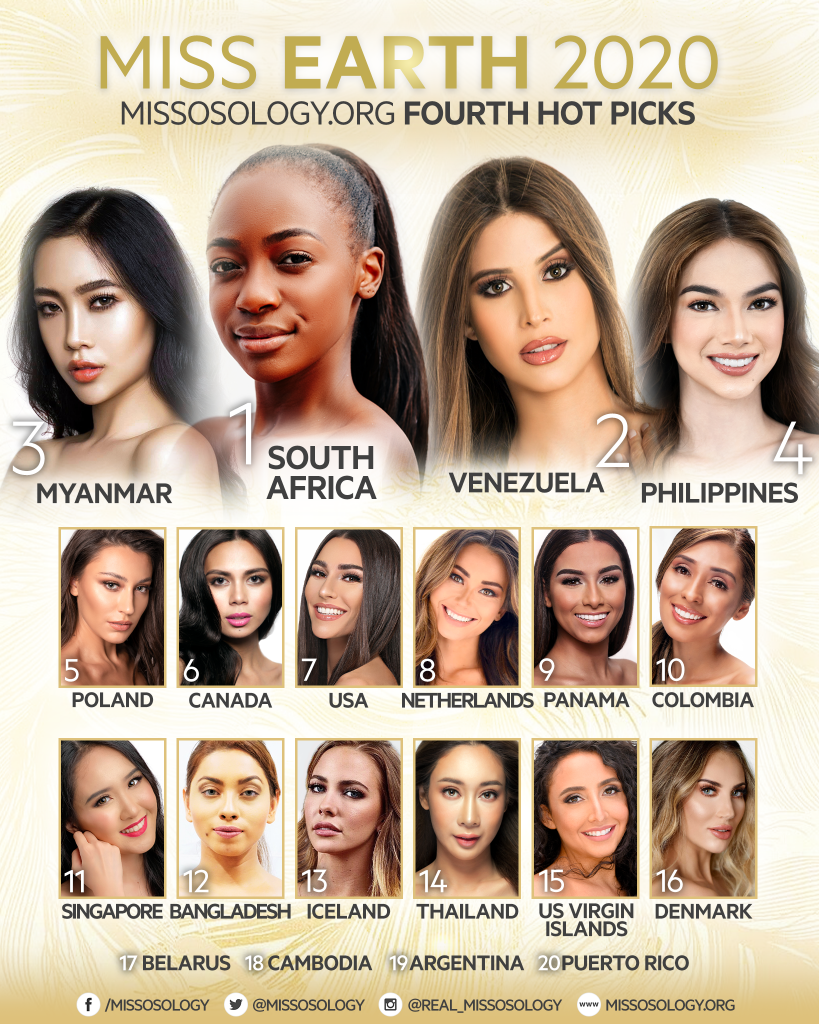 Follow Missosology's social media pages for more updates. Missosology.Org