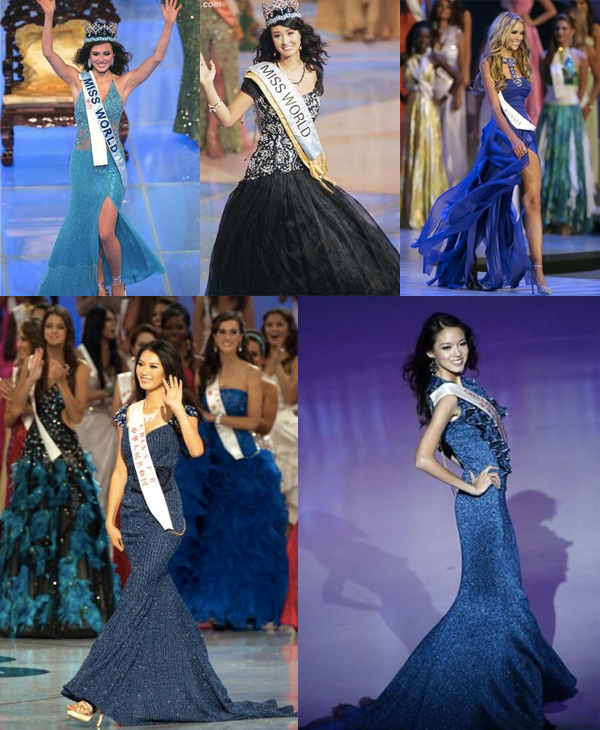 by Forémalogy
Ah, Miss World gowns…how can we ever forget. The rule is simple – use a head-scratching gown for the World Designer Contest and get something else for the finals night preferably if your contestant has a good chance of winning and of course, if you can afford it. But let's agree on something – gowns do not matter that much at Miss World. There is no specific segment in the finals night that would put a candidate's gown in a crucial position. I never heard of any missosologist saying that contestant A or contestant B failed to move to the next round because of her horrible gown. Have you?
And then it struck to me last year. In a forémalogy perspective, a Miss World gown is part of the overall package. It's like being in a sales department and a National Director is selling a package deal. You are selling to the judges particularly to Julia Morley that your contestant is the best girl to become a Miss World. Okay character matters, sweet look is a big deal, sexiness is a plus…As for the gown, it's the exterior of the whole package and here's how the successful girl was craftily clad by her National Director or by her designer or whoever…
The Royalty Gowns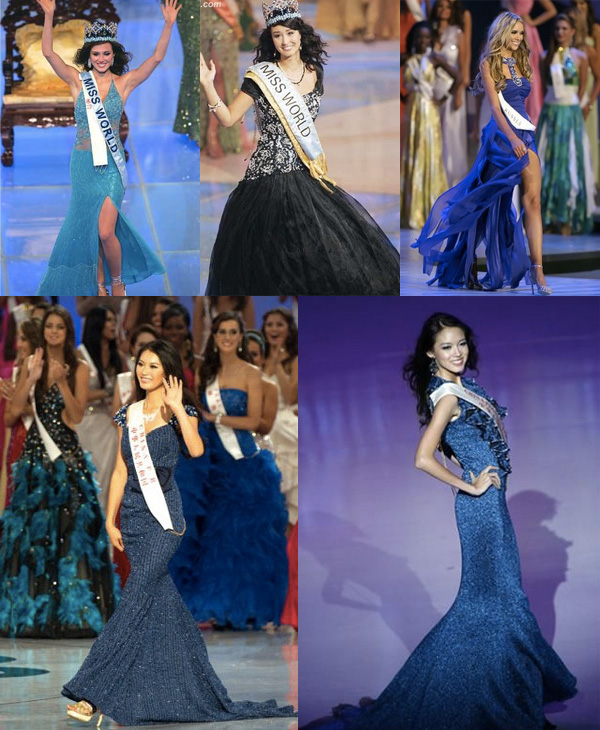 Madame Julia Morley loves royalty as any loyal subject of the crown should, I suppose. In the last ten years, I noticed that four winners in the last ten years used a blue gown in her route to victory. Blue is the color of royalty and María Julia Mantilla looks very regal in her powder blue slitted gown that she used in 2004. Ksenia Sukhinova in 2008, looks refreshingly royal with her ultramarine strapless gown. Zhang Zilin (2007) and Wenxia Yu (2012) also achieved that royal image in their blue gowns. As for Unnur Birna Vilhjalmsdottir (2005), I was lost on how to categorize this gown but then I came across with this observation "Black is consistently associated with expensive and powerful across cultures". And yes indeed. That subtle yet effective force of black usually associated with high society. Duly noted by Unnur Birna and successful exploited!
The Sweet Gowns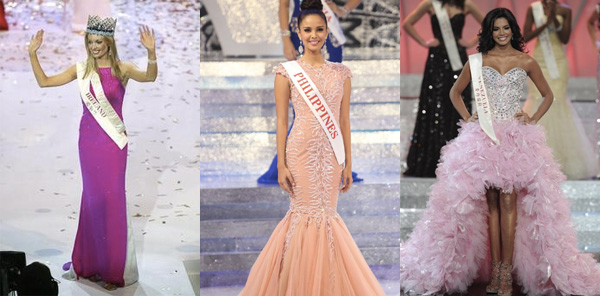 Everyone knows! Sweet is in at Miss World. But how can you complement a sweet beauty? Hmm how about those feminine sweet colors of fuchsia, coral and carnation? Rosanna Davison in 2003 completed her sweet blonde looks with the hot yet easy-to-the-eyes fuchsia gown. Megan Young last year used this mermaid cut gown in coral pink with coral beading all over to reinforce her sweet facial features. And yes, the iconic barbie gown of Ivian Sarcos in 2011 did a lot of help in softening the image of this fiery Venezuelan beauty.
The pageant-safe white gowns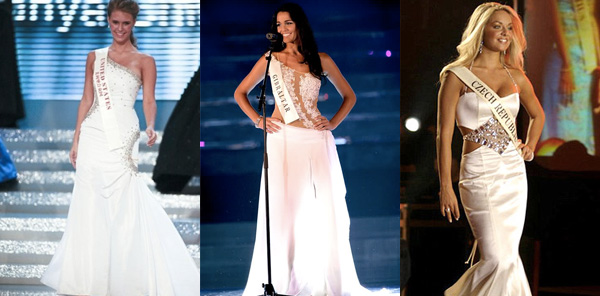 White is a mute color and it enhances the features of the wearer. No fuss, no distractions…only the true beauty of the wearer is projected. Alexandria Mills, Kaiane Aldorino and Tatana Kuchařová shined the most while wearing gowns that are visually the "least". The purity of white is simply complementing their beauties and it is of no wonder they came from nowhere to snatch the limelight and well, the crown.
As you can see, gowns at Miss World need not to be eye-catching. In my opinion, it should not overwhelm the wearer. Miss World is looking for that substance and inner beauty and the gown should simply make that task easy and not in the way. And of course it must either be in a royal color, a sweet color, or a pageant-safe color. If you want your contestant to win, of course.