How could a nation that produced several great candidates such as  Siobhan McClafferty, Rosanna Davison and Emma Brit Waldron is currently struggling to be in the semis of the Miss World pageant? Like in the other Big4 pageants, Ireland at Miss World is simply inconsistent. After its golden decade of the 80s, Ireland simply slipped into an era where its delegate fail to sustain any given momentum. Consider this, after Siobhan McClafferty won the first princess in 1990, the country suffered a decade long drought unable to produce a semifinalist from 1991 to 2002. Even after Rosanna's victory in 2003, Natasha Ni Gairbheirth was unable to follow it up until Emma Brit Waldron broke the conundrum in 2010. But after Emma its back to the perplexing situation once again.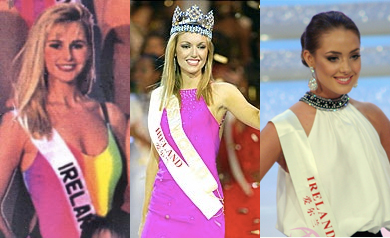 Indeed, Ireland's problem is its inconsistency. There are so many wonderful young ladies from this emerald isle but they are not showing up every year to compete. This is not to say that pageantry lost its touch in Ireland. Well in fact the only saving grace for the decline of pageantry in Europe are its Catholic majority nations like Belgium, Spain, France, Portugal and Ireland as well. And beauty queens earn a lot of attention in the country and are treated as celebrities.
Consider this year's Miss Ireland Jessica Hayes. Her victory at the national pageant earned her a lot of attention in the media which is contrary to what is happening in many of the European countries. But Jessica has to endure cyber-bullying as fans began calling her ugly and undeserving. Jessica has a big shoe to fill considering the great achievements of some of her great predecessors and the fans are quite frustrated. This is the best evidence on how inconsistency is a worrying problem for Ireland.
This is not of course to say that Jessica will end up as a clapper at Miss World. The pageant has shifted dramatically such as that personality and genuine interest on charity carries a lot of weight in the pageant. Indeed, good looks with apathy will get you nowhere at Miss World. Jessica can style prove her critics wrong and make an impact and put Ireland's inconsistency to a screeching halt. There are months ahead for preparations and if Jessica genuinely believes in the Beauty with a Purpose credo of Miss World, she may as well usher her country to a golden decade just like the one in the 80s.