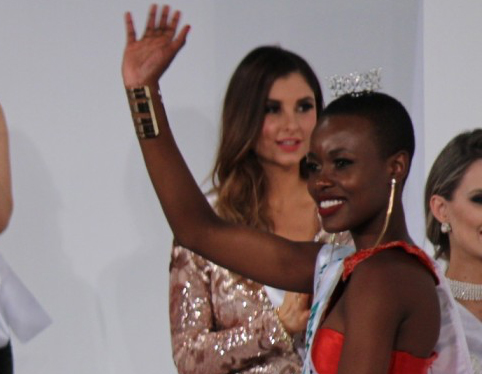 Both a little scared, neither one prepared. Nope, I am not talking about the Beauty and the Beast. I am talking about Miss International and the African continent. Long known to be as a pageant which is not-so-keen-on-black-African-beauties, Miss International was caught off guard when a stunner from sub-Saharan Africa arrived in Tokyo, Japan and shook the dynamics of the pageant.
Eunice Onyango, Miss International Kenya 2015, does not fit with the norms of Miss International. While black beauties have already been crowned as winners, none happens to be an African. This resulted in many African countries skipping the pageant including the leading nation in the continent – South Africa.
Many call Miss International racists but it does not describe the true nature of things. For me, I would like to describe the whole situation as mutual distrust. When there is that notion that sub-Saharan Africans have no chance at Miss International, many countries will skip it or send mediocre candidates. In turn, Miss International – bereft of any quality delegates from that specific region of the world – have no choice but to concentrate its energy somewhere else. The key in solving this problem is for one of the parties to coax the other.
This is where Eunice Onyango made wonders. She was an unconventional beauty by Miss International standards but it is very clear that she's got that quality overall package. She's very supermodel-esque, very engaging in personality, very intelligent as she has a clear grasp of many issues and the fact that she put up a very splendid speech in the finals night speaks in volumes about her personality.
Eunice Onyango's 2nd runner-up finish sends a strong message to sub-Saharan Africa – Miss International is not racist. Just send quality candidates that can hurdle the pageant's challenges and she has a pretty good chance to win! Eunice is Kenya's second highest ranking Big4 beauty queen. The first place goes to Miss Earth 2002 Winfred Omwakwe. Clearly, Eunice kicked off the race for the first black African Miss International.
So, South Africa, Nigeria, Botswana, Tanzania, etc…take notice. Miss International is changing and it is bound to crown a black African soon. The ball is now on your court. I believe that the proper move is to send your best to the pageant. Whoever will snatch the first crown for the African continent will make history – forever sketched in the pages of pageantry history.
Written by Ric Galvez, founder and overall coordinator of Missosology.Org. You may e-mail him at ric@missosology.org