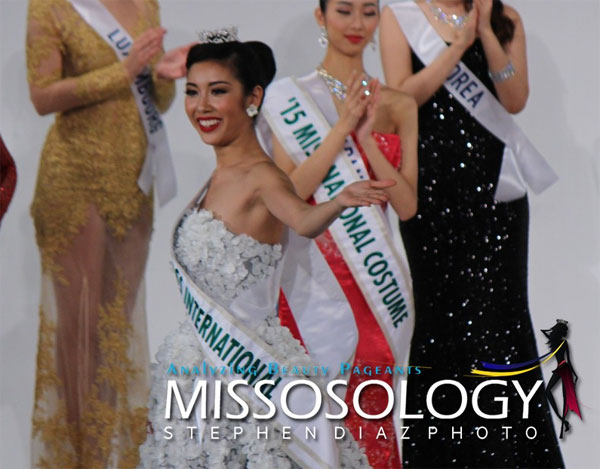 For the first time, Vietnam, a latecomer in the world of pageantry, landed in the Top 5 of a Big4 Pageant. This is a dramatic event that highlights the potential of the nation in the near future. The third runner-up finish of Phạm Hồng Thúy Vân at Miss International 2015 – the highest placement of Vietnam ever at Big4 – was not simply a stroke of luck. If you are following the articles here at Missosology, you will realize that Vietnam is actually on the rise – slow but steady.
An analysis on the past performance of Vietnam shows that this year's Top 5 finish is the most organic form of success for the country in the world of pageantry. In 2008, Donald Trump simply awarded a semis place for Nguyen Thuy Lam because Vietnam had invested heavily in hosting the Miss Universe pageant. The series of semis finish of Vietnam at Miss World meanwhile, was a way for Julia Morley to lure Vietnam in hosting the pageant, which almost happened. Notice that when the country reneged on its promise of hosting Miss World 2010, the Vietnamese beauties simply slid into oblivion.
Thus, this year is a turning point for Vietnam. Missosology has already published articles about the shifting winds in the country. The relaxation of government restrictions on the number of pageants that can be held annually was the first right step. Now, Vietnam has a formal pageant that selects its Miss World and Miss Universe contestants. This will pave way for the development of pageantry within the country and then the public interest will rise and will eventually result in better performance at Big4 pageants.
At Miss International 2015, Phạm Hồng Thúy Vân showed grit and perseverance and her Top 5 finish was no fluke. The turning point in the pageant was the final speech and Phạm Hồng Thúy Vân is a TV personality and she breezed this stage of the competition with relative ease. She speaks flawless English, exuded confidence all throughout and the public simply loves her. No wonder she also won the Missosology's People's Choice Award for Miss International 2015!
Indeed, 2015 is a good year for Vietnam. Expect that their chances at Miss Universe, Miss World and Miss Earth will be have a big boost this year. The country is on the path towards achieving its own pageantry renaissance as what Missosology had predicted early on. The Top 5 finish of Phạm Hồng Thúy Vân at Miss International 2015 has a bigger impact on Vietnam's pageantry scene when compared to the benefits achieved when it hosted the Miss Universe 2008. The future of Vietnam at Big4 is very bright and they have Phạm Hồng Thúy Vân to thank for that.