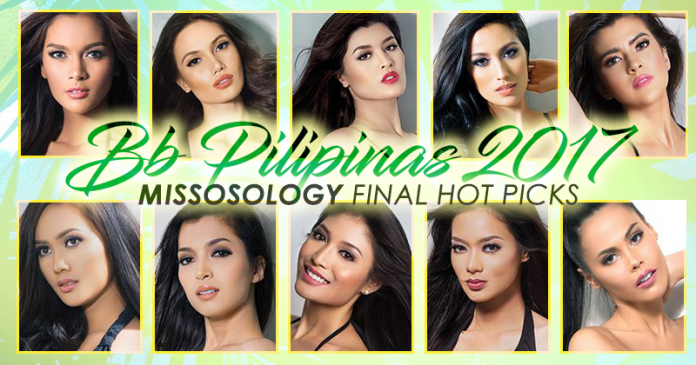 EARLIER in the season, many pageant fans thought this batch was lackluster. But as the days progressed, we have all come to realize that a number of these girls are actually crown-worthy contenders who could keep the Philippines' winning streak in international beauty pageants.
Before the 40 lovely, pretty and captivating Binibinis battle it out in the so exciting grand coronation night on Sunday, April 30, let us share our thoughts on who among the candidates are most deserving to compete in the Big5 and other relevant pageants.
From our first Hot Picks back in March 8, we mentioned four ladies who we deemed as the front-runners in the competition. These returnees and crossover beauties from other national pageants are equipped with the training and experience. Simply put, they are the forces to reckon with in the competition.
For Miss Universe Philippines, #Binibini15 Maria Angelica De Leon.
It interesting to note that she is also our top pick during Bb Pilipinas 2013. She only finished in the Top 15 then, but now Mariel returned stronger than ever.
Mariel's body has improved a lot yet has plenty of room for improvement in case she wins the crown and starts training for the international tilt. Also worthy of mention is her renewed confidence. She is still soft-spoken but Mariel can now speak her mind clearly. In fact, she's one of the best speakers in the Q&A challenge during the BBP primer aired last week.
But what makes Mariel a Miss Universe Philippines material is that she is transformable. She's like a rough diamond that needs to undergo pressure to attain its perfection. Surely, the MUP crown on her head would bring great pressure on her, but we see her making waves in the Miss Universe stage in all her shining, regal glory.
For Bb Pilipinas International, #Binibini13 Sirene Sutton.
This Miss Global Philippines 2014 runner-up is a professional model and has walked the runway for a number of fashion shows including the Philippine Fashion Week.
While Sirene is still having a bit of a struggle veering away from the model look, we see her as the perfect follow-up to the amazing Kylie Verzosa, the reigning Miss International. What makes her interesting is that she is devoid of any beauty camp affiliation. Sirene has the sophisticated beauty and womanly demeanor that would be so hard to ignore in the Land of the Rising Sun.
For Bb Pilipinas Supranational, #Binibini19 Rachel Peters.
If we were still under the Trump-era Miss Universe days where the likes of Zuleyka and Dayana are the queens, Rachel would be the best choice. She could still make it far in Miss Universe if sent today, but her overall packaging is more fit in the Miss Supranational pageant system.
Her va-va-voom body, statuesque stance and beautiful face would definitely wow the audience in Poland. We might be looking at our second Miss Supranational.
For Bb Pilipinas Intercontinental, #Binibini32 Charmaine Elima.
The Philippines has been sending topnotch candidates in this pageant but they always end up getting so close yet so far from the crown. Why not send a complete package that it would definitely be daylight robbery if Miss Intercontinental organization chooses to ignore her?
Charmaine has definitely improved since her 2013 stint, especially her communication skills. She has always been on top of her game since Day 1 and now is the right time for her to go home with a crown on her head.
Now, on to the next set of impressive ladies who also deserve to wear the Philippines sash in the international stage.
For Bb PIlipinas Grand International, #Binibini2 Arienne Louise Calingo.
This girl has the most impressive academic background among the candidates. Being a multilingual is her advantage and it would be an asset for the pageant's "Stop the War" cause. Aside from that, she can speak Thai, too.
For Bb Pilipinas Globe, #Binibini10 Jehza Huelar.
She was one of the best performers at the press presentation where she showed off her improved figure and stage presence. A year's worth of preparation is paying off for this Bb Pilioinas 2016 2nd runner-up.
We have two professional models in our runners-up positions, #Binibini31 Katarina Sonja Rodriguez and #Binibini22 Chanel Olive Thomas.
It can't be denied Katarina has the freshest face in the competition and it was very evident during the parade of beauties. We want to see her back next year with a better physique as we see her making waves in any international pageants.
Meanwhile, Chanel is peaking at the right time. Just a few days before the BBP primer was aired, we have her in the Top 5 of our

4th Hot Picks

mainly because we believe she is one underrated candidate. It would be a surprise if she will walk away with any of the crowns at stake.
Check out the rest of our list below:
Miss Universe Philippines: #Binibini15 Maria Angelica De Leon
Bb Pilipinas International: #Binibini13 Sirene Sutton
Bb Pilipinas Supranational: #Binibini19 Rachel Peters
Bb Pilipinas Intercontinental: #Binibini32 Charmaine Elima
Bb Pilipinas Grand International: #Binibini2 Arienne Louise Calingo
Bb Pilipinas Globe: #Binibini10 Jehza Mae Huelar
1st runner-up: #Binibini31 Katarina Sonja Rodriguez
2nd runner-up: #Binibini22 Chanel Olive Thomas
9: #Binibini18 Nelda Ibe
10: #Binibini28 Juliana Kapeundl
11: #Binibini24 Dindi Joy Pajares
12: #Binibini12 Angelique Celine De Leon
13: #Binibini30 Mae Liezel Ramos
14: #Binibini17 Maria Camille Manalo
15: #Binibini26 Ruffa Nava
16: #Binibini20 Christagale Borja
17: #Binibini39 Elizabeth Clenci
18: #Binibini23 Arah Salientes
19: #Binibini35 Thoreen Halvorsen
20: #Binibini6 Ma Benjieleen Nama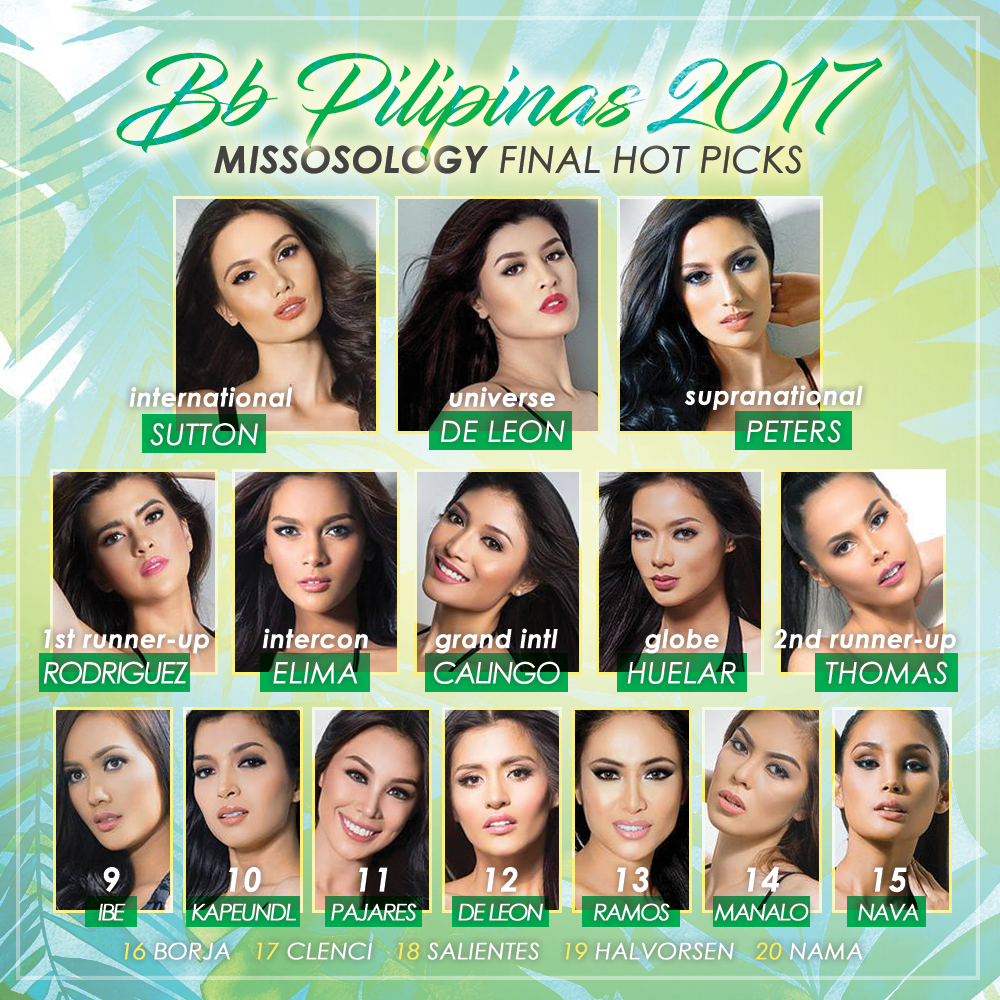 If there's one lesson to be learned from this year's batch of Bb Pilipinas candidates, that would be to "never underestimate anyone". May the best Binibinis win the crowns on April 30! Missosology wishes all the candidates and the Bb Pilipinas Charities Inc the best of luck. Missosology.Org; Graphics and photos by Drew Francisco