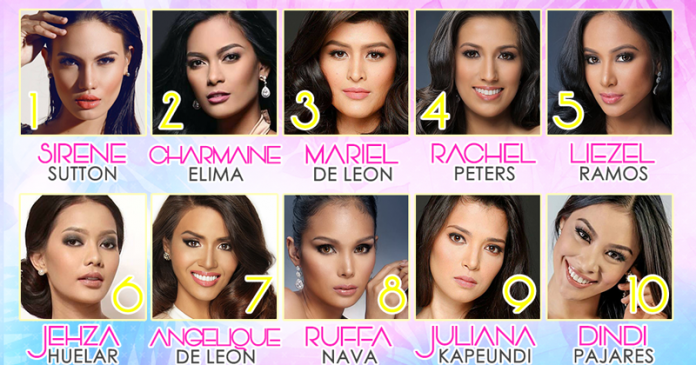 The time has come again for the best ladies in the Philippines to battle it out for the annual Bb Pilipinas pageant.
What makes the 2017 edition exciting is that majority of the 2017 candidates are returnees and crossovers from other national pageants. Equipped with experience and training, expect no less than a bloodbath for the coveted titles at stake.
Leading Missosology's first hot picks is the stunning Sirene Sutton. This Miss Global Philippines 2014 runner-up is a professional model and has walked the runway for a number of fashion shows including the Philippine Fashion Week.
What makes her interesting is that she is devoid of any beauty camp affiliation. But with the proper training and styling, Sirene could be a killer in any international competition.
In second and third, respectively, are former Bb Pilipinas Gold candidates: Charmaine Elima and Mariel De Leon. Both were heavy favorites in 2013 but only finished in the Top 15.
Four years after, they are back with vengeance. Charmaine's renewed confidence is noticeable add to that her imporved communication skills. Meanwhile, Mariel has a better figure and styling now. Both are among the perceived front-runners in the competition.
In fourth place is the sexy Rachel Peters. Compared to her Miss World Philippines stint where she finished 4th runner-up in 2014, Rachel looks so much better now. Her styling has improved and she has one of the best bodies in the competition now. Her queenly aura can't be ignored.
Completing our Top 5 for now is Mae Liezel Ramos. She was Top 15 finalist in 2014 but went home empty-handed last year. Now back for a third shot at a crown, Liezel is not taking matters sitting down. She has noticeably improved in all aspects and is looking like a true queen. It won't be a surprise if she ends up winning it all.
Worth noting are two other returnees Angelique De Leon and Jehza Huelar. Angelique is now under Kagandahang Flores and is looking gorgeous as ever. With her gift of gab and great body, it would be a crime to waste her again.
Meanwhile, Jehza was last year's 2nd runner-up and her maturity is visible now. She needs to up the ante, however, as she sometimes gets overshadowed by other girls. But that stunning face is her greatest weapon.
Check out the complete list here: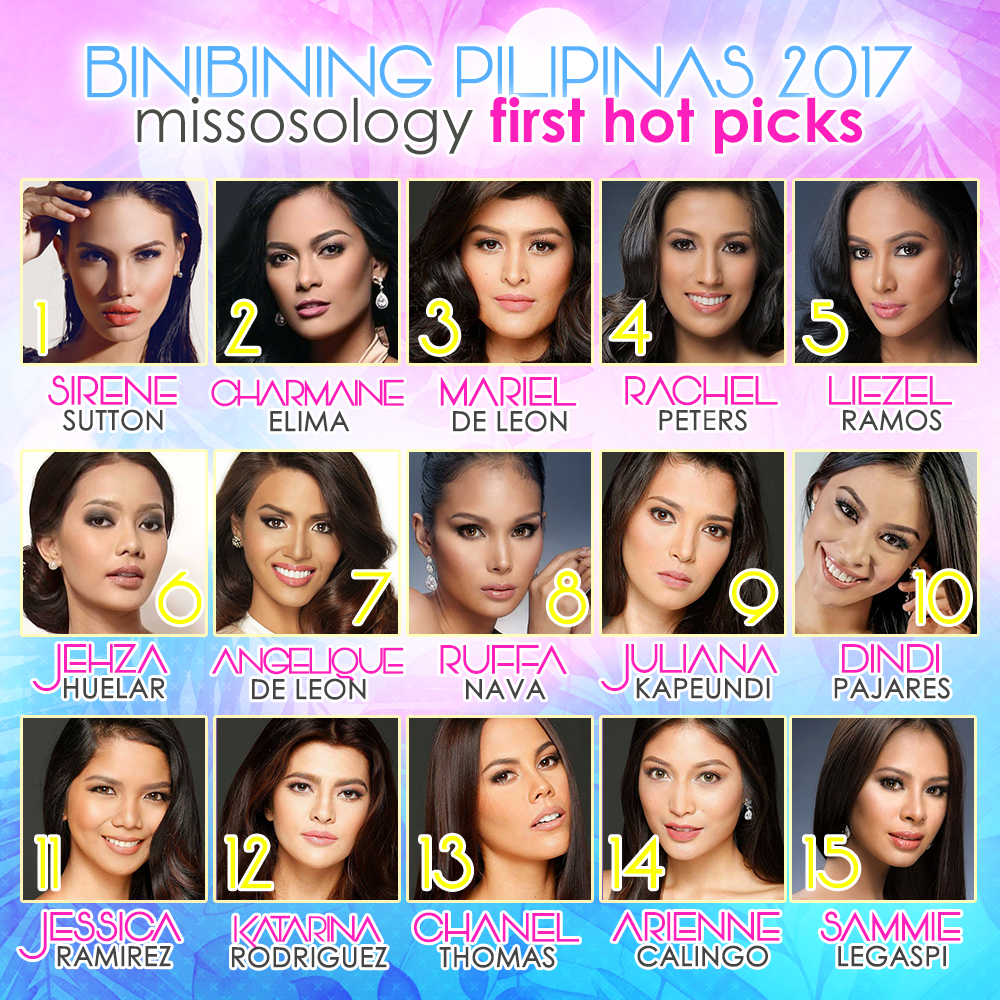 1 Sirene Sutton
2 Charmaine Elima
3 Mariel de Leon
4 Rachel Peters
5 Mae Liezel Ramos
6 Jehza Huelar
7 Angelique de Leon
8 Ruffa Nava
9 Juliana Kapeundi
10 Dindi Pajares
11 Jessica Ramirez
12 Katarina Rodriguez
13 Chanel Olive Thomas
14 Arienne Louise Calingo
15 Sammie Anne Legaspi