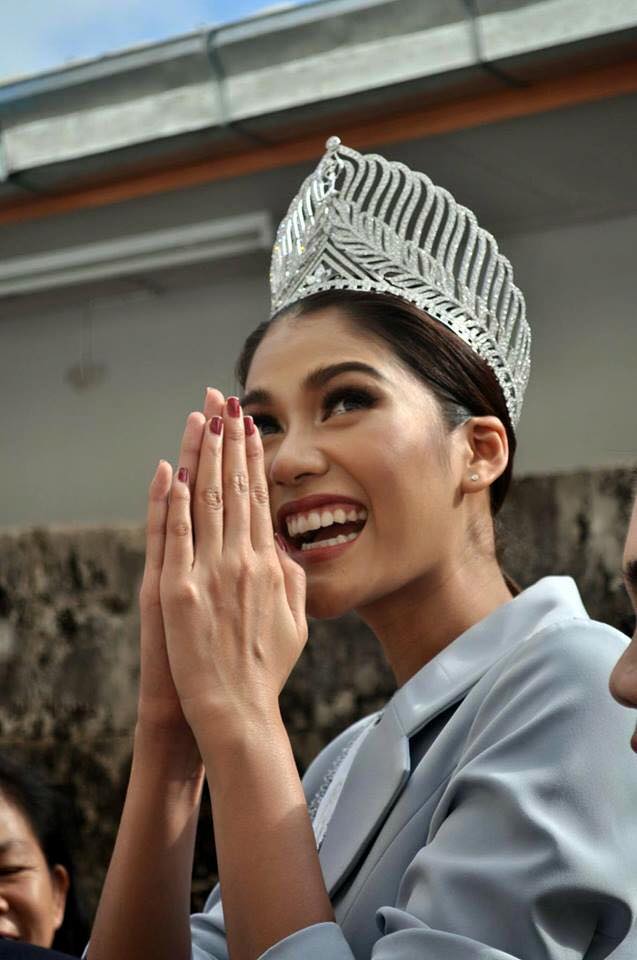 After a series of scandals that hit Thailand's pageantry scene, there is that state of normalcy that pervades in the air nowadays. The crowning of Aniporn Chalermburanawong (อนิพรณ์ เฉลิมบูรณะวงศ์) did put the Thailand into a better position. She is a winner that people truly support. No scandals, no allegations of vote rigging or favoritism, no juicy stories worthy of a tabloid. Indeed, this year's situation is a far cry from last year.
What is interesting is that the winners of the Miss Thailand Universe pageant are usually the girls from Bangkok and surrounding areas – the yellow shirt area, if you will. Aniporn meanwhile hails from the northern section of Thailand deep in the "red shirt" area where the rural life exudes tranquility, endless sea of rice paddies and, as political colors would have it, the bastion of the red shirts who politically support the Shinawatra family. Contrast that for example with the dethroned winner last year, Weluree Ditsayabut, who hails from the royalist and anti-Shinawatra a.k.a. yellow shirt area of Thailand. She was under fire last year after it was found out that she tweeted suggesting that the red-shirt protesters should be executed.
In Thailand, colors and geography do interplay. But as much as the pageantry world wishes to detach itself from the ugliness of politics, it is not easy to simply dismiss how the Miss Thailand Universe suddenly went for a rural girl when it was used in choosing urban girls. The last time that someone from northern Thailand won the coveted title was way back in 2002. This could be a change that Thailand desperately needs. A country girl bringing back the glory for the kingdom!
The latest public appearance of Aniporn visiting her hometown of Lampang is a striking contrast with the homecomings in the previous years. Aniporn visited her humble roots and it is pretty obvious that the culture in the agricultural north is way different from that of the central more urban areas of Thailand. The difference couldn't be more pronounced by that fact that Aniporn is grounded despite of her newfound fame. Why, she was even seen planting rice the traditional way during her homecoming!
How this will play out in the international scene is still a guessing game. Will Thailand finally break the drought now that a country girl is wearing the country's sash? Perhaps, but for the moment, sans scandals, sans the last year's harries by the fans, sans the stories of favoritism, Thailand can enjoy the stability that Aniporn brings to the pageantry scene. And cum ceteris paribus, she could indeed break Thailand's drought at the Miss Universe.