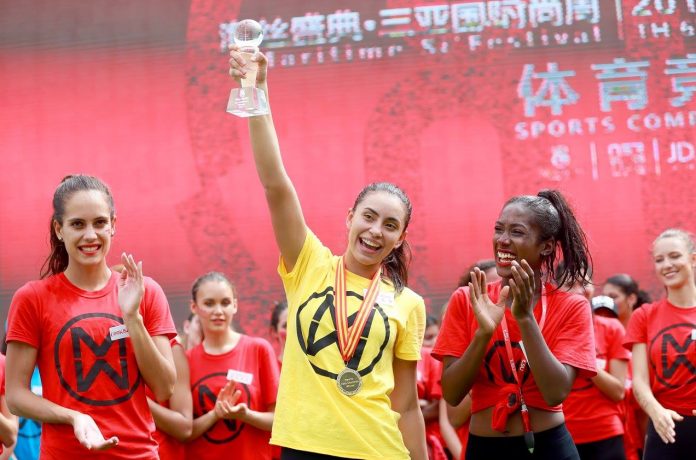 Miss Dominican Republic Aletxa Mueses has been hailed as the overall winner of the Miss World 2017 sports challenge. With her victory, she is automatically given a place in the semifinals. Miss Cook Islands Alanna Smith and Miss British Virgin Islands Helina Hewlett took the 2nd place and 3rd place respectively.
The sports challenge includes several gruelling activities such as swimming, dash run and sit-ups. The contestants were divided into three teams – yellow, blue and red. The blue team finalists include Miss Mexico Andrea Meza, Miss New Zealand Annie Evans, Miss Northern Ireland Anna Henry, Miss Poland Magdalena Bieńkowska, Miss Scotland Romy McCahill, Miss Spain Elisa Tulian and Venezuela Ana Carolina Ugarte.
The finalists from red team meanwhile are Miss Argentina Avril Marco, Miss Bahamas Geena Thompson, Miss Guinea Asmaou Diallo, Miss Italy Conny Notarstefano, Miss Jamaica Solange Sinclair and Miss South Africa Adè van Heerden.
From the yellow team, the finalists are Miss Aruba Anouk Eman, Miss Bosnia & Herzegovina Aida Karamehmedović, Miss Kenya Magline Jeruto, Miss Mongolia Enkhjin Tseveendash, Miss Netherlands Philisantha van Deuren, Miss Romania Mihaela Bosca and Miss Singapore Laanya Ezra Asogan.
The sports competition is an integral part of the Miss World competition for years. It reinforces the idea that a beauty queen is not just about beauty and brains but also about the physical well-being as well. The finals of Miss World 2017 will be on November 18 at the Sanya City Arena in the People's Republic of China.