MAJOR OVERHAUL!  Such words best describe our newest hot picks as we are nearing halfway towards the crowning of the new Miss Universe.  Yes, the 65th Miss Universe is one hell of a roller coaster ride as we do not see who exactly are the real front runners even after all the delegates have already arrived in the Philippines.  This edition also reminds us of the 2009 pageant in the tropical island of the Bahamas, when no clear winner was standing out, and then, the inevitable happened.  Stefania Fernandez won the first and only back-to-back win at Miss Universe, when she was crowned by fellow Venezuelan, Dayana Mendoza.
So, what is really being brewed up in the Philippines, right now?  It is hard to tell because the activities are being spread into different venues, and that, we can barely see the girls together in just one location.  So far, the only major events when we saw all the girls in one setting were last Monday's Governor's Ball at the SM Moa Arena and the Yamamay swimsuit presentation in Cebu held last Tuesday.  A group of delegates were flown to Boracay last week, while another group was sent to Vigan for a fashion show where they wore elegant Filipiniana attires made by Filipino designers.
Now, who's hot and who was dropped out?
First, let's get to know the super stunning, yet overly underrated Miss Nicaragua, Marina Jacoby.  She is now the top favorite to win the crown, and what a giant leap by this 21-year-old model and commercial actress after she was only pegged at 20th spot in our last hot picks.  Now that the spotlight is on Marina, we are ready to justify why her.  Of all the Latinas, why choose someone from a small Central American nation, which barely places in Miss Universe?  Truth to be told, Marina is a rare find!  If she wore the sash of some powerhouse countries like Venezuela or Colombia, she would be in everyone's list, and there would be no inch of doubt if she gets crowned.  But why Nicaragua?   One word,  she is simple "breathtaking"!  When she appeared in her Filipiniana attire, despite being ill-fitting, she glowed like a Spanish royalty visiting a colonial territory.  When she sashayed in swimsuit during the Yamamay show in Cebu, her long legs and flawless skin were simply irresistible.  She did not even need to try hard to get noticed.  And when she got selected to appear in a popular morning TV show in the Philippines, she was able to express herself with calmness, confidence and maturity; inner qualities that make her ready to take the Miss Universe job, and live in New York for a year.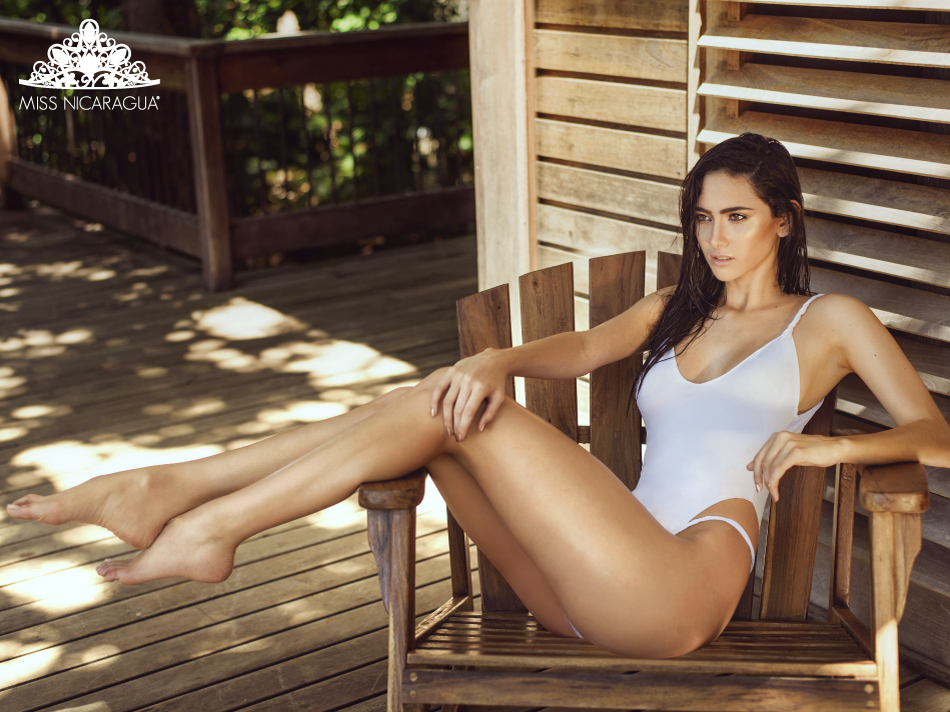 Now catching up into the top spot, and in close second, is Chalita Suansane – the extremely photogenic Miss Thailand – who has never been captured with a bad angle.  Those cheekbones are "to die for"!  But that's not to say that Chalita is all about physical beauty.  Even before joining Miss Universe, she is already involved in an HIV/AIDS-related charity program in her native country, which is related to what Pia Wurtzbach and the past Miss Universe winners have been working for during their respective reign.  Armed with a team that has a high fashion sense, this 22-year-old university student is actually majoring in Microbiology, which simply shows that she also has something between her ears.
Coming in third place, and is back in our ranking, is none other than the unstoppable Venezuela!  Mariam Habach may not have started impressively (the rugged jeans that she wore upon arrival and jet lag did not help), but she has proven us wrong.  She is indeed a force to reckon with, and what could be a better proof than to slap us with the "Flawless of the Universe" award during the swimsuit presentation in Cebu.  Mariam actually has Syrian heritage, and will be celebrating her 21st birthday on January 26th.
Maxine Medina of the Philippines slid a little bit into fourth place, but still hanging strong in the Top 5.  The controversy surrounding her interview skills, and whether or not she should use an interpreter during the final night are overshadowing some of the better attributes that this young model can actually offer.  Maxine will surely score high in the swimsuit and evening gown competitions, and just as she said, Filipino fans just have to "believe in her" especially during the important interview round.
To complete our Top 5 is the very unique and exotic ebony beauty from Sierra Leone.  Hawa Kamara is said to have been born in the land of diamonds, but she grew up in the capital city of Freetown.  This is the first time that her country is competing at Miss Universe, and there is usually this luck that a first-time country brings when competing at Miss Universe.  Botswana's Mpule Kwelagobe was the first delegate from her country at Miss Universe, and she won the crown at the age of 19.  Mpule was also from the land of diamonds.  But what we really like about Hawa is how she has shown confidence in her own skin, and although she has a really short hair, it does not even bother her.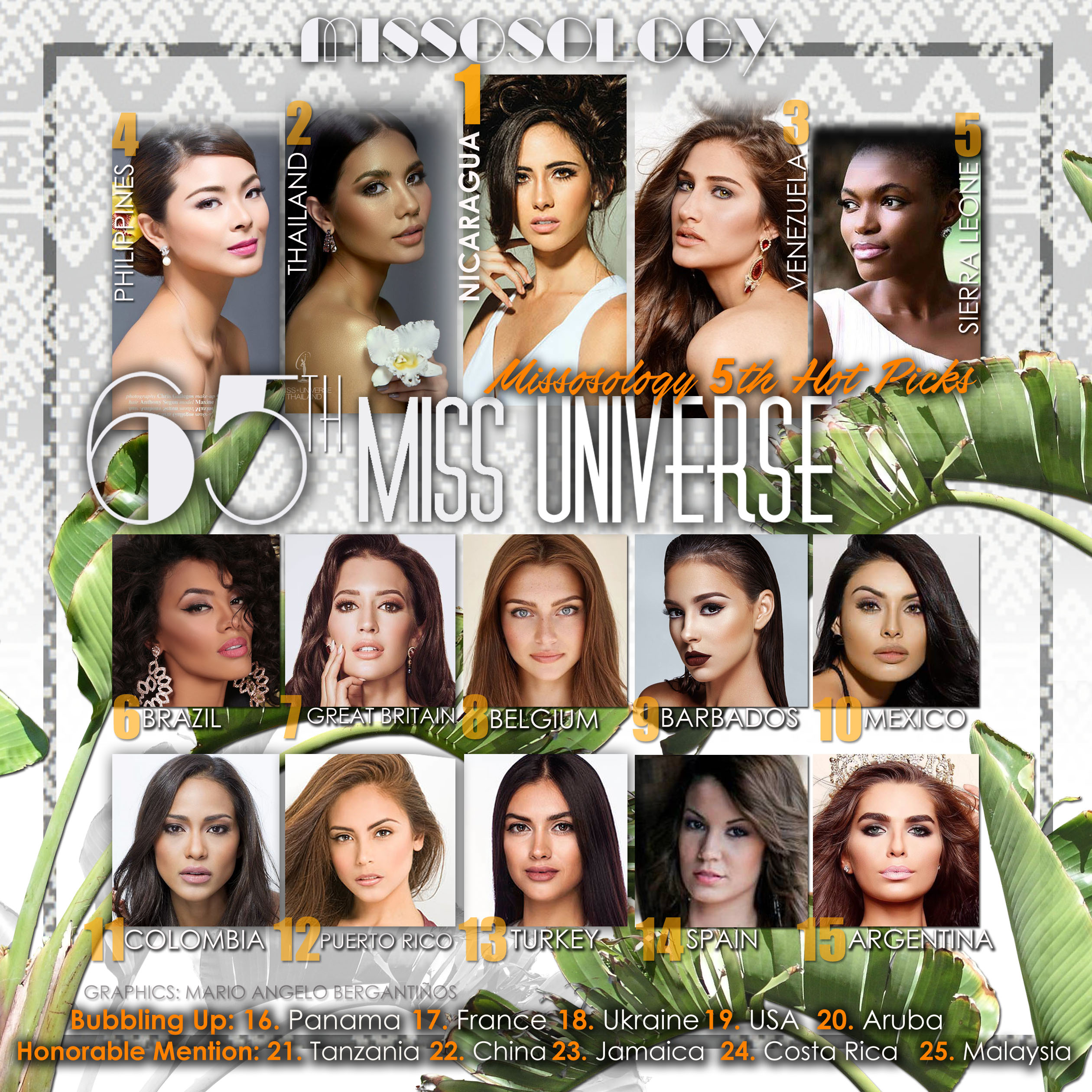 Raissa Santa of Brazil is currently in 6th place, but that is partly because we are trying to expect some new look from her.  The big curls are wonderful, but at Miss Universe, it really helps when you know how to experiment into different types of looks and hairstyles.  Nevertheless, we still believe that she is a strong contender, so we cannot just simply count her out.  Following her, in seventh position, is Great Britain's Jamie-lee Faulkner.  Many pageant fans dub Jamie-lee as the "Face of the Pageant", thanks to her gorgeous and very symmetrical face, the kind that could poetically launch a thousand ships!  Jamie-lee is representing a country that was the center of attention last year when the United Kingdom decided to leave the EU.  It would be very interesting to hear from her side what is now in store for the UK, and also her opinions over racial issues and cultural integration.  Belgium's Stephanie Geldof surprised us from out of the blue during the swimsuit presentation, and we are feeling a consecutive placement for the EU capital at Miss Universe.  Stephanie is one of the youngest contestants this year, and it will be great to see some of the teenage girls to place at Miss Universe.  The last time that a teenager won the Miss Universe crown was in 2009.  At ninth place is Shannon Harris of Barbados, who happens to be the first Barbadian to compete at Miss Universe after nine years.  And yes, we have to claim it:  she deserves to be noticed!  Although Barbados has never placed, yet, at Miss Universe, we believe that Shannon is the perfect delegate to put her island nation into the pageant map.  We can actually see quite a resemblance between her and Miss USA 2016 1st Runner-up Chelsea Hardin.  Mexico's Kristal Silva is in 10th place right now, down by three spots.  This former Miss Earth Mexico actually dreamed, when she was young, of competing at the Miss Universe stage.  Now that her dream has come true, she is pressured to bring the crown, especially that this is her second try at a major international pageant.  The last time that Mexico had won the Miss Universe crown was in 2010, and since then, they have never placed in the Top 5.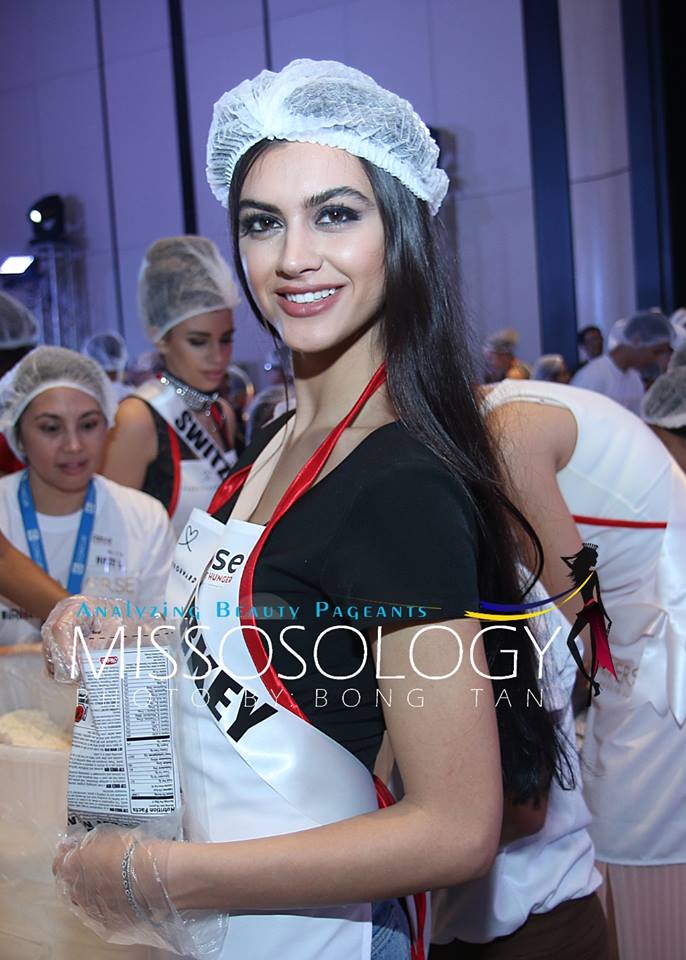 Colombia's Andrea Tovar, our previous top pick, went down to 11th place.  A lot of pageant analysts were not impressed with Andrea's swimsuit body, especially her wide hip.  In addition to that, there was a controversial video circulating in social media about her alleged mockery of the Mexican accent and lack of appreciation with the confectioneries offered to her by the sponsor.  In this day and age, it is very important to guard ones thoughts and, as Pia Wurtzbach once said, to "think before you click".  Following her at 12th place is Brenda Jimenez of Puerto Rico.  What many people do not know is that, Brenda was not the original winner of the Miss Universe Puerto Rico crown.  The title was offered to her when the winner, Kristhielee Caride, was dethroned for not fulfilling her duties.  There was a marathon drama that covered this whole spectacle, but now that Brenda is in the Philippines, she came really prepared and she has one of the most memorable catwalks during the swimsuit presentation.  Meanwhile at 13th place is the angelic, yet sophisticated beauty from Turkey.  Tansu Cakir aims to give a decent placement for her country, which has been plagued by a series of terrorist attacks and an unfortunate political turmoil.  Despite of those challenges, Tansu prepared hard for this pageant, and it is evident through her amazing stage presence.  Spain's Noelia Freire, is at 14th spot, and is relatively new in our ranking.  We were able to notice her during the swimsuit show, and as our correspondent told us, she could be Europe's best hope for the crown.  But, we are not yet totally convinced so we will be keeping an eye on this beautiful senorita.  Estefania Bernal, the 21-year-old model from Argentina completes our Top 15.  She is a professional publicity model, who knows how to pose effectively in front of the camera.  Argentina has won the Miss Universe crown once, and Estefania seems determined enough to win their second crown.
Meanwhile, Panama went down to 16th position.  Some are not amenable with the idea that she was just handpicked to compete at Miss Universe, but she has a gorgeous face, nevertheless.  France is at 17th place.  She is sometimes a hit or a miss.  Yes, she was impressive during the swimsuit competition but she can be caught looking a bit tired.  Ukraine did not do well in the swimsuit presentation.  She was a bit timid on stage, and it did not help that she was ill-trained on how to hide her wide hips through posing techniques.  USA is still in the radar, but we expected her to have improved her body for Miss Universe, but sadly it didn't.  Aruba is a surprise during the swimsuit round, but we need to see more to convince us further.
Tanzania, China, Jamaica, Costa Rica and Malaysia all made into our honorable mentions list, which means that we will be keeping an eye on them after we have started to notice them.
What do you think of our list?   Do you agree or not?  Post your thoughts and we will be very glad to consider your opinion and be a part in determining our next hot picks!
/Stephen I. Diaz