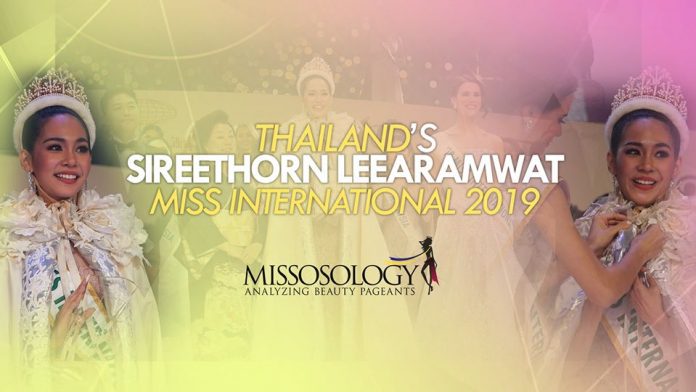 Both Miss Earth 2019 and the 59th Miss International had created significant changes in the Big 5 Ranking. The failure of Brazil to place in both pageants have put the Philippines a few notch closer into dethroning the South American nation from the third position. Brazil has been in third place since 2010, when our originally ranking was then called the Big 4 Ranking. Now, that position is in danger. It is now up to their performances in the remaining Big 5 pageants if they could keep it up. Miss Supranational 2019 will be concluded this coming Friday, while Miss Universe will be held a couple of days later.
For 2019, the biggest gainer so far is Uganda, which has proven that last year's Miss World feat was no beginner's luck, at all! At Miss International, a pageant that is known for being biased against Africans, the Ugandan delegate managed to reach the Top 3 and even won a special award!
The historical first crown of Puerto Rico and Thailand at Miss Earth and Miss International, respectively, might be telling us a certain trend. They also placed in both pageants, making them the current leaders for the 2019 performance alone. Will they be able to sustain the momentum?
It's too early to tell who will emerge as our 2019 Performer of the Year, but after this coming weekend, we will be seeing major changes. Thailand is highly favored to win both Miss Supranational and Miss Universe, so that's something to watch out for!
| 2017 | 2018 | 2019 | COUNTRY | BIG5-TOTAL | Universe | World | International | Earth | Supranational |
| --- | --- | --- | --- | --- | --- | --- | --- | --- | --- |
| 1 | 1 | 1 | U.S.A. | 21127 | 8340 | 5940 | 4730 | 1582 | 535 |
| 2 | 2 | 2 | VENEZUELA | 19067 | 6380 | 4665 | 5310 | 2212 | 500 |
| 3 | 3 | 3 | BRAZIL | 13808 | 4540 | 3305 | 3610 | 1768 | 585 |
| 4 | 4 | 4 | PHILIPPINES | 13744 | 3640 | 2610 | 4340 | 2444 | 710 |
| 5 | 5 | 5 | COLOMBIA | 13284 | 4680 | 2215 | 4530 | 1244 | 615 |
| 6 | 6 | 6 | AUSTRALIA | 11087 | 2850 | 3815 | 3270 | 752 | 400 |
| 7 | 7 | 7 | INDIA | 10802 | 2840 | 3595 | 2570 | 1032 | 765 |
| 8 | 8 | 8 | SPAIN | 10559 | 2770 | 2300 | 4250 | 1024 | 215 |
| 9 | 9 | 9 | JAPAN | 10349 | 2840 | 1715 | 4990 | 624 | 180 |
| 10 | 10 | 10 | FINLAND | 10135 | 3060 | 2660 | 4090 | 220 | 105 |
| 12 | 11 | 11 | FRANCE | 9532 | 2500 | 3840 | 2440 | 522 | 230 |
| 11 | 12 | 12 | SWEDEN | 9460 | 3880 | 3140 | 1860 | 440 | 140 |
| 14 | 13 | 13 | MEXICO | 9170 | 2680 | 2570 | 2500 | 880 | 540 |
| 16 | 14 | 14 | SOUTH AFRICA | 8944 | 2850 | 4510 | 510 | 884 | 190 |
| 13 | 15 | 15 | ISRAEL | 8775 | 2780 | 3495 | 2120 | 350 | 30 |
| 17 | 17 | 16 | PUERTO RICO | 8709 | 3340 | 2040 | 1970 | 594 | 765 |
| 15 | 16 | 17 | GERMANY | 8565 | 2920 | 2815 | 2530 | 230 | 70 |
| 18 | 18 | 18 | KOREA | 7798 | 1550 | 1750 | 3300 | 868 | 330 |
| 20 | 20 | 19 | THAILAND | 7776 | 1840 | 1360 | 2550 | 1356 | 670 |
| 19 | 19 | 20 | UNITED KINGDOM | 7675 | 400 | 4885 | 2360 | 30 | 0 |
| 21 | 21 | 21 | NETHERLANDS | 6836 | 2000 | 2230 | 1880 | 566 | 160 |
| 22 | 22 | 22 | CANADA | 6573 | 2760 | 2020 | 1010 | 388 | 395 |
| 25 | 23 | 23 | POLAND | 6496 | 900 | 1290 | 1940 | 1276 | 1090 |
| 23 | 24 | 24 | ARGENTINA | 6351 | 2080 | 2040 | 1820 | 286 | 125 |
| 24 | 25 | 25 | GREECE | 6240 | 2460 | 1900 | 1520 | 180 | 180 |
| 26 | 26 | 26 | NORWAY | 6095 | 2270 | 1655 | 1830 | 290 | 50 |
| 28 | 28 | 27 | NEW ZEALAND | 5706 | 1160 | 2310 | 1910 | 266 | 60 |
| 27 | 27 | 28 | ITALY | 5637 | 2240 | 1795 | 1080 | 422 | 100 |
| 29 | 29 | 29 | PERU | 5402 | 2250 | 1490 | 850 | 482 | 330 |
| 31 | 33 | 30 | ENGLAND | 5338 | 2540 | 780 | 1430 | 338 | 250 |
| 30 | 31 | 31 | DOMINICAN REPUBLIC | 5335 | 1700 | 1690 | 1270 | 450 | 225 |
| 33 | 30 | 32 | JAMAICA | 5320 | 1320 | 3585 | 240 | 40 | 135 |
| 32 | 32 | 33 | IRELAND | 5270 | 1490 | 2480 | 1220 | 50 | 30 |
| 34 | 34 | 34 | DENMARK | 5220 | 1160 | 2235 | 1220 | 370 | 235 |
| 35 | 35 | 35 | AUSTRIA | 5151 | 1210 | 2225 | 1170 | 546 | 0 |
| 36 | 36 | 36 | RUSSIA | 5147 | 1050 | 1450 | 1340 | 1052 | 255 |
| 37 | 37 | 37 | ICELAND | 4720 | 930 | 1580 | 1880 | 10 | 320 |
| 38 | 38 | 38 | BELGIUM | 4685 | 1500 | 1300 | 1530 | 180 | 175 |
| 39 | 39 | 39 | PANAMA | 4579 | 1410 | 820 | 1470 | 314 | 565 |
| 40 | 40 | 40 | SWITZERLAND | 4252 | 1650 | 1320 | 690 | 492 | 100 |
| 41 | 41 | 41 | TURKEY | 4231 | 820 | 1425 | 1570 | 176 | 240 |
| 42 | 42 | 42 | CHILE | 4124 | 1810 | 790 | 490 | 954 | 80 |
| 43 | 44 | 43 | CZECH REPUBLIC | 3982 | 640 | 660 | 890 | 1192 | 600 |
| 44 | 43 | 44 | ECUADOR | 3913 | 950 | 875 | 1040 | 818 | 230 |
| 46 | 46 | 45 | CHINA PR | 3631 | 550 | 1420 | 1220 | 356 | 85 |
| 45 | 45 | 46 | TRINIDAD & TOBAGO | 3495 | 1460 | 1695 | 110 | 160 | 70 |
| 46 | 46 | 47 | COSTA RICA | 3336 | 960 | 750 | 1040 | 386 | 200 |
| 48 | 47 | 48 | UKRAINE | 3274 | 860 | 700 | 830 | 444 | 440 |
| 47 | 48 | 49 | BOLIVIA | 3188 | 860 | 860 | 1050 | 288 | 130 |
| 52 | 50 | 50 | INDONESIA | 3163 | 480 | 960 | 1090 | 168 | 465 |
| 49 | 49 | 51 | PARAGUAY | 3112 | 960 | 650 | 630 | 592 | 280 |
| 51 | 53 | 52 | HONGKONG | 2835 | 1040 | 750 | 960 | 50 | 35 |
| 50 | 51 | 53 | LEBANON | 2832 | 780 | 1120 | 590 | 272 | 70 |
| 53 | 52 | 54 | MALAYSIA | 2807 | 640 | 1170 | 610 | 202 | 185 |
| 65 | 56 | 55 | VIETNAM | 2677 | 270 | 700 | 590 | 642 | 475 |
| 55 | 57 | 56 | GUAM | 2630 | 720 | 1080 | 540 | 290 | 0 |
| 54 | 54 | 57 | HONDURAS | 2596 | 560 | 400 | 930 | 446 | 260 |
| 57 | 58 | 58 | SRI LANKA | 2550 | 640 | 890 | 790 | 80 | 150 |
| 63 | 61 | 59 | PORTUGAL | 2478 | 460 | 640 | 740 | 408 | 230 |
| 59 | 59 | 60 | SCOTLAND | 2440 | 940 | 765 | 310 | 350 | 75 |
| 58 | 60 | 61 | YUGOSLAVIA | 2400 | 430 | 1240 | 570 | 160 | 0 |
| 61 | 62 | 62 | NICARAGUA | 2360 | 590 | 465 | 1100 | 190 | 15 |
| 60 | 63 | 63 | URUGUAY | 2340 | 1200 | 810 | 290 | 30 | 10 |
| 63 | 64 | 64 | SINGAPORE | 2331 | 740 | 600 | 640 | 286 | 65 |
| 62 | 65 | 65 | GUATEMALA | 2268 | 780 | 520 | 570 | 358 | 40 |
| 69 | 67 | 66 | NIGERIA | 2090 | 420 | 1050 | 70 | 440 | 110 |
| 66 | 66 | 67 | CURACAO | 2050 | 1170 | 420 | 380 | 60 | 20 |
| 66 | 68 | 68 | ARUBA | 1950 | 500 | 890 | 530 | 20 | 10 |
| 68 | 69 | 69 | WALES | 1916 | 980 | 480 | 220 | 116 | 120 |
| 71 | 70 | 70 | SLOVAKIA | 1910 | 380 | 340 | 460 | 340 | 390 |
| 70 | 71 | 71 | EL SALVADOR | 1890 | 920 | 420 | 270 | 210 | 70 |
| 72 | 72 | 72 | KENYA | 1846 | 210 | 1030 | 190 | 336 | 80 |
| 80 | 78 | 73 | BELARUS | 1760 | 0 | 270 | 440 | 160 | 890 |
| 73 | 73 | 74 | CHINESE TAIPEI | 1746 | 510 | 500 | 380 | 236 | 120 |
| 76 | 74 | 75 | HUNGARY | 1680 | 470 | 540 | 220 | 220 | 230 |
| 78 | 80 | 76 | GHANA | 1644 | 350 | 820 | 130 | 324 | 20 |
| 74 | 75 | 77 | BAHAMAS | 1632 | 570 | 680 | 60 | 182 | 140 |
| 81 | 76 | 78 | ROMANIA | 1615 | 150 | 400 | 210 | 340 | 515 |
| 75 | 77 | 79 | POLYNESIE FRANCAISE | 1597 | 250 | 410 | 490 | 432 | 15 |
| 77 | 79 | 80 | CROATIA | 1530 | 340 | 930 | 30 | 70 | 160 |
| 79 | 81 | 81 | GUYANA | 1526 | 220 | 1150 | 10 | 136 | 10 |
| 88 | 82 | 82 | MAURITIUS | 1405 | 310 | 610 | 90 | 270 | 125 |
| 82 | 83 | 83 | MALTA | 1350 | 370 | 650 | 200 | 90 | 40 |
| 85 | 86 | 84 | MONGOLIA | 1290 | 10 | 430 | 500 | 330 | 20 |
| 83 | 84 | 85 | CYPRUS | 1286 | 380 | 560 | 190 | 146 | 10 |
| 84 | 85 | 86 | ANGOLA | 1270 | 570 | 570 | 0 | 100 | 30 |
| 86 | 87 | 87 | ZIMBABWE | 1251 | 150 | 855 | 30 | 186 | 30 |
| 87 | 89 | 88 | HAWAII | 1240 | 370 | 10 | 860 | 0 | 0 |
| 91 | 88 | 89 | EGYPT | 1230 | 260 | 490 | 70 | 380 | 30 |
| 90 | 90 | 90 | NAMIBIA | 1220 | 540 | 510 | 100 | 20 | 50 |
| 89 | 91 | 91 | GIBRALTAR | 1211 | 90 | 890 | 150 | 36 | 45 |
| 93 | 92 | 92 | KAZAKHSTAN | 1152 | 100 | 720 | 10 | 212 | 110 |
| 92 | 93 | 93 | LUXEMBOURG | 1140 | 270 | 280 | 480 | 40 | 70 |
| 95 | 94 | 94 | BOSNIA & HERZEGOVINA | 1092 | 0 | 280 | 0 | 762 | 50 |
| 94 | 95 | 94 | US VIRGIN ISLANDS | 1092 | 310 | 560 | 10 | 82 | 130 |
| 102 | 97 | 96 | SLOVENIA | 1044 | 190 | 250 | 0 | 344 | 260 |
| 96 | 96 | 97 | TANZANIA | 1036 | 200 | 380 | 60 | 396 | 0 |
| 111 | 98 | 98 | NEPAL | 1030 | 110 | 470 | 110 | 320 | 20 |
| 100 | 100 | 99 | HAITI | 1020 | 580 | 160 | 170 | 70 | 40 |
| 97 | 98 | 100 | BERMUDA | 1010 | 450 | 550 | 10 | 0 | 0 |
| 98 | 101 | 101 | TUNISIA | 1000 | 80 | 320 | 600 | 0 | 0 |
| 99 | 102 | 102 | LATVIA | 966 | 110 | 270 | 280 | 176 | 130 |
| 103 | 103 | 103 | NORTHERN IRELAND | 930 | 0 | 560 | 0 | 310 | 60 |
| 101 | 103 | 104 | CZECHOSLOVAKIA | 920 | 220 | 250 | 450 | 0 | 0 |
| 105 | 105 | 105 | BOTSWANA | 870 | 270 | 520 | 0 | 80 | 0 |
| 104 | 105 | 106 | ESTONIA | 860 | 370 | 240 | 40 | 150 | 60 |
| 110 | 107 | 107 | MARTINIQUE | 850 | 50 | 290 | 30 | 470 | 10 |
| 106 | 108 | 108 | CUBA | 845 | 360 | 280 | 150 | 40 | 15 |
| 107 | 109 | 109 | SURINAME | 825 | 310 | 100 | 50 | 40 | 325 |
| 108 | 110 | 110 | ALBANIA | 820 | 380 | 160 | 0 | 80 | 200 |
| 109 | 111 | 111 | CAYMAN ISLANDS | 780 | 310 | 450 | 0 | 20 | 0 |
| 111 | 112 | 112 | GEORGIA | 740 | 140 | 260 | 40 | 250 | 50 |
| 117 | 113 | 112 | MYANMAR | 740 | 110 | 60 | 90 | 60 | 420 |
| 120 | 119 | 114 | GUADELOUPE | 680 | 60 | 200 | 230 | 130 | 60 |
| 114 | 116 | 115 | NORTHERN MARIANAS | 680 | 270 | 10 | 310 | 90 | 0 |
| 113 | 114 | 116 | ETHIOPIA | 676 | 120 | 230 | 90 | 76 | 160 |
| 117 | 116 | 117 | BELIZE | 670 | 370 | 190 | 30 | 70 | 10 |
| 114 | 115 | 117 | BULGARIA | 670 | 250 | 370 | 10 | 10 | 30 |
| 117 | 118 | 119 | SERBIA | 666 | 90 | 170 | 110 | 206 | 90 |
| 122 | 119 | 120 | BARBADOS | 650 | 160 | 480 | 0 | 10 | 0 |
| 120 | 122 | 120 | LIBERIA | 650 | 40 | 500 | 60 | 50 | 0 |
| 116 | 121 | 122 | CONGO, D.R. | 640 | 330 | 150 | 140 | 20 | 0 |
| 137 | 131 | 123 | UGANDA | 632 | 0 | 380 | 180 | 72 | 0 |
| 124 | 123 | 124 | KOSOVO | 590 | 420 | 20 | 0 | 90 | 60 |
| 122 | 124 | 124 | SERBIA & MONTENEGRO | 590 | 170 | 30 | 130 | 260 | 0 |
| 125 | 125 | 126 | MACAU | 570 | 0 | 240 | 130 | 170 | 30 |
| 127 | 126 | 127 | BRITISH VIRGIN ISLANDS | 540 | 340 | 190 | 0 | 10 | 0 |
| 126 | 127 | 128 | TURKS & CAICOS | 530 | 400 | 80 | 0 | 50 | 0 |
| 130 | 129 | 129 | ZAMBIA | 490 | 90 | 180 | 50 | 170 | 0 |
| 128 | 128 | 130 | LITHUANIA | 476 | 30 | 180 | 130 | 46 | 90 |
| 129 | 129 | 131 | SAINT LUCIA | 470 | 80 | 260 | 0 | 130 | 0 |
| 133 | 132 | 132 | MOLDOVA | 455 | 0 | 200 | 70 | 40 | 145 |
| 134 | 134 | 133 | SOUTH SUDAN | 450 | 0 | 300 | 40 | 60 | 50 |
| 131 | 133 | 134 | GABON | 436 | 40 | 40 | 40 | 36 | 280 |
| 132 | 135 | 135 | SEYCHELLES | 420 | 10 | 400 | 10 | 0 | 0 |
| 135 | 136 | 136 | SWAZILAND | 370 | 20 | 350 | 0 | 0 | 0 |
| 136 | 137 | 137 | MACEDONIA FYR | 360 | 0 | 140 | 160 | 30 | 30 |
| 138 | 137 | 138 | MOROCCO | 330 | 170 | 80 | 60 | 0 | 20 |
| 138 | 137 | 139 | GRENADA | 320 | 10 | 310 | 0 | 0 | 0 |
| 145 | 140 | 140 | COOK ISLANDS | 306 | 100 | 150 | 20 | 36 | 0 |
| 140 | 141 | 141 | USSR | 300 | 170 | 30 | 100 | 0 | 0 |
| 141 | 142 | 142 | ANTIGUA & BARBUDA | 290 | 110 | 180 | 0 | 0 | 0 |
| 143 | 143 | 143 | SENEGAL | 280 | 30 | 20 | 230 | 0 | 0 |
| 150 | 144 | 144 | MONTENEGRO | 270 | 60 | 130 | 0 | 60 | 20 |
| 146 | 147 | 145 | FIJI | 250 | 20 | 70 | 120 | 40 | 0 |
| 161 | 145 | 145 | MADAGASCAR | 250 | 10 | 80 | 120 | 40 | 0 |
| 144 | 145 | 145 | VIRGIN ISLANDS | 250 | 210 | 40 | 0 | 0 | 0 |
| 149 | 148 | 148 | CAMEROON | 240 | 0 | 40 | 20 | 160 | 20 |
| 153 | 151 | 149 | RWANDA | 225 | 0 | 30 | 0 | 30 | 165 |
| 147 | 148 | 150 | RHODESIA & NYASALAND | 220 | 10 | 210 | 0 | 0 | 0 |
| 148 | 150 | 151 | SAMOA | 216 | 100 | 40 | 0 | 76 | 0 |
| 142 | 152 | 151 | SIERRA LEONE | 216 | 10 | 110 | 20 | 66 | 10 |
| 152 | 153 | 153 | CRIMEA | 206 | 0 | 0 | 0 | 206 | 0 |
| 150 | 154 | 154 | GAMBIA | 190 | 50 | 90 | 0 | 0 | 50 |
| 161 | 155 | 155 | LAOS | 190 | 30 | 20 | 130 | 0 | 10 |
| 155 | 155 | 155 | REUNION | 190 | 100 | 0 | 0 | 80 | 10 |
| 154 | 155 | 157 | NEW CALENDONIA | 180 | 10 | 0 | 160 | 10 | 0 |
| 156 | 158 | 157 | PAPUA NEW GUINEA | 180 | 100 | 70 | 0 | 10 | 0 |
| 158 | 159 | 159 | TONGA | 176 | 0 | 20 | 0 | 156 | 0 |
| 157 | 160 | 160 | ALASKA | 160 | 160 | 0 | 0 | 0 | 0 |
| 166 | 160 | 161 | BANGLADESH | 160 | 0 | 160 | 0 | 0 | 0 |
| 159 | 163 | 161 | COTE D'IVOIRE | 160 | 10 | 100 | 40 | 10 | 0 |
| 175 | 163 | 161 | EQUATORIAL GUINEA | 160 | 0 | 60 | 10 | 0 | 90 |
| 170 | 162 | 164 | PAKISTAN | 158 | 0 | 0 | 0 | 108 | 50 |
| 159 | 165 | 165 | ST. VINVENT & THE GR. | 140 | 80 | 60 | 0 | 0 | 0 |
| 161 | 166 | 166 | BONAIRE | 130 | 90 | 30 | 0 | 10 | 0 |
| 161 | 166 | 166 | ISLE OF MAN | 130 | 0 | 130 | 0 | 0 | 0 |
| 161 | 167 | 166 | MONTE CARLO | 130 | 0 | 130 | 0 | 0 | 0 |
| 166 | 169 | 169 | LESOTHO | 120 | 10 | 110 | 0 | 0 | 0 |
| 171 | 170 | 170 | KYRGYZSTAN | 110 | 10 | 50 | 30 | 20 | 0 |
| 166 | 170 | 170 | SAN MARINO | 110 | 0 | 0 | 110 | 0 | 0 |
| 166 | 170 | 170 | ST. KITTS & NEVIS | 110 | 30 | 80 | 0 | 0 | 0 |
| 182 | 176 | 173 | ARMENIA | 100 | 10 | 20 | 30 | 30 | 10 |
| 171 | 173 | 173 | JORDAN | 100 | 10 | 60 | 30 | 0 | 0 |
| 171 | 173 | 173 | MONTSERRAT | 100 | 0 | 100 | 0 | 0 | 0 |
| 171 | 173 | 173 | WESTERN SAMOA | 100 | 0 | 100 | 0 | 0 | 0 |
| 182 | 179 | 177 | CAMBODIA | 90 | 20 | 10 | 20 | 40 | 0 |
| 176 | 176 | 178 | JERSEY | 80 | 0 | 80 | 0 | 0 | 0 |
| 177 | 176 | 178 | TOGO | 80 | 0 | 0 | 50 | 0 | 30 |
| 177 | 179 | 180 | SINT MAARTEN | 70 | 40 | 30 | 0 | 0 | 0 |
| 179 | 181 | 181 | GREENLAND | 60 | 40 | 20 | 0 | 0 | 0 |
| 179 | 181 | 181 | GUINEA | 60 | 0 | 50 | 0 | 0 | 10 |
| 179 | 181 | 181 | OKINAWA | 60 | 60 | 0 | 0 | 0 | 0 |
| 182 | 184 | 184 | CAPE VERDE | 50 | 0 | 30 | 0 | 0 | 20 |
| 182 | 184 | 184 | CONGO, REP. OF THE | 50 | 0 | 0 | 30 | 20 | 0 |
| 182 | 184 | 184 | IRAQ | 50 | 20 | 0 | 0 | 10 | 20 |
| 182 | 184 | 184 | ST. BARTHELEMY | 50 | 0 | 50 | 0 | 0 | 0 |
| 188 | 188 | 188 | BRITISH GUIANA | 40 | 0 | 0 | 40 | 0 | 0 |
| 188 | 188 | 188 | MALAWI | 40 | 0 | 40 | 0 | 0 | 0 |
| 190 | 190 | 190 | AZERBAIJAN | 30 | 10 | 0 | 0 | 0 | 20 |
| 190 | 190 | 190 | DOMINICA | 30 | 10 | 20 | 0 | 0 | 0 |
| 190 | 190 | 190 | FRENCH GUIANA | 30 | 30 | 0 | 0 | 0 | 0 |
| 195 | 190 | 190 | GUINEA-BISSAU | 30 | 0 | 30 | 0 | 0 | 0 |
| 190 | 190 | 190 | PALAU | 30 | 0 | 0 | 30 | 0 | 0 |
| 190 | 190 | 190 | SAO TOME & PRINCIPE | 30 | 0 | 10 | 0 | 0 | 20 |
| 195 | 196 | 196 | AFGHANISTAN | 20 | 0 | 0 | 0 | 20 | 0 |
| 195 | 196 | 196 | CHAD | 20 | 0 | 10 | 0 | 10 | 0 |
| 195 | 196 | 196 | GUERNSEY | 20 | 0 | 20 | 0 | 0 | 0 |
| 195 | 196 | 196 | NIUE ISLAND | 20 | 0 | 0 | 0 | 20 | 0 |
| 195 | 196 | 196 | SAINT-MARTIN | 20 | 20 | 0 | 0 | 0 | 0 |
| 195 | 196 | 196 | SYRIA | 20 | 0 | 20 | 0 | 0 | 0 |
| 195 | 196 | 196 | TIBET | 20 | 0 | 0 | 0 | 20 | 0 |
| 195 | 196 | 196 | TRINIDAD | 20 | 20 | 0 | 0 | 0 | 0 |
| 204 | 204 | 204 | ALGERIA | 10 | 0 | 10 | 0 | 0 | 0 |
| 204 | 204 | 204 | ANDORRA | 10 | 0 | 10 | 0 | 0 | 0 |
| 204 | 204 | 204 | BHUTAN | 10 | 0 | 0 | 0 | 10 | 0 |
| * | * | 204 | BURKINA FASO | 10 | 0 | 0 | 10 | 0 | 0 |
| 204 | 204 | 204 | NEW HEBRIDES | 10 | 10 | 0 | 0 | 0 | 0 |
| 204 | 204 | 204 | PALESTINE | 10 | 0 | 0 | 0 | 10 | 0 |
| 204 | 204 | 204 | TANGANYIKA | 10 | 0 | 10 | 0 | 0 | 0 |
| 204 | 204 | 204 | TOKELAO | 10 | 0 | 0 | 0 | 10 | 0 |
| 204 | 204 | 204 | UZBEKISTAN | 10 | 0 | 10 | 0 | 0 | 0 |
| 204 | 204 | 204 | ZANZIBAR | 10 | 0 | 0 | 0 | 10 | 0 |