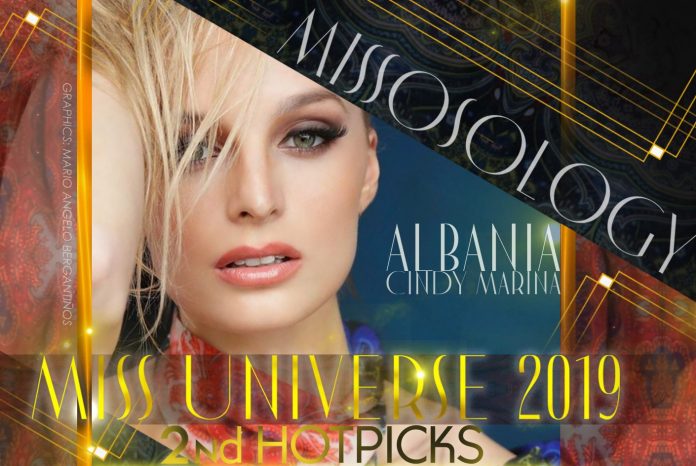 Banner by: Mario Bergantinos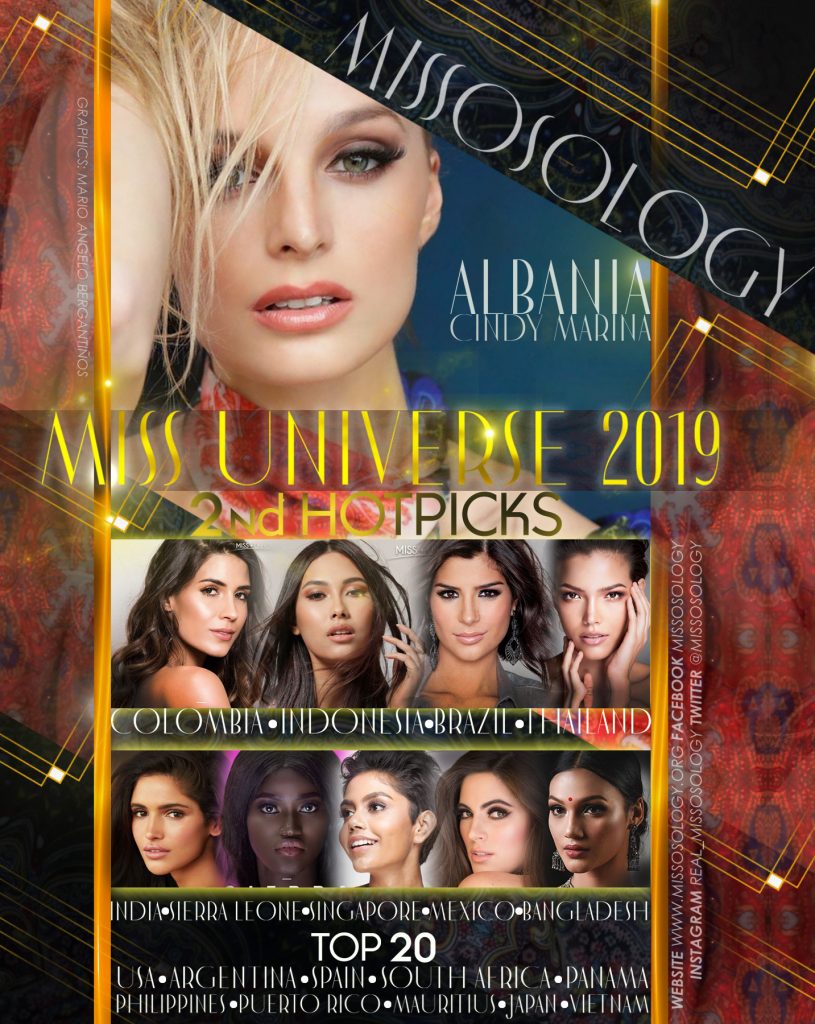 Miss Universe is Miss Universe! Whether the pageant is going to be held in December or January of the next year, the overwhelming truth is that the die hard fans – the soul and spirit of pageantry – will follow and hype it at all cost! It won't even matter if the pageant activities will be squeezed up within 10 days or less. Miss Universe will still be the queen of all pageants!
And, what's a pageant without the hot picks? It may have taken a while after Missosology made a follow up from our 1st Hot Picks, but looks like we have some changes in our leaderboard.
Albania's Cindy Marina is the current girl to beat! Don't you think it will be refreshing to see a blonde European – with an American education – be crowned as Miss Universe? Not only that, it will be the first time since 2011 to have a new country win the Miss Universe title, so it will be a historical win for this Balkan state. Cindy is currently studying at the University of Southern California, and is a national volleyball player for Albania. While we have seen a lot of athletes doing well on Miss USA stage, it seems a bit rare for a sportswoman to be recognized at Miss Universe. Hoping that Cindy will not disappoint us in the very important preliminary competitions.
Following Cindy in second place is the national beauty queen of Colombia, Gabriela Tafur Nader. Unlike last year, Colombia is back with a delegate who has been busy doing what a Miss Colombia normally does prior to competing at Miss Universe – serve the organization by doing charity works within and outside of Colombia for Colombian nationals. Except for last year, it is no surprise why a Colombian queen was able to sustain a remarkable Top 3 finish since 2014. Their queen is always armed with a legacy of serving the less fortunate without being too fancy. Colombia will be back for a sweet revenge with Gabriela.
In third place is Frederika Cull, representing Indonesia. Considered as the best Indonesian spokesperson to compete at Miss Universe, Frederika is a passionate and ambitious woman who wants to become the first Muslim winner of the 68-year-old pageant. We believe that it is possible, seeing how much she has worked hard since being crowned as Puteri Indonesia 2019. Her magical transformation cannot be ignored. We have seen how much she had devoted to correct the shortcomings of her predecessors, who never reached the evening gown round. Frederika could be the first to break that curse!
In fourth place is none other than the charismatic Brazilian delegate, Julia Horta. Another great orator and speaker, Julia can easily pull everyone's rug ones she holds the microphone. One is literally drawn to her when she talks. So on top of that beautiful face and captivating personality, Julia is meant to win everyone's heart. Watch out for her!
Thailand's Paweensuda Drouin may have dropped to fifth spot, but that doesn't mean that she is losing her grip. The support from her country is overwhelming, and she is still one of the delegate's to keep our eyes on. Statuesque and very amiable, Paweensuda is a gem that Miss Universe cannot afford to waste.
A few newbies are on the list, and should be one of those look up for in the coming days. Bangladeshi's Shirin Akther, in particular, is someone we are closely following as she is extremely striking in photos and is rumored to be intellectually engaging. / XAMURAI
Complete list of our 2nd Hot Picks is as follows:
MISS UNIVERSE 2019 2ND HOTPICKS MISSOSOLOGY

1. ALBANIA – Cindy Marina
2. COLOMBIA – Gabriela Tafur Nader
3. INDONESIA – Frederika Cull
4. BRAZIL – Julia Horta
5. THAILAND – Paweensuda Drouin

6. INDIA – Vartika Singh
7. SIERRA LEONE – Marie Esther Bangura
8. SINGAPORE – Mohana Prabha
9. MEXICO – Sofia Aragon
10. BANGLADESH – Shirin Akther

11. USA – Cheslie Kryst
12. ARGENTINA – Mariana Jesica Varela
13. SPAIN – Natalie Ortega
14. SOUTH AFRICA – Zozibini Tunzi
15. PANAMA – Mehr Eliezer

16. PHILIPPINES – Gazini Ganados
17. PUERTO RICO – Madison Anderson
18. MAURITIUS – Ornella Lafleche
19. JAPAN – Ako Kamo
20. VIETNAM – Thuy Hoang