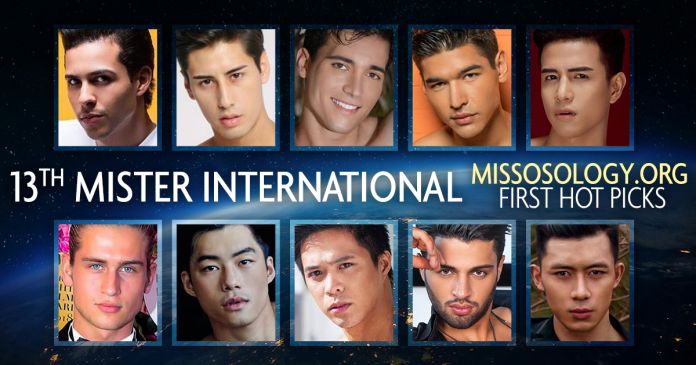 Text and graphics by Drew Francisco
Just a couple of days to go before the most distinctively handsome men from across the globe converge in Manila, Philippines for the 13th Mister International competition. Around 40 contestants are expected to fight tooth-and-nail for the title, currently held by Seung Hwan Lee of Korea.
ASIAN CONTENDERS
With the competition starting to heat up, it looks like the Asian continent is up for another title. Leading our pre-arrival hot picks is Thailand's Nick Notle, a 27-year-old model from Bangkok. Nick instantly became a fan favorite the moment he was announced as the Land of Smiles' delegate to the contest.
Other Asian contenders to keep an eye out for as the competition progresses are Mohamad Taha of male pageant powerhouse Lebanon, Vietnam's Trinh Bao, and India's Balaji Murugadoss. Hong Kong and Indonesia are also sending strong delegates with Waikin Kwan and Balaji Murugadoss, respectively. Host country delegate Mark Kevin Baloaloa of the Philippines will also surely make his country proud.
OCEANIA & AFRICA'S BETS
Harrison Luna of Australia is another top fan favorite whose Thor-like physique and look is to die for. Meanwhile, South Africa's Lebogang Rameetse is looking to secure his country's first back-to-back placements in the contest.
EUROPE'S FINESTS
Europe last won the title in 2015 and with the level of competition this year, another winner from this continent is possible. Returning in the Mister International stage is Slovenia with Matjaz Mavri-Boncelj. Following its tradition of sending topnotch delegates, this year is no exception.
Mathias Duma of Norway, with his previous pageant experience, will surely give the other contestants a run for their money. Also to look out for are Poland's Tomek Zarzycki, Czech Republic's Jiri Kmonicek, Spain's Jesus Collado, and Belgium's Mohamed Mahouk
VIVA AMERICAS
Not to be forgotten, the Americas is a force to reckon with in any competition. Expect intense battle from Arturo Paredes of the Dominican Republic and Francesco Piscitelli of Venezuela, among others.
Check out the complete list below:
1 Thailand | Nick Nolte
2 Slovenia | Matjaz Mavri-Boncelj
3 Lebanon | Mohamad Taha
4 Norway | Mathias Duma
5 Vietnam | Trinh Bao
6 Dominican Republic | Arturo Paredes
7 Australia | Harrison Luna
8 Venezuela | Francesco Piscitelli
9 Poland | Tomek Zarzycki
10 India | Balaji Murugadoss
11 Czech Republic | Jiri Kmonicek
12 Hong Kong | Waikin Kwan
13 Philippines | Mark Kevin Baloaloa
14 Belgium | Mohamed Mahouk
15 Indonesia | Balaji Murugadoss
16 Spain | Jesus Collado
17 Korea | Dae Woong Hwang
18 Netherlands | Claudio Schoorstra
19 Japan | Tsuyoshi Takimura
20 South Africa | Lebogang Rameetse