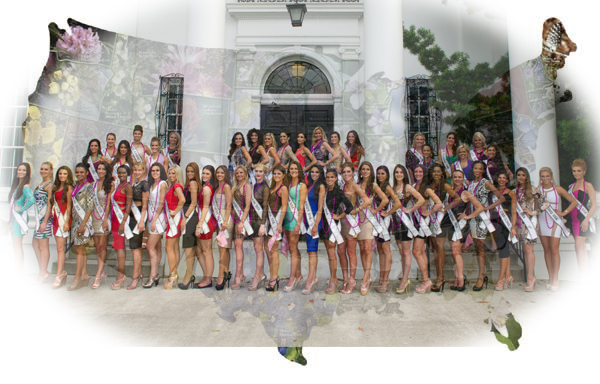 by oneandonly – a Missosology beauty expert
Flowers signify femininity. It varies from different colors, shape, size or even its distinctive smell. Women are the most likely to link with these lovely creations of nature. So, how is this related to this thread? Year after year, Miss USA beauty pageant offers a lot of variety and diversed type of beauty and personalities. I opted to create this review a little bit interesting. After the thorough selection of my top picks for this year's competition, I made a simple comparison with the floral emblem of the state she's representing including my initial impression as well as tidbits on their personal information.
I don't want to keep you waiting, so let me present to you my Top 16 Blooming Beauties of Miss USA 2014.
Alpine Forget-me-not (Myosotis alpestris) is a herbaceous perennial plant commonly grows well in rocky places high in the mountains. Per my initial impression, I can easily relate this to Kendall. In my opinion, she's not getting the attention of most pageant aficionados. She needs to come out of her shell. So that in the end, she'll proudly say " Forget me not!". I can see much potential on her. Furthermore, this flora is a great representation of love, hope and fond memories. As she inspires the youngsters in "Queen for a Day" Foundation (wherein she's a Director) to enjoy life and be an inspiration to many.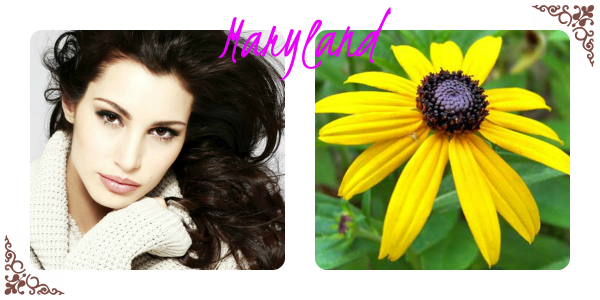 I wonder why Taylor is almost nowhere to be found in most of pageant followers' lists. She looks more of a Latina to me. In comparison with Black-eyed Susan (Rudbeckia hirta) having stems of 2 to 3 feet in height, she exerts no effort in any candid shoots with her tall frame of 5' 10". Plus, this daisy-like wildflower can also be an aid to someone who's undergone various illnesses. Just like her, she's involved in many military based charities and organizations. She's also passionate in encouraging her peers to also be proactive members of society. I really admire her for that. I hope she performs well and makes the cut.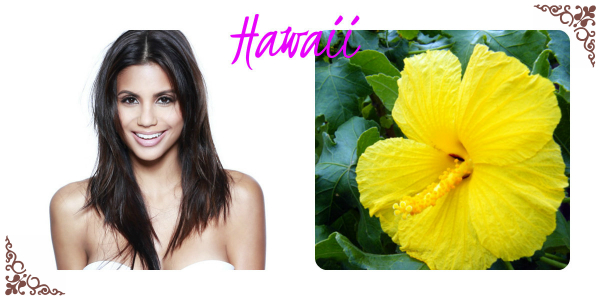 A professional model and hula dancer from Honolulu could be one of the overlooked beauties of the competition. I just love her eyes. So hypnotizing. I consider to describe her to Pua Aloalo/Yellow Hibiscus (Hibiscus brackenridgei) due to the flora's prevailing features. In the early era, this flower can only be found in the wild. She might be unnoticed at first but I have this feeling that this lady could pull a huge surprise. Her skin complexion makes her stand out in the group. Exotica overload! Grrrr…
As one of the outstanding features of this flower, Oklahoma Rose has this dark red color and extremely fragrant with strong, sweet old rose perfume. I think it best describes Brooklynne at some point. She's a precious gem for me. Majestic at her best. She can be sweet as this flora and fierce with a devilish look on the other hand. I super love her 'vintage aura'. Her age could be a major advantage together with past experiences on her two successive years of joining Miss Oklahoma Teen USA.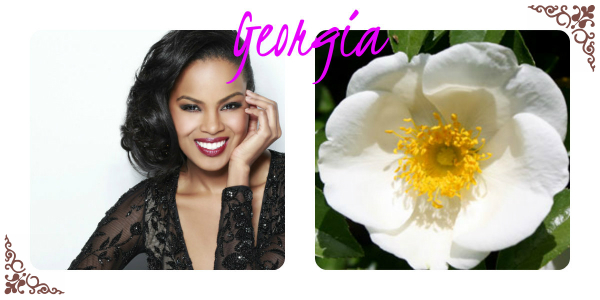 This black beauty from Monticello has this striking features that can be compared with her state's floral emblem. Cherokee rose's (Rosa laevigata) pure white petals and a large golden stamens could simply describe Tiana. You may not probably notice her at first glance but at the moment this flower blooms, you can finally see its potential and importance. It also releases a savory smell. She's been the face of a well-known brand's "My Black is Beautiful", a movement which celebrates the diverse collective beauty of African American women. A treasure and price of her state. She's in a league of her own. I can also see the confidence and determination based on how she carries herself.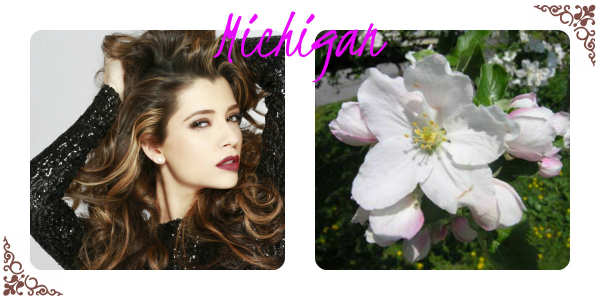 This "A Beautiful Mind" movie fan is a breath of fresh air. "One of the most fragrant and beautiful flowered species of apple" is the distinct characteristic of Apple Blossom (Pyrus coronaria) which is also native to her state as well. You can stare at her all the time. You wouldn't get tired just looking at her. I find her sweet with youthful aura. She's my Miss Photogenic this year. She just needs to be more lively and do extra effort for her to stand-out in the competition.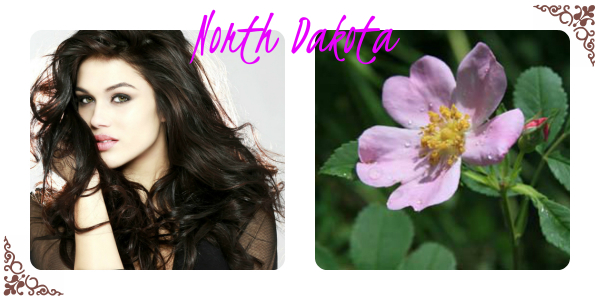 In all honesty, her beauty is a hit and miss for me. But I do think that she doesn't mind it at all. She's been doing whatever she wants to her overall presentation. The Prairie Rose (Rosa blanda or Rosa arkansana) could be the best specie to represent her. It can be found growing in roadsides, pastures, and in native meadows. This flora just naturally germinating in those areas. I love the fact that Audra is just being herself and enjoying every moment of it. She could be a big revelation in the final's night.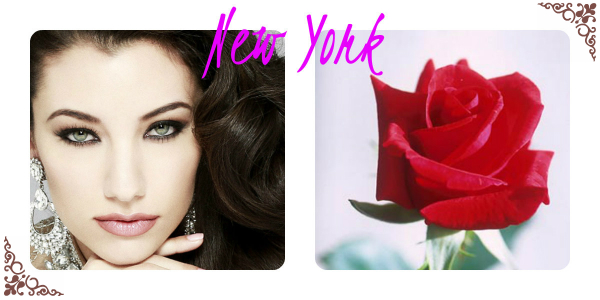 To be honest, whenever I look at some of her photos, she reminds me of Carolina Brid (Miss Universe Panama 2013). Hats-off to this lady because of her accomplishments in life. She's been doing very well in every path that she's taking. Just like Rose which now comes from different colors or even the hybrid ones. Be it red, yellow or white, rose remains the most attractive flora in the garden. It is also the true symbol of love and beauty. There might be some issue on her physical bearing, I still find her appealing. The preliminaries would be a make-or-break for her.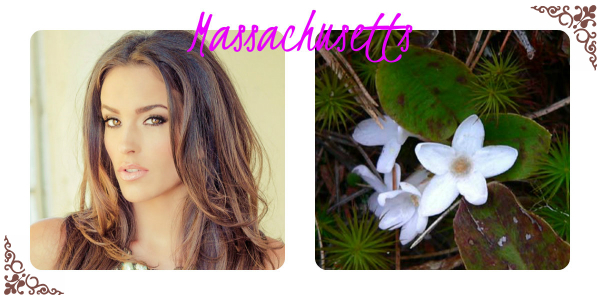 Contradistinction on her 5' 10" frame, this flowering plant in the Ericaceae family literally has small size. Caroline might be one of the tallest contenders this year, but I think she has been overshadowed big time by the other crown hopefuls. Mayflower (Epigaea regens) has been in the endangered list since 1925, but I do presume that this lady will use her full potential comes final's night. She also needs to step up her game.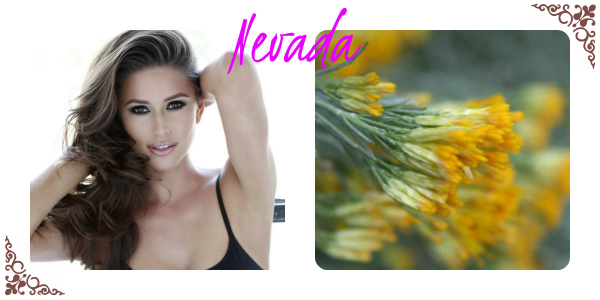 Sagebrush (Artemisia tridentata) would be the best flora to illustrate this well-traveled beauty from Las Vegas. Aside from the fact that she has been to thirteen (13) countries already, she's also been earning the right to be in everybody's list just like the said flower. The species are dominant plants across large portions of the Great Basin (largest area of contiguous endorheic watersheds in North America). Nia is leading way ahead the other girls imo. Having been joined Miss CA USA for three consecutive years, I know she already knew how to utilize her potential. The styling, projection and stuff like that. Moreover, I can say that she's a Miss USA prototype.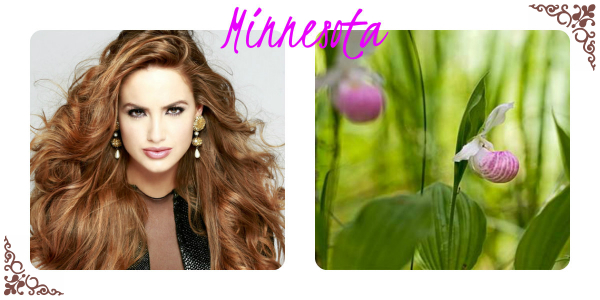 The Pink and White Lady's-slipper (Cypripedium reginae) is commonly known as Queen's Lady's-slipper. Yes, I can see regal and queenly aura in her. This wildflower is rare and protected by Minnesota state law (illegal to pick/unroot/unearth this flower). Just like Haley, she's a true gem in this competition. Plus, this flora is taking up to 16 years to produce their first flower and can live up to 50 years more. She makes sure to stand-out and remain visible throughout the battle. Who would have thought that she's a self-confessed nerd during her high school days? I love her bubbly personality. Not boring at all. Btw, her lips are to die for!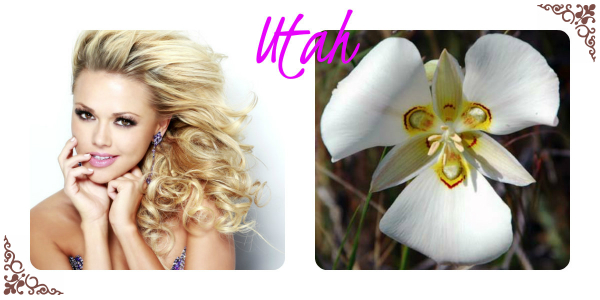 This outrageously attractive lass from Manti has the most number of charities continually supporting. I salute her for that. At par with Sego lily's (Calochortus nuttalli) representation which is a symbol of peace and hope during the First World War, she is a great example of never giving up and always staying positive. I just like her overall personality. It could be her edge over other candidates. In addition to that is her supah hotta body! I firmly believe that Angie could continue the streak made by Marissa last year.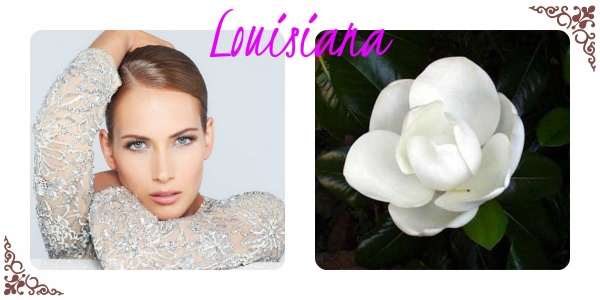 Brittany is my sentimental favorite this year. I'm just at awe with her beauty. There's so much sophistication and elegance all over her stance. With this, it's quite easier for me to depict this 21-year-old lady to Magnolia (Magnolia grandiflora). As you can see, white dominates the entirety of this flower. It signifies purity and tranquility. Moreover, I can feel the calm and amicable presence of her. So regal. Though it's a homecourt advantage, I wouldn't mind is she wins the top spot.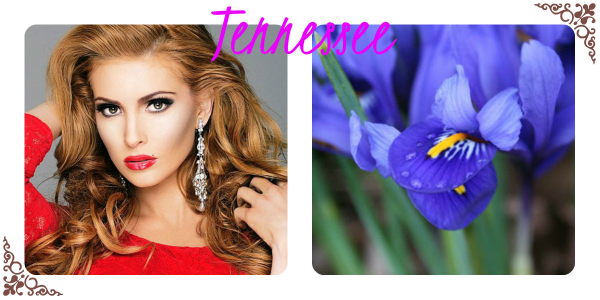 Oh my Kristy! As I have said in one of my comments, she's a bombshell! She defines sensuality. Opposite to her physical attributes, she attended a school for the intellectually gifted individual and earned her diploma when she was 16. Beauty and brains indeed. However, I just have some concern on how she project herself. Is it just me? Her styling is so repetitive. Just like Iris (Genus Iridaceae), wherein only purple one is commonly accepted as their state flower. I know she can do wonders with pertains to her overall look. Her credentials is a big plus in her journey towards the crown. I can see her now in the Top 5.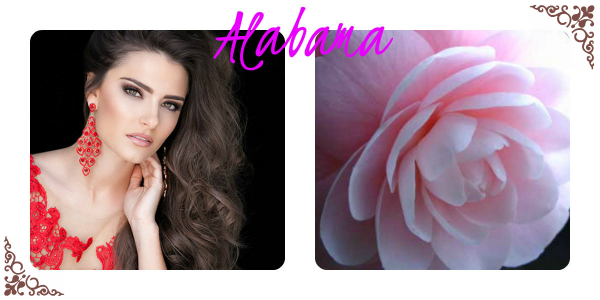 Who wouldn't fall in love with this lady? Jesica's face could launch a thousand ships. Her facial feature possesses a serene and gentle bearing just like Camellia (Camellia japonica L). When you get to stare at her, it's like glimpsing an angel's face in your entire life. It could be her huge superiority over others. Height problem? No, it would never be a big issue for her. Hello Olivia Culpo!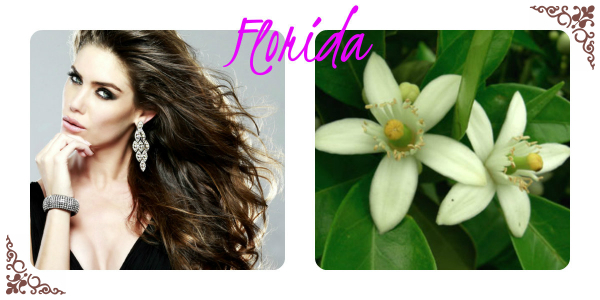 Orange blossom (Citrus sinensis) could be the best flora to describe this statuesque lady from Fort Lauderdale. One of the most fragrant flowers in her home state. It perfumes the air almost the entire region during its blossom time. Indeed, fragrant could simply mean her regal presence. She's undeniably a head turner with her modelesque type of body . Aside from that, orange production plays a vital role in Florida's economy. Brittany could also be the state's pride and honor in case she'll be crowned comes final's night.
There you go folks! Miss USA pageant can be very unpredictable at times, so expect upsets and surprises on the final's night.
May I also remind you that all of my picks for this year's pageant is based purely on my personal preference.