Valeria Morales, 20 years of age, won the Miss Colombia 2018 pageant and earned the right to represent Colombia at the Miss Universe 2018 pageant. The first runner-up is Alma Díaz while the second runner-up is Isabella Atehortúa.
There is little doubt that the epicenter of Latin American pageant nowadays would be Colombia. It is easy to see as to why especially since the 2014 victory of Paulina Vega, Colombia had done exceptionally well at Miss Universe.  The victory of 20 year old beauty from Valle at the Miss Colombia 2018 contest, will further cement the status of Colombia as the frontrunner among Latin American countries when it comes to pageantry.
Valeria Morales impressed the judges with her wit, beauty and body form earning scores of 9.9 for swimsuits and 9.8 for evening gown. The 5'9″ tall beauty is a professional model and a communications student of Broward University in the United States. With her personality and strong character, there is no doubt that Valeria Morales will be in a good position to snatch the Miss Universe crown when the pageant culminates on December 17 in Bangkok Thailand.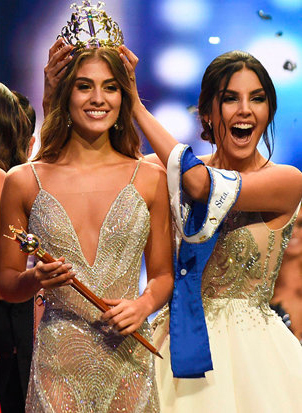 In recent years, Colombia had been so close in earning its third Miss Universe title. The controversial results of 2015 where Miss Colombia Ariadna Gutierrez was erroneously awarded with the crown only to be taken away minutes after, left many Colombians heartbroken . In 2016, Andrea Tovar was hailed as 2nd runner-up while last year, Laura González finished as first runner-up.
Thus, 2018 is a crucial year for Colombia as either the country will fade away or continue its push towards the crown. Valeria Morales will have that challenging task of sustaining the momentum of her country and finally earn that third Miss Universe crown. It may sound daunting but Valeria, in her final answer during the pageant, said that the biggest stereotype given to women is underestimating them and that it's always seems impossible until it's done. Come December however, as Miss Colombia, Valeria Morales would be very difficult to underestimate.